MANSFIELD, TX — When Lieutenant Colonel Patrick Easley took a brutal hit as a football player for the University of Tennessee, he thought that maybe he should search for a new profession. He traded in the football for a Bible to become a pastor after his college days. Shortly after earning his master's degree, he had a dream that would change everything.
In the dream, he was helping soldiers on active duty. The dream jarred him so greatly he decided to join the military as a chaplain. "I had zero interest in going into the military," he laughed. "My brother was a medic, and he told me, 'Go do something else with your life!'  But I said, 'No, I think I'm going to go on active duty to help soldiers.'"
The process of joining the military was swift. "I went down and knocked on the Air Force door, and it didn't open. So I thought this must not be the place," Lt. Col. Easley explained. "So I went over and knocked on the Army door. I walked in and said, 'I'm here to see about joining the chaplaincy.'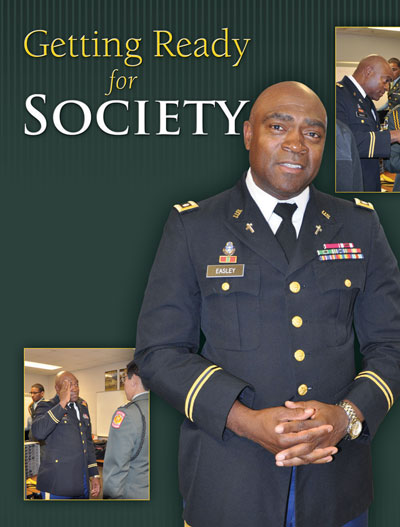 "The recruiter, 'You know what? I had a dream someone like you was going to come see me.'  "So I thought, I guess this is the place!"  Ten days later, Patrick Easley joined the Army as a First Lieutenant and a chaplain. He served his country for 23 years before retiring. His time involved a wide array of travels throughout the world, including a unique opportunity to speak at the 55th anniversary of D-Day  on the beaches of Normandy, France.
With his active military days behind him, Lt. Col. Easley hasn't stopped making an impact. With the help of retired Sergeant First Class James Watkins, Lt. Col. Easley leads the Junior Reserve Officer Training Corps (JROTC) program at Mansfield High School. "We get these kids ready for society," he explained. "JROTC makes them better people, [able] to go off and do good things for their country."
Lt. Col. Easley started working with the Mansfield JROTC two years ago. This is his third JROTC unit, with the other two being in Mesquite and El Paso. The Mansfield program totals 108 students who regularly compete in drill meets and other rigorous physical and mental competitions resulting in numerous trophies being awarded to the group.
Curriculum in the classroom is comprised of a variety of lessons, including military history, jargon, leadership skills and personality understanding. Sgt. 1st Class Watkins uses an in-depth curriculum that is interactive for students. "These materials bring the curriculum to life instead of raw old slides that make the kids think, 'Oh, that's so boring!'" Sgt. 1st Class Watkins explained.
Although the students learn a great deal about the military, not all of them enlist after high school. In fact, Lt. Col. Easley encourages students to get a college education. "Another one of my missions is to help students when they make their decision on whether or not they want to go on active duty or whether to go onto college," Lt. Col. Easley explained. "I push really hard for those guys to go to college."
When encouraging the students to go to college, Lt. Col. Easley checks grades to ensure students are staying on track. "I guess one thing parents really appreciate about the program is that before they get the grade in their hand, it has to go through the Colonel," he mentioned. "I say, 'Hey, if the grade is below 70, we've got ourselves a nice little old problem.'"
For students who are struggling, the  program sets them up with a tutor in order to bring up their grades. Both of the leaders work hard to ensure all their students graduate with the highest GPA possible. "Graduation is a big part of JROTC. If at the end of the day, we only did one thing, it would be to get them to graduate on time," Lt. Col. Easley stated.
In addition to the textbook material, Lt. Col. Easley and Sgt. 1st Class Lt. Col. Easley has seen numerous students accepted into college because of the leadership skills they obtained through the program.
Watkins teach their students valuable life lessons. "They want to hear about our experiences," Lt. Col. Easley said. "They put that in their backpack and they take it on into their life."
One of the students who has found the JROTC program rewarding is Cadet Battalion Commander Marangeliz Quintana. As a senior, Marangeliz is planning on going into the Army after graduation while also attending college, majoring in criminology. She has most enjoyed the atmosphere JROTC provides. "I have a sense of leadership, and I like working with people who are capable, willing and motivated," she said. "It's something you can use outside and inside."
Marangeliz isn't the only student  benefitting from the JROTC program. Cadet Commander Sergeant Major Nathan Fonseca joined the program for the scholarship opportunities that will help him get into Texas A&M University with the intent of becoming a civil engineer. Lt. Col. Easley has seen numerous students accepted into college because of the leadership skills they obtained through the program.
The Army JROTC program at  Mansfield offers numerous opportunities  for students to practice their passions. Last September, Sgt. 1st Class Watkins enrolled in a program called CyberPatriot, an Air Force Association program in which many students were interested — learning how to protect computers from hackers.
Junior JRTOC student Jonathan Chen currently leads the program. "We do simulations on cyber warfare. These simulations are based on systems that aren't fully protected, and we go throughout the system and basically go from top to bottom to check for any faulty systems," he explained. Jonathan aspires to be a software engineer and credits the program to helping him prepare for his future career.
JROTC students and cadets don't stay in the classroom, however. Ten cadets took an opportunity to compete in a Raider competition in January 2012. They participated in cross navigation through the woods, built bridges, rappelled and climbed tall fences. Sgt. 1st Class Watkins admitted, "This is a highly esteemed, high-morale group."
Each cadet participating in the Raiders must also become CERT (Community Emergency Response Teams) qualified. This qualification allows students to assist the Mansfield Fire Department if the town were ever to encounter a civil emergency, such as a hurricane, tornado or major car accident. Part of the training includes carrying a person on a stretcher over barbed wire, through smoke and over tall walls to carry them to safety.
Through all of these opportunities, the main goal of the JROTC program is to empower the students. Lt. Col. Easley encourages his students with these words, "You guys have been doing great things — all of the training, running and pushups. That stuff pays off. It's like a boomerang. If you put good stuff on it."
Written by Mikaela Mathews.