GRANBURY, TX —  Leadership skills are necessary in many facets of life. And, within the Granbury Independent School District, Lieutenant Colonel Scott Casey, Ret. and First Sergeant Johnny Rositas, Ret. are helping students practice leadership roles. After retiring from the Marines, Casey took command of Granbury's Marine Corps Junior Reserve Officer Training Corps for the 2012-2013 school year. The JROTC program is an elective course students can begin taking their freshman year and continue through graduation.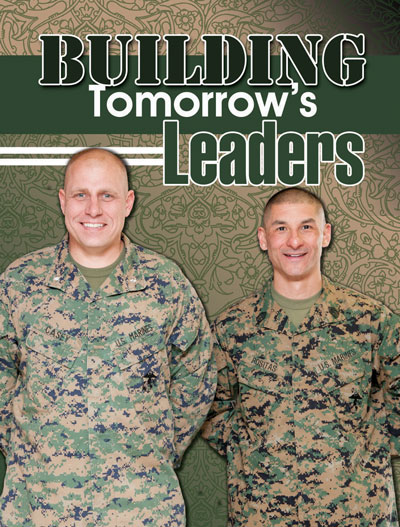 "There's a misconception a lot of times out there that ROTC is a primer for kids to go into the military. And, it's not," Casey  said. He and Rositas try to knock down that barrier. Junior Reserve Officers' Training Corps (JROTC) is based on the Marine Corps model. "Parents want the discipline that we provide here — the structured  environment. 'No, sir,' 'Yes, sir.'" Casey explained. The students learn leadership, and when they graduate, they have the opportunity to be more successful in every aspect of life. Some students might join the military, but others go off to college or enter the workforce.
About 100 students in ninth through 12th grades are enrolled in the Granbury program. "We want to give them the leadership traits and tools to be successful. We're sticklers on grades, discipline and physical fitness," Rositas explained. He retired from the Marine Corps in May of 2010 and moved from California to become an instructor with the JROTC at Granbury that fall. "I had been a drill instructor at the Marine Corps Recruit Depot, San Diego, and at the University of Illinois with their Navy and Marine Corps ROTC for three years with active duty. I was the Assistant Marine Officer Instructor for their program," he explained. "I was familiar with what went on here. I came down and liked what I saw."
Rositas likes seeing the cadets succeed. "We take a civilian who doesn't know anything about military lifestyle, and then we see them on graduation day. They are standing a little bit taller. We see them shaking hands saying, 'Thank you, sir. Thank you, ma'am,'" Rositas said. "We're like a proud papa at the end of the day."
The cadets and their parents realize how much the JROTC program offers. "Everybody from our freshmen all the way to our seniors is put into leadership roles," Casey said. Each student has certain responsibilities. "They're going to have to lead their peers. Probably one of the hardest things, at the high school level, in the civilian world or in the military is to lead your peers." The JROTC gives cadets a chance to make mistakes and learn how to lead and manage in different roles. "They're head and shoulders above their peers when they graduate high school," Casey explained.
Casey was involved in the ROTC while in high school in Amarillo. The program helped guide him into college. "They for the past 20-plus years to instill in these kids, to make them better citizens. You're always a Marine," Casey admitted. "This helps with that transition."
Both Casey and Rositas have served their time overseas in Somalia and two tours in Iraq. Their families enjoy the stability of working with the JROTC program. In the Marine Corps, Casey and his family moved every three years. His wife, Denise, teaches in Weatherford, and their children, Marcus, Sydney and Natalie, attend school in Aledo. "Texas is home. We wanted to come back here and retire in Texas. We have a lot of family in Texas, so we get to see them a lot more."
Rositas' family is also happy to have him home. His wife, Amy, knew about his love for the Marine Corps and knew the job with the school district would be a good fit. "At the end of the day, I'm going home," Rositas said. He also gets the chance to watch his son, Jonathan, at karate class. He enjoys being closer to his family in Austin, where they often take weekend trips.
With support from their families, Principal Jeremy Ross and school staff, Casey and Rositas continue to mold students into responsible members of society through the JROTC program in Granbury. They teach the core values of honor, courage and commitment, so cadets are ready to take on the world when they graduate high school. "We're tasking them. We hold them accountable," Rositas said. "We're here to guide them."
Written by Amber D. Browne.