ENNIS, TX — Even though it lies off the beaten path, about 15 miles northeast of Ennis, the quiet hamlet of Bristol is home to what its caretakers lovingly call the "Beast." Just ask Fire Chief Eddie Miner or any of his crew that comprise the Bristol Volunteer Fire Department. They should know.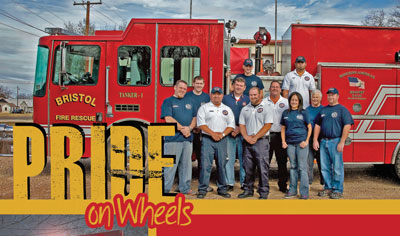 The Beast is actually a huge state of the art tanker engine purchased in 2009 through a grant from the Federal Emergency Management Agency. It holds a whopping 3,500 gallons of water and is equipped with enough room behind the cab for a bevy of firefighters to don their protective gear en route to a fire. It's also a source of pride for the 16 brave volunteer firemen who keep Bristol residents safe. "Along with  the Beast, we have two small brush trucks that hold 400 gallons  of water and one fire engine that holds 750 gallons, which is the 'first-out' type, outfitted with minimum equipment,"
Eddie explained.
The department's active volunteer firefighters, all between the ages of 19 and 52, are ready at a moment's notice to fight fires, as well as a myriad of other emergencies. They provide firefighting services to the Emergency Services District #7, a 65-square-mile area, from the Trinity River to the east, Palmer/Garrett to the west, Highway 34 to the south and Red Oak Creek to the north. Each fire engine stays full to the brim with local water supplied from Rockett.
Fighting fires is in Eddie's blood, something he started doing 32 years ago. "I went to work for the city of Ennis Fire Department when I was 19, and got involved in volunteer firefighting around 1991," Eddie remembered. "In fact, my dad was the first paid fire chief for the city of Ferris, and when I was 16, I wanted to be just like Dad. I've been associated with fire departments in one form or the other ever since." When he's not wearing his fire chief 's hat, Eddie's busy with his septic tank business or preparing his next sermon at Grace Temple Baptist, where he's been preaching for 15 years.
Anyone interested in becoming a volunteer fireman can apply at the fire station, located at 101 South Old Walnut in Bristol. "After an application is filled out, we do a background check," Eddie said. "If that checks out, the applicant is recommended as a volunteer fireman. The individual is then voted on and has to go through a 90-day probationary period. If no problems are encountered, the individual is brought into full membership with the fire department." A volunteer should also live close enough to be able to get to the station within five minutes.
Bristol, home to the volunteer department for over 100 years, is located on Farm Road 660 off Interstate 45 about 15 miles east of Ferris. According to the Texas State Historical Association, the community began in the early 1840s under the name of Brockville, which was later changed to Heelstring. The first community building, a log church, school and lodge room was constructed in 1870. The Bristol post office opened in 1872, and by 1890 Bristol had 200 residents, half dozen businesses, a bank, two churches and an elementary school. From the 1980s on, Bristol has served as a supply and service center for area farmers and as a school and church community. Today, the community is home to over 650 residents.
The volunteer fire department is currently housed in a building constructed several years ago to replace the original one, but in recent years, the need has arisen for a larger, better equipped facility. "We want to build a second fire station down the street that will contain a large meeting room and sleeping quarters, so we are in the process of getting the necessary funds through grants and fundraisers," Eddie said. "It will be known as station No. 2, and the plan is for it to be easily accessible to  the volunteer firemen, as well as being a centerpiece of the community." Eddie added that although he would like to see something built in the next two years, realistically it will probably be more like three to four years.
The operating budget for the current facility is about $50,000 per year, with most of that coming from donations and grants. "The money is used to run the facility and maintain the equipment. We don't pay any salaries," he said, adding that the yearly amount has stayed the same for several years.  Fundraisers help supplement the monetary needs of the Bristol Volunteer Fire Department. Each January, there's also an annual infusion of Emergency Services District revenue, generated from taxes. "We have an annual fundraiser the second week of May, where we have a live band, food along with live and silent auctions," Eddie said.
Anyone in need of the Bristol Fire Department's volunteers can call 9-1-1, Eddie explained. "When you call 9-1-1, the Ellis County Sheriff 's Department in Waxahachie will dispatch a call, or 'tone us out,' which causes the radio each one of us wears to elicit a specific tone," Eddie said. "Each of us then uses the radio to acknowledge we are on our way to the fire station. Once we are all here, we radio the Ellis County Sheriff 's Department that we are in route to the scene, where we then size up the situation. When we are done, we issue a 'clear' command."
The fire department, in addition to keeping the area safe, works with Caring Hands of Bristol to educate the community on fire prevention. "Right now, we're promoting the Vial of Life, a red sticker that can be attached to a refrigerator or somewhere visible where a person can list all of their medications in case of an emergency," Eddie said. "We also participate in the Bunny Breakfast the weekend before Easter where we distribute fire prevention material." Eddie knows it truly takes a village to maintain the quality equipment and high standards that are immediately evident at the fire department, and for that, he's continually grateful. "I appreciate the support of the local community and the mutual aid we enjoy from volunteer fire departments in Ferris, Palmer, Garrett and Telico, as well as the Ennis Fire Department," Eddie said. "We couldn't do what we do without them."
Written by Rick Herron.