CORSICANA, TX — Baseball is a longstanding tradition in American culture. Many have watched it, and others have played it. However, very few have had the opportunity to experience the game from the official's point of view, one which entails a different understanding and perspective of the game, according to Elton Raney, Monty Casbeer and Rob Jones. As members of the Corsicana Chapter of the Texas Association of Sports Officials (TASO), these three men share a passion and drive to give back to the sport they love through umpiring. "It's not for the money. It's for the love of the sport itself. Respect for the game between the lines — that, for me as an official, is what it's all about," Elton said. "If you don't love what you do, don't do it."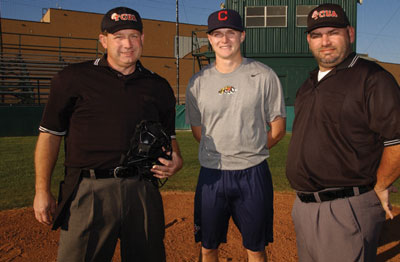 The Corsicana TASO Chapter covers games for 20 schools in Texas, with Rob, a 20-year member, serving as the current president. In addition to covering high school baseball, members also officiate Little League, summer and select ball, showcases and even some college games. "We can actually start at the end of February and call ball all the way until the first of December," Rob noted.
Monty joined the chapter 17 years ago and serves as the chapter's clinician. He is licensed by the state to teach umpiring to the new members who must complete training and take the state test before joining TASO to embark on a journey that will change their perspective of baseball. "I tell a lot of new guys they are the only ones who can show up to the game and have fans on both sides," Monty said. "They may love you one minute and hate you the next, but you're the only one with fans on both sides of the field."
The chapter meets monthly and then on an as-needed basis once the season starts to review new state rules, specific techniques, mechanics, interpretations, case studies and more. Of course, the actual hands-on experience of calling a game is critical in becoming a professional, but these clinics are just as crucial to an official's position. Annually, each member has to retake the 50-question state test and then is ranked by their scores. These rankings influence game assignments. "You take that state test each year with hopes to improve on your score," Elton said.
Elton, a 12-year member, is the chapter's secretary, treasurer and game assigner, as he delegates the games to members. "We rate each of our officials, and based on their ratings, I make assignments according to the level of games we feel they are capable of handling," he shared.
Although schools try to use their local officials as often as possible, they generally end up with neutrally assigned officials given by TASO. "Usually, if you get a neutral assignment, it's because you've got two very good teams looking for an unbiased ump," Elton noted. Officials also travel for select ball games and Elton Raney (left) and Monty Casbeer (right) pose with Stayton Thomas, a player they watched grow up who is now with the Tampa Bay Rays Minor League organization.
showcases. In showcase tournaments, aspiring athletes pay to play in front of college scouts in order to showcase their talents.
"You know it's going to be a good game when you walk up and four out of five guys behind you have radar guns,"  Monty added. Elton, Monty and Rob all played baseball as boys, and since then, they've coached their own kids in Little League and select ball. "That's another thing we all have in common," Rob said. At one point or another, they've all experienced the game as a player, a parent, a coach, a spectator or announcer, and now, as officials, they've developed a unique perspective of the game unlike anyone else involved. "The first thing that comes to my mind is that as a player you think you know the rules, but as an umpire, you have to know the rules," Elton stated.
The trio agreed that when you are talking about the officials' view of the game, it is essentially the same in all sports. They are hired to do a job. "You are going to have fans that boo you," Elton shared. "You might have coaches upset and moms that think you're crazy, but we're there to call the game as fair as possible. We can't let anything sway our decision. All we want is for a good, clean game to be played and for the best team to come out on top."
In some situations, there are bang-bang plays that could go either way, but there are no ties in baseball. "You know the old saying, 'The tie goes to the runner?' Not true," Rob stated. These are judgment calls, and it's the sole responsibility of the official to make the decision. "One thing we try to do, as a chapter, is to interpret every rule the same way," Monty noted. "Consistency is important."
Ultimately, an official's goal is to ensure that a fair game is called throughout. "We want to get that call right, and a big part of that is honesty and integrity on the field," Elton said. Communication with fellow umpires during a game is essential in maintaining respect. "You hate to see two officials who haven't talked before the game. Suddenly, they're at the same base and one yells safe while the other rings up an out," Elton explained.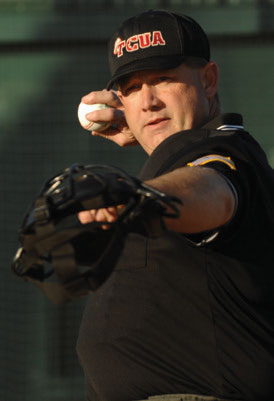 "Communication is important. If we don't have it, we can look very bad very quickly." With two veteran umpires on the field, this rarely happens, because they know to check with the other before making the call. "It's just nature, because you've been there," Monty said. "You've been the one calling an out call while your partner is saying safe."
Officials must also refrain from becoming a spectator on the field. "We love to watch, but if we're going to do that we might as well buy a ticket and sit in the stands," Elton said. Additionally, it is equally important to walk onto the field with a clear mind. To stay focused is very important.
"Walking onto the ball field is stress release for me," Rob added. "If I've had trouble that day, it's gone once I step onto that field." For veterans like Elton, Monty and Rob, officiating baseball is important for many reasons. They umpire for the love of the game and for the service they provide to the athletes. "A lot of times we have called these kids since T-ball, in this area, and we know them," Monty said. "They've grown up in front of us, so we want to do our best job for them, and that's why its so important to get the call right."
Written by Hope Teel.