BURLESON, TX — Practicing patience, trust, faith and confidence is an everyday challenge for us all. Students at Wings of Hope, an equine therapy center on the southern edge of Burleson, learn the same lessons in character — among others —
by working with horses five times their size. This year, 12 of them got a chance to show off their equestrian skills at the 10th Annual Chisholm Challenge, which kicked off the Fort Worth Stock Show & Rodeo. Seth Ellsworth, who lives in Crowley with his grandparents,
Olney and Pat Ellsworth, has always loved horses, and this was his fourth year to ride in Chisholm Challenge. The results were fantastic. He has a champion's belt buckle plus three more rosettes to add to his handmade, over-sized shadow box containing awards from his riding career.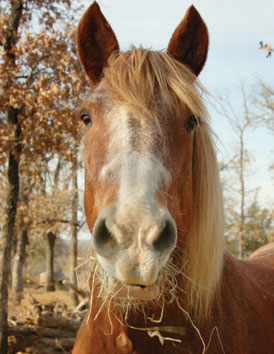 A self-admitted "big guy," Seth prefers riding Western and uses any saddle that fits him and his horse. Wings of Hope serves over 93 riders and keeps 20 horses on the premises, matching horse personalities and size to their riders. Sometimes, it takes several months and several horses to find the right match. In Seth's case, the first horse he rode was Money. "There was a trainer who volunteered here who would walk around with me and the horse," Seth said, recalling that it was cold outside. "I had to work with Money, and held the reins and the pommel."
Another horse he remembers riding was Oreo, deemed high-energy by the Wings of Hope program director, Julie Rivard. "He would only have been good for a couple of riders," Julie said. Seth has also had a few memorable rides on Marshall, Chief and Boomer. Now, he rides Zee, a 5-year-old line-back Dunn. Seth likes to arrive early before his group lesson starts, find his grooming bucket and take care of Zee while his instructor gets ready for class.
After so many years' experience, he is able to dismount, tie his horse up and then assist with others, often sharing his knowledge about safety with other volunteers and riders. He is also helpful when Wings of Hope has a new horse in the program recently cleared through training. "If it's big enough, Seth can help prepare that horse for other riders," Julie commented. "This year, he's working with Zee, who will be one of our main horses for our independent riders, our soldiers and our folks with multiple sclerosis."
Once on his horse, Seth has one thing in mind. "I focus on being a champion and winning medals — or a belt buckle!" Yet he has learned he can be more successful when he reaches out to help others.
His grandfather, Olney, brings Seth to class each week and volunteers with Seth on Tuesdays. Olney walks beside other riders, and Seth mucks stalls, cleans hooves, sweeps dirt, waters horses and saddles them for other riders and trainers. Olney and his wife, Pat, have cared for Seth since he was an infant and have encouraged his interest in horses since he was 7. They are impressed by the impact the kindness of Wings of Hope volunteers has on their clients. "Horses are challenges to the riders at Wings of Hope and certainly were to Seth," Olney said. "Seth is a challenge to Julie and everybody he comes in contact with out here. He's different, and the one thing I can say is the riders who come here need love, compassion and understanding. Julie gives it to them."
Seth has a helpful nature, too, which his grandparents have nurtured. Whenever his cousins, other children or babies have visited the Ellsworth household, Seth carries them, plays with them and protects them. He cleans his room, picks up trash in the field behind the house and washes his clothes when his grandmother asks for help. And lately, he has started fixing breakfast for his grandparents.
"I don't go to school anymore," said 24-year-old Seth, who graduated almost three years ago from Crowley High School. There, he was tested for vocational acumen, and his grandparents have investigated possibilities through DARS (Texas Department of Assistive Rehabilitative Services). For now, Seth is learning at Wings of Hope to control his own attitude.
"Seth has a very large personality," Julie said. "When we're having a tough day, we talk about how it's okay to feel what you feel, but you have to understand how the display of your emotions affects the horse, and that's how we understand how it affects other people."
Julie and the five other instructors at Wings of Hope work with riders of myriad proficiencies and personality types. In preparation for Chisholm Challenge, riders spent the fall and early winter practicing custom-designed trail patterns and traditional equitation skills
judges expect competitors to perform with calm, gentle confidence. Instructor Cheril Becker happens to be the general manager of Chisholm Challenge.
In 2003, Cheril and friends approached the Fort Worth Stock Show and negotiated a partnership. 2004 marked the first Equestrian with Disabilities horse competition at the Fort Worth Stock Show. Now, 10 years later, it is the largest of its kind in the world. "Cheril's only focus is to challenge the rider to always do better. Your riders have had to accomplish something within your center in order to compete," said Julie, explaining that participants come from up to 11 other equine therapy centers — each accredited by Professional Association of Therapeutic Horsemanship International. "It gives our accomplished riders a place to show off, and for this 10th year we'll have special belt buckles celebrating its anniversary." Winning a special belt buckle required Seth to control his horse while competing in different events, from English equitation to barrels and poles. "It's pretty easy to me, but not to the horse," Seth said. "I show a go-with-the-horse attitude. It's confidence, faith and trust in the horse, and if the horse trusts you, it can calm down with you." Seth can remember patterns, and when his horse gets excited and wants to show off Seth insists that they behave as a team. This year, Seth rode Red, a 33-year-old quarter horse comfortable with reining and used to the spotlight in the John Justin Arena.
Seth competed in Chisholm Challenge specifically so he and Red could be stars.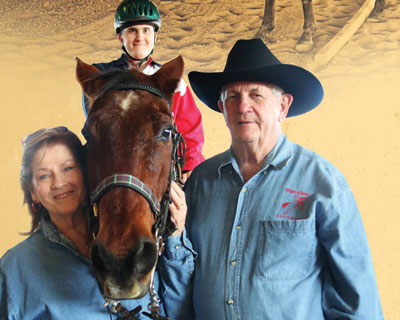 His family and those of every competitor were there to watch, many crying in celebration as each medal was awarded.
Whether Seth knew it or not, he already was a champion.
He earned that title by learning life's little lessons. "It says in the book that I have, 'Don't go behind a horse, 'cuz it might kick,'" Seth said. "Now I know I have to think before I act. I guess I am getting better!"
Written by Melissa Rawlins.