WEATHERFORD, TX — Living in an underground house provides great energy savings. It also attracts water, through mysteriously appearing cracks in the roof under the earth. Exploring solutions and focusing on family, Earl and Barbara King make the most of their stunning abode together.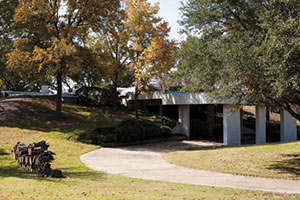 Earl grew up close to another Weatherford, in Oklahoma, near his hometown of Hydro. His spirit began to be watered there, where hard times prompted Earl to seek out ways to live well for the sake of others. Eventually, he met Barbara through mutual friends in church in Fort Worth. They married in 1972 and moved west to Weatherford in 1980. After three years of hard work — rearranging a gravel pit and a top soil pit, putting in a sprinkler system and building a lake where two little dry creeks once ran together — Earl began construction on the house he and Barbara designed with the help of an architect from Aledo.
Their idea was to build a house for themselves and to invite their children to also build on the property, so they could all live near one another. All offers were accepted. Now, nestled in the center of 300 acres, their home is surrounded by four above-ground homes. Three of the Kings' children and their families live here. And a grandchild and her family live in the guesthouse, near the compound's swimming pool.
The Kings' grandchildren grew up here, boating and fishing on the lake with "Papa Earl" and Barbara. "It's been fun having them right down the driveway," Earl said. The eldest are now 31 and 32, and the youngest is 15. They have outgrown the candy kisses Papa Earl keeps on hand, but his four great-grandchildren — Isaiah, Melody, Joshua and Caleb — have learned he keeps a stash of chocolate kisses in his office.
Wearing a hat identifying him as World's Greatest Dad, Earl enjoys the compound he has created where his great-grandchildren can play and be safe. He also appreciates looking out over the little lake that fluctuates in depth as the rain comes and goes. Sitting on the wraparound deck with their cats, Priscilla and Aquilla, Earl and Barbara can observe the busy beavers building a dam and a herd of deer wandering the property.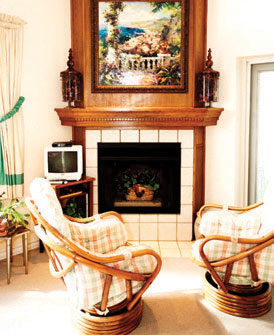 Near the house, the Kings long ago planted crape myrtle, maple and cypress trees, which add to the park-like feeling of their refuge. Intent on keeping their home a sanctuary where each member of the family can be loved, Barbara guards her quietness. She designed the interior specifically to let natural light flood each room, bringing serenity across the pristine, wide window sills. To ensure flow of light and air between rooms, they installed an unusually long and wide skylight spanning the entryway and the dining room, added transoms above interior doors and built some interior walls too short to reach the ceiling. The turquoise-and-peach, padded-fabric walls of the dining area are prime examples of the couple's ingenuity.
Interestingly, the Kings only use the dining room for church parties or celebratory dinners, when guests need extra places to sit. "The older we get the less entertaining we do, and we're getting quieter as we get older," Barbara said. "And slower," Earl quipped.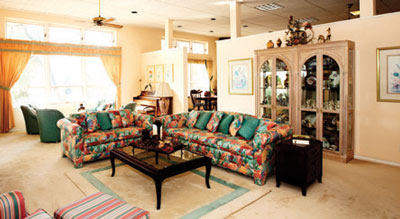 "Our family tends to gather in the kitchen," Barbara said. She and Earl sit at the breakfast area for their liquid breakfasts, healthy shakes they both enjoy.
Across the bar, is the mint condition Thermador cooktop, maintained beautifully by Barbara since it was installed in 1984. She is understandably proud of her grandmother's baking center, with its original glass, displayed near the breakfast table.
During the day, Earl takes care of business in his spacious, book-lined study, where he can gaze out the window or at the photos of his descendents and memorabilia of his former military career. He was in both the U.S. Air Force and the U.S. Navy before enrolling in law school. In 1994, he built his new law office so he and his son, State Representative Phil King, could office together. Then his son-in-law, newly elected Parker District Judge Craig Towson, joined the practice.
This, combined with living amongst his progeny, was a dream come true for Earl. "My father contracted a severe illness at a very young age and became mentally retarded. Eventually, he had a family of 11 children. We were the poorest kids in town. I remember going behind the grocery store in town and digging food out of the garbage," said Earl, who studied and worked hard to achieve a higher standard of living. "It is really great to be able to give my family what I wasn't able to have when I grew up. And I am so pleased to have married Barbara. The Lord has blessed us immensely."
He recently retired from law practice, and focuses all his attention on family and community. Barbara shares his mission. These days, her light and airy living room functions as a classroom for the Precept Bible study she has taught since 1984. Sometimes she teaches at their church, Northside Baptist, but she always prepares at home in her study.
Time spent there is both productive and comfortable. "That's another reason I don't work in the yard," said Barbara, who avoids bugs and other allergens.
At the end of each day, Barbara and Earl retreat to his study for several rounds of cards. "We've been playing gin at least 40 years," Earl said. "We used to play tennis, and we used to boat. Now, at age 81, I am too old to play tennis." After their games of strategy, Barbara and Earl adjourn to their sitting room, just one step down from their bedroom.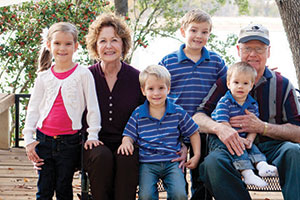 Surrounded by green- and peach-colored walls and a lake-view window, Earl reads in his La-Z-Boy while Barbara works on Bible or health studies. Earl calls her Dr. Barb, because during a personal health scare she started learning and studying about what causes diseases. Around the corner in Dr. Barb's office, she organizes her studies neatly against subtle, peachy fabric-lined walls.
More peach accents appear on the beautiful wallpaper in the master bath. Striking for its 8-foot ceilings that slope up to meet walls 12 feet high, the bathroom is also a bit of a battle ground for Earl. Water often leaks through the walls in one spot near the lavatory, even though there are French drains hidden in the 3 feet of dirt on top of the house to keep water running forward and around the house.
Earl gets a workout dealing with these water issues. Keeping his mind, body and spirit bright with a mile-a-day walk plus calisthenics, he and his family are still storm-proof. Barbara just puts little buckets out and looks up, giving thanks she and Earl figured out a way for their home to be full of light.
Written by Melissa Rawlins.