GRANBURY, TX — Faith, family and good-old fashioned values are the foundation of John Bratta's philosophy on life. His outlook and beliefs hinge on his trust, conviction and reliance on a loving God. John's ideals are rooted in devoted gratitude for his good fortune. From his handsome water-front Granbury home to the two striking Corvettes filling two of the slots in his three-car garage, John, without a doubt, enjoys his belongings, but he is quick to clarify they are all just possessions. He believes the true meaning of life is faithful confidence in God's love. "Anything I have had in my life, I give the glory to God," he said. "I am fortunate to live in this country and in this community. I absolutely love Granbury. I think it's a precursor to heaven, to be quite honest."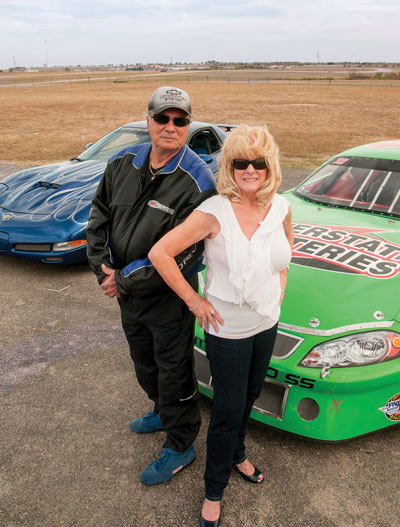 John and his wife, Peggi, of 26 years, moved to Granbury from California five-and-a-half years ago. After several years of visiting their oldest son's family in the area, they exchanged their intended retirement home in the Golden State for a relaxed community in the Lone Star State. "Things are very different here. It is so pleasant and peaceful," he said. "With our retirement home in California, you had to ask yourself, Why gridlock? Why craziness? Why high taxes? And from a spiritual standpoint, Granbury has been a tremendous blessing. Here I can feel comfortable talking about God and Jesus in public places. That wasn't true in California. People are very receptive to the Word here and very respectful. You'll get more 'Yes, sirs' and 'No, sirs' from young people here in a day than you would in a year in California. It's just the way life is here. It's a pleasure."
John spent 39 years as an educator and school administrator in Ontario, California, near Los Angeles. He finished college with a bachelor's degree in police administration, but was recruited into a teacher prep program before he could sign on with a police department. Before long, he was hooked. So much so, he went back for a master's degree in education administration at Pepperdine University. He was eventually responsible for programs for troubled students, which he directed more than 25 years. Working with high-risk children came easily for him after growing up poor in an L.A. ghetto. He knew what they needed, and they in turn respected him for it.
Now in retirement, John still earns the respect of people he encounters. He humbly serves as an elder on the board of the two-year-old church in Granbury where he is a founding member. He was also appointed president of the Brazos River Corvette Club in late 2011. He wrote about his awe and appreciation for the life he's been blessed to lead in a recent club newsletter. "We live in … a country that has welcomed people from all nations, a land of opportunity, a country where a first-generation American boy with Italian parents could come out of an inner-city ghetto in Los Angeles and be blessed with a quality of life that exceeds 99 percent of the world," he wrote.
Neal Bellamy, a good friend and fellow car enthusiast, has known John through the Corvette club since 2008. "Being president was sprung on him due to the untimely death of Mike, our president at the time. John really stepped up. He did it perfectly," Neal said. "He's a very giving person. He gave a lot of time and effort making the Corvette club successful. He is one of our true car guys." And without question, John is a car guy. He has not only owned Corvettes his entire adult life, he was also fascinated by cars as a boy. By 8 years old, he could name every year and model of every American car.
John and Peggi, who also drives an eye-catching red Corvette, have worked with their fellow Corvette club members to raise more than $15,000 for local charities. The organization's 2012 annual car show and silent auction attracted 100 Corvettes to the Granbury square in October and raised money for several causes — two of which were awarded in the names of members who have passed away. The group donated money to the Granbury High School auto body shop in memory of its late president, Mike Lanzara, and to Parkinson's research in memory of Vicki Sharp, another member and friend who died of Parkinson's disease. "Our club is very aware of how fragile life is," John said. "Mike was one of my closest friends. We were all grief-stricken when he died last year."
The Brazos River Corvette Club has nearly 60 members now with a total of 40 cars and has also contributed to the Salvation Army and Face the Fire Ministries. Face the Fire reaches out to families of military burn victims. Military men and women have an especially warm place in the Brattas' hearts. They have three Marines in their family. Their oldest son, who now lives in Aledo, and their two sons-in-law all have military experience. "We are very proud of them," Peggi said.
The Brattas have four children with seven grandchildren and two great-grandchildren. "John is a good family man and a good husband," Peggi said. "One of the reasons we chose this house was to share it and enjoy it with our kids." John likes to share everything, including his stunning, steely blue Corvette, which sports silver flames licking back along the sides from the hood, and his #18 Bobby LaBonte NASCAR, a clone of Bobby's 2006 Chevrolet Monte Carlo. He even added a passenger seat to the NASCAR. "The motivation for the race car is to give our family and friends a unique experience, which is why I converted it to have a passenger seat," John said. "God gives us blessings to share with others."
He keeps and drives his NASCAR at the Cresson Motorsport Ranch. "It's a lot of fun. Driving that car is a completely different experience than driving a Corvette. It's a completely different animal," he said. He has driven his Corvette on the track, but it is more fun to cruise around town with. The car even bears a subtle spiritual recognition. "Driven by the flame" is penned on the rear fender — a symbolic reference to the Holy Spirit given to Christians in the second chapter of the Book of Acts, which is also his vanity license plate: 2ACTS. "God designed us where we will never be fulfilled without Him," John said. "These cars and our home are wonderful, but they mean nothing without Him in our lives, molding us and showing us who He wants us to be."
Written by Sarah Anderson.