ENNIS, TX –"My dream is to be an Olympian," said the soft spoken fifth grader. Paige Lemonia, an A honor roll student, attends Dorie Miller Intermediate in Ennis, and she loves playing sports. Her list of extracurricular activities is dizzying. She plays
tennis and basketball, and participates in gymnastics. Paige is also a track and field participant. She runs the 100 meter, 400 meter and 80 meter hurdles, as well as the long jump. While Paige thoroughly enjoys playing all these sports, track and field is currently where her star shines brightest.
Last summer, Paige participated in two prominent track and field competitions. In July, Paige entered the long jump competition at the Texas Amateur Athletic Federation held in Corpus Christi. Prior to the meet, she had been jumping an average of 12 feet. Although most of the participants were two years older than Paige, she was not intimidated. "Mama," Paige insisted, sharing her youthful perspective on the age difference between herself and her competitors, "we're all the same!"
Tracy Burr Lemonia patiently explained to her daughter that the two-year age difference was indeed significant. "Paige, these girls were already walking when you were born," Tracy explained. "They have been training for at least a year longer than you have." Apparently, Paige was unimpressed. Her best jump of the summer occurred at this meet — an amazing 15 feet 1 inch. She ended up placing eighth out of a field of 29 jumpers. The following month at the Texas Junior Olympics, hosted in Houston, Paige placed 22nd out of 79 other competitors.
"Paige has always loved sports," Tracy shared. "She's spent a lot of time around athletes, pretty much since she was born. When Paige was 3 or 4 years old, I coached my girls' varsity basketball team. When the team ran full-court drills, Paige would run right along with them." As an athlete, Paige has exhibited a confidence that belies her youth. She is also a member of the select track team, Ennis Heat, where she excels at everything she attempts and has a fearless disposition.
Her determination to succeed is reminiscent of a young Tracy. Tracy had also been a strong student athlete. Her dedication to the sport she loved and her determination to get a college education helped her to achieve her goals in spite of the challenging, if not unusual, set of circumstances she faced.
Tracy is a well-known member of the Ennis community. Born and reared in Ennis, she attended Ennis High School, where she was a solid academic student, as well as a standout athlete. She played basketball, track and volleyball. "I played most sports, but my favorite was basketball," Tracy explained. "I loved basketball!" Tracy's performance on the basketball court helped lead the Ennis Lady Lions to the 1983 state tournament. Their team lost in the first round of play, but they have the proud distinction of being the only basketball team from EHS ever to compete at the state level.
In fact, Tracy was such an impressive talent on the court that she was awarded a full two-year athletic scholarship to attend Navarro College in Corsicana. She played for the Navarro Bulldogs, but their basketball program folded after one year due
to a lack of funding. Fortunately, the school was committed to their athletes. They honored Tracy's scholarship, and she was allowed to complete her education.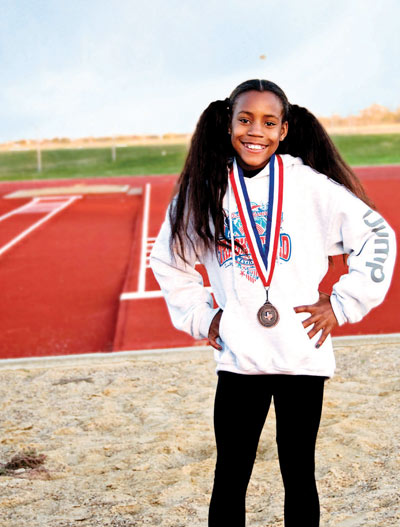 Tracy graduated from Navarro in 1985 with aspirations to pursue education beyond her two-year associate's degree. She applied and was accepted by The University of Texas at Arlington (UTA). She still loved playing basketball. In spite of no opportunity to play on an organized team for over two years, Tracy set aside her trepidation and tried out for the girls' basketball team as a walk-on candidate. Her performance on the court was still solid, so much so that in January 1986 she was awarded a full athletic scholarship. On top of her game in the classroom and on the court, Tracy graduated from UTA in 1988 with a bachelor's degree in sociology.
Many people grow up in small towns, graduate from high school, go away to college and choose not to return to their hometowns for various reasons. But, Tracy chose to return to Ennis. "The town of Ennis and Ennis ISD gave me a strong foundation," she explained, "and that's what I want for Paige."
Back in Ennis, Tracy worked as a junior high coach for St. John Catholic School. She worked her way up to head girls basketball coach and was employed by the school for 18 years. St. John Catholic School closed in 2008, and she now works for Dorie Miller Intermediate as their physical education teacher.
Tracy's experiences as a student athlete, combined with her long career of coaching and mentoring young students, have given her a unique perspective when it comes to parenting a student athlete. "When I was in high school, I participated in track and field. But I didn't like it. I only participated because I was made to. I loved basketball. Now that I am a parent, those experiences taught me to listen to what my child has to say about what she really wants to do and what she doesn't."
Another decision Tracy made was not to narrow her daughter's athletic focus down to just one sport. "Although Paige has excelled in track and field, I've never encouraged her to concentrate solely on that one sport," Tracy admitted. "As a coach, I have seen too many parents make that mistake, and then their child faces early burn out." Tracy wants her daughter to experience as many extracurricular activities as possible. Right now, her focus is on athletics, but one day it may be music or dance, and if she chooses to explore any of them, Tracy will support her. "My desire is for Paige to become a well- rounded individual," Tracy explained.
"And if her focus continues to be on athletics, then hopefully, her hard work will be rewarded with a scholarship to help further her education."
Although Paige is still at a youthful stage in her life, it's hard to miss the parallels already apparent between this mother and daughter. Hard work, determination, self-motivation, a competitive nature and a desire to succeed are mutual attributes. If Paige continues on the path she has currently chosen for herself, a shot at the Olympics wouldn't seem to be an unattainable goal. And if she makes it, Tracy will be one of the proudest moms in the arena.
Written by Dianne Reaux.