WAXAHACHIE, TX — When Pete Borjas walks down the hall of the Waxahachie Police Department, it's obvious he belongs there. His dark eyes and contagious smile broadcast that he likes being a cop. But it wasn't his first love. Pete made a detour to the United States Marine Corps before wearing a policeman's uniform.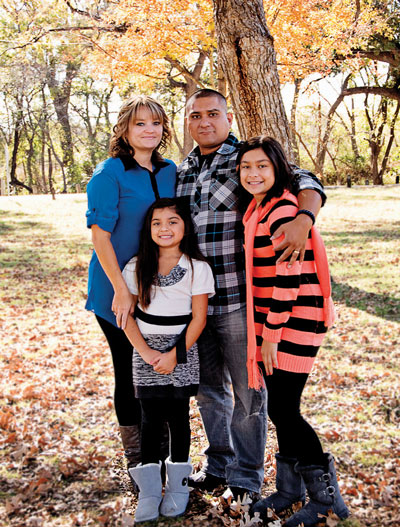 As a youngster, he was watching a parade with his family when a float passed by with two Marines on board. Pete was immediately impressed. "I knew that's what I wanted to be," he said. By the time he was a senior at Waxahachie High School, he was so anxious to follow his dream that he missed his senior class trip to enlist in the United States Marine Corps. He flashes a mischievous grin as he remembers the day he took the recruiter home to meet his parents. "My dad was shocked. I said to him, 'I told you I wanted to be a Marine!'"
Pete's dream got rattled some when he was deployed overseas. "My daughter was only 17 days old. I missed her a lot. That was really hard." Since the Marine Corps is small and doesn't have a man to fill each job, Pete had many different tasks, including logistics, machine gunner and communications — whatever was needed. "We didn't get much time off.
I might be doing logistics during the day then training Marines in martial arts after hours," he explained. He had three more overseas deployments during his enlistment, including two combat tours in Iraq. "I'm a praying man, so there was a lot of talking to God going on over there." He spent nearly nine years in the military before he gave it up to spend more time with his family.
Back home, he landed a job as an information technology recruiter, finding people to develop information software for computers. He was in a high-class location with a big office where he was making good money. "But that's where I found out money isn't everything." Pete admitted. "I wasn't happy, so I began looking for a new job." One rainy afternoon, he and his wife, Monica, were out with their two daughters, Aleena, 11, and Anaya, 7. They stopped to get something to eat. "My wife ran into the restaurant to pick up our food, and I waited in the car with the kids. Next thing I knew, she came out with a detective, pointed to me and said, 'There he is, talk to him.'"
The detective encouraged Pete to apply for police work. "And that's how I got a job as a Waxahachie policeman! It was exactly what I was looking for," he said. "Ever since I was young, I've always wanted to help, to be interactive with people, so this was perfect."
Navarro College had just started a Police Academy, and Pete was in the first class. He also went through five months of training with the police force. Now that he's a seasoned veteran, he has a cruiser assigned to him. He works 12-hour shifts, and his beat rotates to different areas in Waxahachie so he can be familiar with all parts of the city in case there is an emergency. He carries a duty-assigned firearm (handgun), department-issued Taser, two sets of handcuffs (and two extras in a bag), his cell phone and a shotgun. The department also has pepper-ball rifles that can be issued for crowd control if necessary. "My buddies and I don't think about danger. We just think about things we can do to eliminate it," Pete explained.
"Information is key. If we can find out what's going on before we get to the scene, that's most important."
Pete believes the courage, commitment and discipline he learned in the Marines helped him prepare for this job. "If you're out on a minor accident where people are squabbling over who had the right of way, and the next 20 minutes you're rushed off to an assault with a deadly weapon, having that flexibility and being able to switch gears is how the Marine Corps prepared me in a huge way."
According to Ron Turbeville, Pete's Patrol Sergeant, "Pete is a professional first and foremost. He's very dedicated to the people and community he serves.
I have a lot of respect for him and feel fortunate to have him on my watch."
Pete finds happy moments in his work. One day while on duty, he helped a Korean lady who was lost. They struck up a conversation about the Asian food he loved when he had been stationed overseas. A few days later, she showed up at the precinct with enough home-cooked Asian food for the entire police force. "I had a good day that day because the small thing I did was so big to her." Then, there's the goofing around and playing tricks on each other — their way of unwinding and developing the close friendships they can rely on when protecting each other's back. "Monica learned to cope with [danger] when I was in the Marine Corps," he said, regarding his wife's feeling about the danger his job could present. "She gets frustrated, but she understands I wouldn't be satisfied doing anything else."
His devotion reaches to his family, too. "When I was deployed to Iraq and had to leave my baby girl, the importance of being involved in their lives really hit home with me," he confided. He and Monica, who teaches pre-K at The Children's Montessori Center, spend a lot of time with the kids: walking, going to movies and hanging out at the park. Their older daughter is active in sports, and the youngest is now getting started with sports, so both parents stay involved with their activities.
Another of his off-duty joys is restoring his 1962 Chevy Impala. "I've done everything from body work to updating the interior," he shared. "It's not completed yet. I don't know that they ever are. It's what my dad and uncles did when I was growing up. I saw a lot of very, very nice vehicles rolling in and out of our driveway."
Pete has been with the Waxahachie Police Department since 2008. He has seen the city grow rapidly in that time, and when population rises, crime tends to rise. "The criminal element is coming up with new ways and new technology to deceive police responses," he said, "but Waxahachie is keeping up and making changes." Pete likes being part of that. "I still enjoy doing what I do, and I don't know what God's plan is for me, but if it's what I'm thinking, I'm going to be here a long time."
Written by Florence Phillips.