WEATHERFORD, TX — Many are filled with the Christmas spirit once they see the first Christmas display of the year, while others catch it the moment they embrace a visiting relative. For Rob Laney, the spirit of Christmas comes when the Parker County community gathers at Weatherford College for the annual performance of Handel's Messiah. "I think they feel like it's really a part of their Christmas tradition," he said. Rob directs the free concert inside the Marjorie Black Alkek Fine Arts Center each year, with this year's performance set for December 3.
Rob began teaching music part-time at the college 12 years ago. The following year when Rob had just started teaching full-time, then-president, Jim Boyd, asked him to form and lead the Parker County Community Choir. The choir started with about 40 singers and now boasts nearly 60 members. "We kept doing it every year, and people really look forward to participating," he explained. Rob always makes it a point to have the concert after Thanksgiving. "It's a real holiday event. You feel like the Christmas season has begun once that performance happens."
Auditions are held about three months before the performance. Dozens try out for a spot on stage. The college choir makes up about one third of the group, and local community members make up the rest. "When choir started, I would take any and all comers," Rob stated. Once it was established, Rob started auditioning more strictly. Singers must pass a sight-reading test and have a certain amount of training. "As a result, the choir has gotten a little bit smaller, but the musicianship of the ensemble has greatly increased. So, they're able to do more, make more music and have more fun," Rob explained. The choir has no age restriction. If the singers can sight-read and have voices that can contribute, they're in.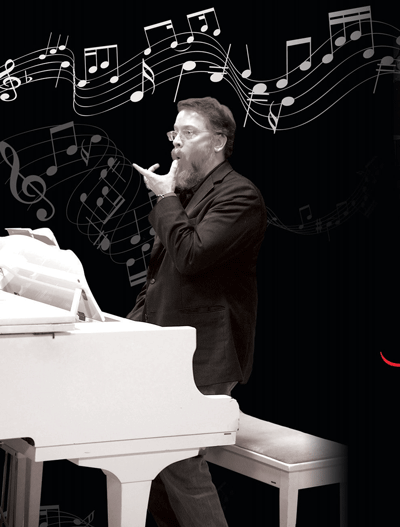 New and returning members must audition every year. "They understand where I'm coming from. I'm a teacher who believes you set the standards high, and people will rise to them," he said. "They really appreciate being told, 'Here is the standard, and I know you don't want to be in the choir when you won't maintain that standard.'" Most of those who at first do not make the choir often return to audition the following year after gaining some musical education, including how to sight-read. "Give them a goal to meet, and they normally do," Rob rationalized.
One thing Rob enjoys about directing the choir is getting to know those involved and their families. Community members usually return to auditions each year with a family member in tow. "They'll bring their spouse. And, the next year, they'll bring their cousin. Then the next year, their uncle and grandparents," Rob said.
Rob sometimes has a challenge finding a balance in high singers to low singers. Many more women than men audition for choir. Rob believes men may choose to stay out of choir because they do not
see it as stereotypically masculine. He always gets excited when a man with a big, low voice auditions for the choir.
The volunteer choir members take the annual Christmas performance very seriously. "A camaraderie forms in a group like this, because you're working so hard at some really difficult music," Rob said. "When you do a really good job at it, there's a sense of pride that goes along with it to continue every year."
For Rob, the music in Handel's Messiah never gets old. "The music itself is a masterpiece. One of the things about great art is you can re-experience that same piece of art over and over again and find something new to enjoy in it each time," he said. "It withstands the test of time, because there are so many layers of enjoyment."
A string quartet, including a cello, viola and two violins, and a grand piano accompany the choir during the hour-long performance. "It tells the chronological story of the life of Jesus. The prophecy, the birth story and the preaching, as well as the passion story and the resurrection," Rob explained.
"The Hallelujah Chorus" is one of the instantly recognizable songs of the popular classical piece. "Everybody hears that piece of music annually, all over the globe," Rob said. "It's a reliable source of joy." Rob tries to change up the performance each year to keep things fresh, but he always includes the pieces the people expect to hear. The choir members want to learn something new, but they still want to sing something they know. "They get something out of the sacred nature of the music. They appreciate that," he said. "And, people just really enjoy working together as a team."
Rob appreciates the support from the college and the local community. "The culture comes at a price, and it comes with a lot of hard work. We wouldn't be able to put together what we do if it were not from the support of the college, the community and the volunteers,"  he admitted.
Rob has been involved in music since he was a little boy. From church choir to marching band, Rob knew it was his calling to become a music teacher. "Both my parents were teachers. Both my father's parents were teachers," he said. His grandfather, Bob Laney, was a choir director in Texas, Oklahoma and New Mexico. Rob graduated from Texas Christian University with a bachelor's degree and master's degree in music education and enjoys teaching at Weatherford College. "I guess I'm carrying on that tradition."
Although Rob's wife, Emily, is not involved in the Parker County Community Choir, the audience may catch a glimpse of his toddler son, Weston, during the performance. Weston enjoys directing alongside his daddy.
Rob is happy to share his passion for music both with his son and the local community. "I think people appreciate that we've got something we can be proud of here at Weatherford College. We don't have to drive into the Metroplex in order to get quality like this. I think the community appreciates that aspect of it," Rob said. "It's like the college's gift to the community."
Written by Amber D. Browne.