WAXAHACHIE, TX — Another big year for the Waxahachie Junior Service League's Christmas Market, which is always held the first Saturday in December, has come and gone with attendance and proceeds rivaling 2011's phenomenal turn out. The annual event to raise funds for worthy organizations across Ellis County is now in its 26th year, and program committee members, Kristi Autrey and Stacie Sipes, are impressed with the increased support they've witnessed. "Last time, we raised $20,000 for our charities, and we believe we will top that," said Kristi, who is in her fourth year with the Service League and third year as a committee member. "We are very thankful for the generous backing we've had from the community and all the great feedback."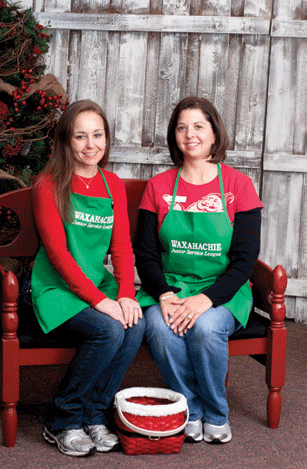 Stacie also expressed gratitude to all those who ensured success for the latest installment of the fundraiser. "The 2012 Christmas Market and Gift Show was a huge hit," said Stacie, who is in her third year with the Service League and second year on the program committee. "And we owe it all to the sponsors, vendors, shoppers and volunteers who make it happen."
Making it happen is what the Waxahachie Junior Service League (WJSL) has been doing for 60 years. Founded in 1952 with Mrs. W. H. Getzendaner as its first president, the League encourages volunteerism in a wide variety of community organizations that also receive monetary support through fundraising efforts. "We're proud of the long history of the Waxahachie Junior Service League," Kristi said. "Each of the charities we support is special."
Among the organizations that benefit from League programs like the Christmas Market are Ellis County EXPO, Gingerbread House, Habitat for Humanity, Hope Clinic, Meals on Wheels, the Sims Library, Waxahachie CARE and the Women's Resource Center. "League members volunteer and raise money for over 40 groups," Stacie pointed out. "And the groups are not all based in Waxahachie, but are countywide." In the past, the League has operated an outreach for exceptional children at the American Legion Hall, supplied teacher's aides for special education classes at area elementary schools and taken part in the Tour of Homes. The League has also published a series of cookbooks and for some years accomplished a yeoman's service for the Chamber of Commerce and the Department of Health. In addition, the League sponsors the Sue Stroope Art Scholarship and WJSL Community Service Scholarship.oday, the greatest philanthropic effort the group carries out is the annual Christmas Market that opens at the Waxahachie Civic Center with a preshow evening mixer. Their guests can enjoy drinks and hors d'oeuvres, as well as participate in a silent auction and raffle.
"At the preview show there are always great gifts available from the vendors, and  this year the raffle offered two round-trip tickets on Southwest Airlines," Stacie outlined. "It's always fun for everybody, and really it sort of kicks off the spirit of the season, for us as members and volunteers and for the public."
The next day the main market opens with more than 100 vendors offering their wares at the Waxahachie Civic Center. Apart from the ever-popular Christmas items, some of them one-of-a.kind, the merchandise on display ranges from clothing and accessories to home decor and lawn and garden products. Booths offering custom-painted interior signs and designer handbags were among some of the most popular vendors at the 2011 Christmas Market and were sought after again this year. "We had a packed house last year with over 1,600 attendees," Kristi enthused. And while there's no tally yet, the crowds filling the center this year likely exceeded that record. Aside from the attraction of so many beautiful gift items, the public was entertained by performances by Lone Star Martial Arts and the Gymnastic Zone. Photos with Santa were offered courtesy of Marie Q Photography.
Stacie and Kristi are used to seeing many return visitors to the showcase, which nurtures a sense of family and camaraderie. "I think people want to stay involved in their community, and this is one big way to do that," Stacie said. "It's a great place to start your Christmas shopping and at the same time know the money you spend is going to such good causes."
Kristi concurred. "It's such fun and is a real family outing for a lot of people. We love to see the moms and daughters coming out, and even the moms, daughters and grandmas. But there's stuff here for the guys, too, so it can be a whole family affair."
One regular attendee of the Christmas Market is Jana Martinez. "I come every year," she admitted. "I don't live in Waxahachie anymore, but it's not too far from Dallas to come for some great deals and to catch up with old friends."
Mary Donner, of Rice, also doesn't mind the drive to Waxahachie to jumpstart her Christmas shopping. "I have always found such neat items there, and I just make a day of it."
For Kristi and Stacie the Christmas Market is equally exciting, but it has a deeper meaning, too. "When you see firsthand how the funds we raise actually impact the lives of people," Stacie said with emotion in her voice, "it is so fulfilling and makes you realize God is at work." Kristi was equally moved in discussing the aid provided by the Junior Service League to such organizations as the Campfire Creek Therapeutic Riding Center, an equine assisted therapy outreach geared to children and adults with disabilities and terminal illnesses.
Campfire Creek, currently the League's long-term project, was established in 2004 by Emily Oliver who maintains the 501(c) 3 entity with the help of 25 volunteers who oversee the riding activities of 36 students on seven horses.
"What Campfire Creek is doing to help people is what life is about and what we, as a service organization, are all about," Kristi said.
Kristi and Stacie are already looking forward to the 2013 Christmas Market and Gift Show. They have high hopes for its continued success. "It's just the perfect way to give back to the community," Kristi said. "For us as volunteers it's obviously a blessing, but those who are giving feel the same." Stacie agreed, urging those members of the public who may not attend the Christmas Market to consider making their own direct donations to charities that mean something to them.
"The holidays are a time of giving and our Christmas Market is definitely a great example of one-stop shopping," Stacie added. "But at the end of the day, our goal is to facilitate caring for and giving to others. So, whether you had the chance to come by the market or not, just think of someone and give.
Written by Randy Bugham.