BURLESON, TX — Tattoos are something many children see from the witness stand while giving testimony in a courtroom. As they look at the Harley Davidson motorcycle-riding men and women in leather vests, they aren't fearful or intimidated. In fact, what they feel is quite the opposite — comfort, reassurance and friendship. That's because they are looking at friends from Bikers Against Child Abuse.
On some occasions, two of the friends they see are Phillip and Lisa Gilbreath. For this Joshua couple, Bikers Against Child abuse (BACA) isn't just about riding. It's about making a difference within their community. Phillip got his road name, "Drip," from a bike he used to have that was always leaking oil. When he was 18 years old, he bought his first motorcycle, but that first one didn't last long. "I didn't have a license," Drip stated. When he was 43, Drip got his second motorcycle and started riding
again. That was six years ago. "At first, all I could find was the bar-hopping scene," Drip admitted. "That just wasn't for me." But shortly, Drip found out about BACA and knew he'd found his crowd.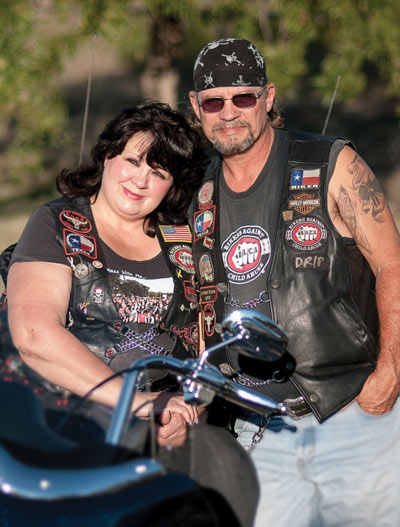 According to their Web site,  "BACA exists with the intent to create a safer environment for abused children. We exist as a body of Bikers to empower children to not feel afraid of the world in which they live. We stand ready to lend support to our wounded friends by involving them with an established, united organization. We work in conjunction with local and state officials who are already in place to protect children. We desire to send a clear message to all involved with the abused child that this child is part of our organization, and that we are prepared  to lend our physical and emotional support to them by affiliation, and our physical presence. We stand at the ready to shield these children from further abuse. We do not condone the use of violence or physical force in any manner; however, if circumstances arise such that we are the only obstacle preventing a child from further abuse, we stand ready to be that obstacle."
Lisa was given her nickname, "Bobalu," from some of her co-workers in Burleson. Bobalu checked into  BACA because, as she said, "Drip was never home." For that reason, she went and checked it out for herself, and  before too long, she was finding herself actively involved. "I can't think of anything better to do with my free time than to do what I do," Bobalu said. These two fun-loving do-gooders are quick to point out that BACA is not about invading any child's life. "We are simply there to offer encouragement."
"We are in their life as much as they want us to be," Drip explained. Usually, referrals are given to them from advocacy centers, police departments and other agencies. Once BACA has the child's name, the child liaison will set up the initial interview with the child and the parent/guardian. That's when the child, and no one else, decides to adopt BACA into their family. Allowing the child to make that decision is empowering. "When they adopt us, we give the child a certificate of appreciation, a pillowcase with the names of the BACA members who attended the adoption, a BACA blanket, a vest with their road name on it and a special Teddy bear filled with hugs by all those who attended the adoption. When the hugs and love are used up, the child tells us to come back and refill it."
At the adoption, the child is given the name and number of two BACA members who live near them. They then become the child's primary contact person(s). Drip pointed out not everyone can be a part of BACA. Before becoming the primary contacts for any child, the bikers are cleared for participation through an extensive background check. In addition, they must also have ridden with the chapter for at least a year and have received special instructions from the Licensed Mental Health Professional. "Anytime the child feels scared and feels the need for the presence of his new BACA family, the child may call upon these bikers to go to the child's house so they can provide the necessary reassurance for the child to feel safe and protected," the Web site states. BACA members and supporters also provide escorts for them if they feel scared in their neighborhoods, ride by their homes on a regular basis, support the children at court and parole hearings, attend their interviews and stay with the children if they are alone and frightened.
"BACA members never go to the child's house alone," Bobalu said, "and they never go without the knowledge or permission of the parents. Their mission is to not be permanently engaged as the child's power. BACA's mission is to help the children and their families learn just how powerful they can be. "Our presence will be available as long as the child needs us," Bobalu said. "BACA also hosts other functions to benefit the children, such as barbecues and parties."
When the court day arrives, the BACA crew will show up. If the judge will allow, they will all wear their biker vests. "When the kid looks up from the witness stand, he sees all of us," Drip said. "We're there to empower the child, to give them the strength they need to testify."
Once a child's case is over, the BACA crew will stay available if the child still wants them in their life. But, Bobalu pointed out there is never any pressure for them to do so. "If they want us, we are there. If the perpetrator gets out later, and the child still wants us, all they have to do is call," she explained. "We'll camp out on the yard if necessary. The truth is that if they don't ever need us again, then it just means we've done our job."
Most children do still stay in contact with them. "We'll have regular reunion parties, and the kids will still show up," Drip said. With tears in his eyes, he shared a time when a debriefing was occurring in a convenience store parking lot. A young girl in her early 20s recognized their patch and approached them. "She said we had taken care of her when she was 12 years old," he shared. "She just wanted to thank us. I will never forget that." Neither will that lady, or countless other children who have been helped by Drip, Bobalu and so many others like them.
Written by Rick Hope.