Corsicana, TX — The Main Street Pumpkin Patch pumpkins, grown and harvested on a Navajo Indian reservation near Farmington, are about to make their presence known in Corsicana. During the last several months, the Main Street Pumpkin Patch Planning Committee has been working hard to ready the Corsicana Visitors Center and downtown for the event, which has been expanded this year. People of all ages will enjoy the fall fun. This year's co-chairpersons are familiar faces around town and wear their farmers' hats quite naturally. Donald and Jackie King, owners of P.O.P. Acres Ranch and Farm, have volunteered their time and expertise to make the Pumpkin Patch a great time for all. They have also been busy raising funds for the old-fashioned street lights, benches and other projects that will beautify Corsicana's downtown brick streets.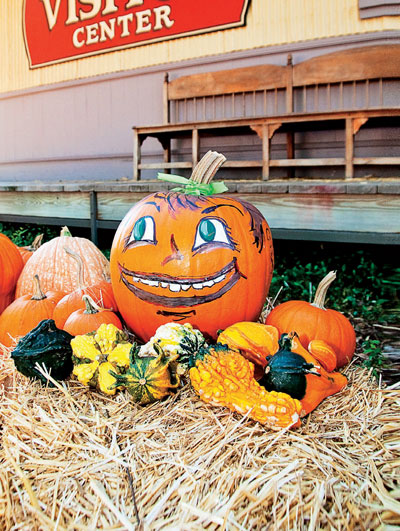 "We want to excite families and kids," Donald added. Volunteers from community groups will be on hand to unload the expected 85 pallets of pumpkins and decorative gourds, prior to the opening of the Pumpkin Patch on October 13. Tresa Shimonek and Misty Louthan will be on hand to professionally "stage" and design the patch for many delightful photo opportunities. Steve Hayes and his committee have been recruiting individuals to help shoppers find just the right pumpkin for their decorative as well as practical needs. The committee is comprised of Debbie Hanks, Brad Haynie, Raul Jimenez and Misty Louthan. Another goal of the committee will be to further the sense of shared community. The area groups and individuals throwing their support behind making this year's Pumpkin Patch a great success will aid in the committee's goal.
"Everyone gets happier in the fall. Things are cooling off, and people are getting in the holiday spirit," Jackie remarked. The excitement will build throughout the month with on-going special events. "The children and the community as a whole really enjoyed it." Last year's events are returning: the sales, family story time, photo "moments," the Pumpkin Palooza as well as child-centered arts and crafts projects. New events have been added, including fun events that will further community participation and spirit.
Each pallet sponsor will have a fall-themed sign of "their" pallets. Funding donations are tax deductible and will go to the Main Street Program. One of the new events will be a pumpkin and wreath decorating contest. Also, family movie nights with hot chocolate and snacks are planned for several of the October evenings. On November 3, the final day of the Pumpkin Patch, there will be an all-day Pumpkin Patch Craft Festival. And a pumpkin baking contest will feature the pumpkins at their best — in cookies, breads and pies. Halloween will be celebrated in downtown Corsicana with even more flair than last year. The Beaton Street "Boo Ride," sponsored by the Corsicana Parks and Recreation Department, is being touted as a ride, "Not for the faint of heart!" The yearly trick-or-treat, sponsored by downtown merchants, will be accompanied by a carnival and games.
A costume contest for young and old, visits with the tooth fairy and two stages of fun performances will fill the night of October 31. Helping to coordinate all the activities and handling the financial reporting is Cheryl Jordan, the new program assistant at the Main Street office. Cheryl has jumped into her new position with gusto. A native of Wisconsin, she moved to Texas with her parents in 1983. Using her degree in professional communications, she worked for Mosaic in Corsicana for three years before joining the mostly volunteer staff at Main Street and the Corsicana Visitors Center as a part-time employee. "As soon as I saw the ad for this position, I thought, This is exactly what I've been looking for. This job really interested me since it allows me to work with volunteers and public relations," Cheryl said. Her work with Mosaic gave her experience in fundraising. Cheryl is very quick to give credit to Lisa Miller, the former program assistant with Main Street and the Corsicana Visitor Center, who passed away quite suddenly in November 2011. "The celebration did really well last year, so we were determined to continue having it. The children and the community as a whole really enjoyed it," Cheryl said. Lisa's passing came shortly after she had planned and implemented the first Main Street Great Pumpkin Patch celebration. She kept very organized files, notebooks and complete information so the celebration could not only be replicated during subsequent years, but also grow. "Lisa worked tirelessly," Jackie said. "We have a high benchmark to meet Cheryl along with Steve Dieterichs, Main Street director, will be in charge of publicity.
All of Navarro County and the surrounding areas will be made aware of the exciting opportunities. Donald and Jackie, with family ties to Navarro Mills in Navarro County, returned to this area from careers in the Dallas Metroplex. They desire to be a contributing part of the community through the giving of their time, as well as investing in their business. They have dreamed of attracting people from outside this county to come help support our business development. This is a goal that coincides perfectly with the Main Street Program and downtown merchants. "I would love to see these smaller towns come back alive again," Jackie said. This year, not only will Donald and Jackie help bring about their dreams, but they and countless other community volunteers, will further the dream of a fun October celebration in which Navarro County and surrounding county residents can participate.
Editor's Note: To learn how you can help, contact Jackie at (903) 229-7505 or Cheryl at (903) 654-4852.
Written by Virginia Riddle.