BURLESON, TX — The tales of the Old West often paint a picture of tough, gunslinging, grizzly cowboys, rugged outlaws and Texas Rangers all galloping across the rough terrain in pursuit of justice or revenge. Some have scruples, while others take the law into their own hands determined to get their man, dead or alive. Although some may think the legends of the Wild West have faded into the sunset, Burleson's Kip Turner, and other dedicated re-enactors keep it alive as they tell exhilarating stories through live action gunfights, authentic western films and regular appearances dressed as colorful fictional and historical characters. Kip, better known as "Brazos," began his adventure into America's rich Western heritage 12 years ago when he discovered the opportunity at a Western-themed wedding reception in Grandview. "I was immediately drawn to it because, growing up watching all the old Western shows on TV with my dad, I had always wanted to play cowboy," Kip laughed. Looking into it, he discovered there were several things he needed first. He needed the proper clothes, the appropriate weapons and other Western accoutrements before he could fully embrace the world of cowboys and Indians. In the meantime, he found the Single Action Shooting Society. "It was like cowboy action shooting where they shot live ammunition at steel targets for timing and accuracy.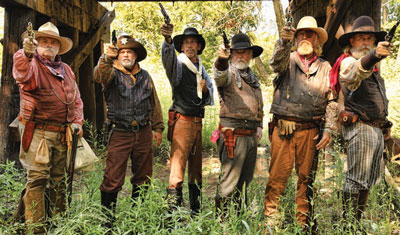 They also dabbled some in dressing up, but it wasn't required," Kip said. It was with them that you might say he was discovered. Several individuals he met there were doing a movie at the time, and he caught their attention. Before he knew it, he was cast in his first film, Blood on the Brazos, and his career as a "gun for hire" began. "We've got to teach these kids the foundation that got them started. It means so much to us to turn around and see them captivated, laughing and clapping." The director of that film, Glenn Helm, later pulled Kip into Lone Star Legacy, an official Western re-enactment group. The men and women didn't mind his lack of Western wear and weapons. "They liked me, I guess," Kip shared. "I didn't have everything I needed, but they nursed me along until I could become a part of the group." It wasn't long before Kip, at 48 years of age, had ample opportunities to play cowboy. With a 12th film on the horizon, among his credits are 11 movies, including a featured extra role in Hollywood's recent re-make of True Grit.
There's even a life-size, stand-up cutout photograph of Brazos, Kip's Western persona, as a Texas Ranger in the Texas Rangers Museum inside San Antonio's renowned Buckhorn Saloon & Museum. "I haven't seen the exhibit in person yet, but I've seen a picture of it. It looks pretty neat," he admitted. "I'm proud to be a part of something that will preserve our history like that." Brazos' fully-costumed, authentic, cowboy charm can also been found in fine Western artwork. He has been the inspiration behind a number of artists' oil paintings, sketches and photographs, some for sale and others featured in a variety of publications. But no matter where Kip's cowboy adventures take him, his true passion lies in his ability to use his Western character to leave a lasting impression on today's youth, a generation that hasn't experienced the Old West's history and culture the way children did when he was young.
That's why Burleson's Founders Day is one of Kip's favorite events of the year. For the last five years, he has joined forces with retired Western stuntman, Doug Grantham; former Burleson resident, Jack Edmondson; and other gunfighters — all known as the Desperados. For 19 years, the Desperados have brought the Old West to life in the streets of Burleson during one of its biggest festivals of the year. This month, as the city commemorates its centennial on Founders Day, the Desperados will appear again for the 20th year. Since he was 30, Doug has been the man behind countless dangerous and precarious stunts in 19 Western movies and a myriad of live shows across the country. He founded the Desperados in 1982 as another way to impart his passion for an era rich with tradition.
"We've got to teach these kids the foundation that got them started. It means so much to us to turn around and see them captivated, laughing and clapping," he explained. "If we can make an impression on even just one, it makes it all worth it." Now at 67, Doug does his part behind the scenes. "I'm too old to be jumping off buildings anymore. I don't bounce as well as I used to. It'd be more like a thud," he laughed. But he started the Desperados, and he plans to stick with them as long as he can. "This is what I live for," he said. "I may get to where I'm directing from a wheelchair, but I will be here." Jack Edmondson, known for his uncanny impression of the iconic John Wayne, has known Doug for 40 years and has no doubt Doug will never leave the business. "It gets in your blood," Jack said. "This started as a hobby for me, and it became my primary career.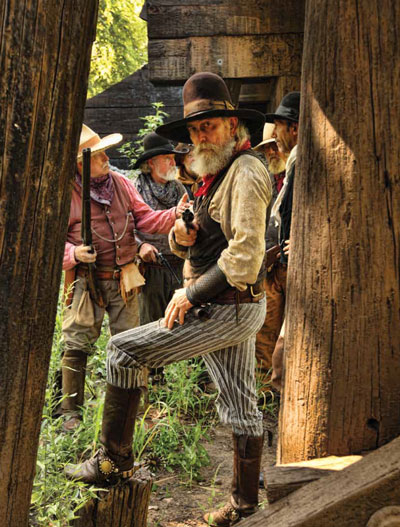 It's what I do now, full time." Jack is a published author, actor and expert historian, who currently travels across the state doing programs for schools. He dresses the part and talks about the Fort Worth cattle drive, or tells the story of Sam Houston as the hero himself. "I like to call it edutainment," he said. "Kids today don't have anything to stimulate their interest in history. Our heroes, when we were growing up, were authentic Western or historical figures, but now they have Anakin Skywalker and Harry Potter. To me, history is as important as reading, writing and arithmetic." Kip, whose family settled in Burleson in the early 1950s, couldn't agree more. "When we do our live shows at events like Founders Day and the kids get so excited and captivated by what we're doing, it gives you a feeling of accomplishment — that you've done something for the kids to help them see the value of our heritage. That makes them want to learn more about the historical part of it," he said. "We especially love it when they come up afterwards to ask us questions." On occasion, Brazos and Jack can be found shootin' it up in the Fort Worth Stockyards following the longhorns' weekend drive down Main Street. When he's not wearing his Stetson and genuine cowboy boots, Kip also works in Burleson as a carpenter. "I enjoy the carpentry," he smiled, "but I would love for this to be my full-time job. It's a lot more fun to be a cowboy."
Written by Sarah Anderson.