WEATHERFORD, TX — From a booth at a local taco shop, Tim Jarrell writes his sermons. He watches the customers and thinks, What would I have to say to get him or her to think twice about something? This ability to understand other people's points of view helps him pastor Couts United Methodist Church. He also finds inspiration to participate with Kids Against Hunger, Center of Hope and Manna, charities which serve people locally and internationally.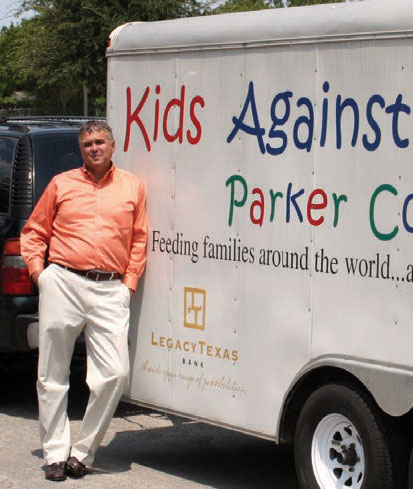 This year, he began promoting a new focus on public service in Weatherford based on the concept of city transformation birthed in Boulder, Colorado, and described by Eric Swanson and Sam Williams in their book, To Transform a City. "I read the book, which asked how we can make a difference in our community and, from a spiritual perspective, make the community the place God wants it to be," Tim said. He decided that question was worth talking about with Weatherford pastors and city officials. A natural-born leader, Tim asked the members of the Ministerial Alliance and even some civic leaders to read the book that fascinated him. The results thus far are both simple and complicated initiatives, ranging from The Big Tent — which offers comprehensive children's services under one roof — to individual churches adopting elementary schools. Couts is helping to revive a program called The Clothes Line to provide basic clothing for students in Weatherford. "It was shocking to find out there are kids who come to school without socks and underwear," said Tim. He hopes to find funding for a building that would house operations for The Clothes Line, as well as for Kids Against Hunger.
Tim feeds his visionary nature and his personal growth with other people's thoughts, processing ideas both new and old. "I read in other genres, beside church," said Tim, who likes to find quiet spots like his home or his car when he is waiting for his children. "Right now I'm reading Stephen Covey's book, The Eighth Habit. It's about finding out what your voice is and what unique contribution you are here on this planet to make to others." And if you ever get a chance to listen to Tim, you will think twice about something. For instance, shortly after arriving in Weatherford nine years ago — after pastoring for 27 years in places as varied as Grapevine, Hico and Granbury — Tim preached a sermon titled: "Ministry and Mission," and passed out little snack-sized packages of M&M'S (for ministry and mission). He threw a few, while ushers passed out most of them. "For a lot of our history we just judged our Christianity on what we do inside the church. I want to refocus our understanding of what it means to turn church inside out. The sermon asked the question, 'How do we go out to be missionaries to the world?' Nine years later, our mission statement is: Go WEST."
The members of Couts strive to Welcome, Equip, Serve and Transform, doing this under the leadership of Pastor Tim by going out of the church and building relationships in their communities. Tim's wife, Sarah, directs a school serving 165 preschool through 6th grade students. They host one of the largest scouting programs in town. And several times a year, they meet in a building near Brookshire's on Palo Pinto to pack food for Kids Against Hunger. Many other churches and service organizations are involved in their mission to feed starving children in countries like Haiti, Honduras, Mexico and Somalia. Three years ago, Weatherford's ministerial alliance sponsored half the cost of an assembly line for packing meals that cost one quarter for one child for one day. Then Couts, Adell Community Fellowship, All Saints Episcopal, Grace Presbyterian and Christ the King gave $1,000 each. "We bought a trailer and have packaged close to half a million meals," said Tim, who is dreaming now of creating more satellite packing locations. "If you want to do something that is going to impact people, you have to think big. It would take 282 billion meals to feed every hungry child for a year. We are not trying to create dependent relationships — we are partnering with people helping train those starving kids to be able to feed themselves later." Locally, Tim promotes the same philosophy. Couts is one of Weatherford's many Churches of Hope, serving meals five times per year at Center of Hope. "We come on-site, prepare food, serve food and care for clients there," Tim said. "We don't just feed them — we also help offer job skills."
Setting the example, Tim practices what he preaches about being a missionary as well as being a minister. "You do have to consciously choose to develop relationships. Because of our nature, we gravitate to those we already know. But you've got to go outside the doors of church to make missionary work a reality," Tim said. He learned this when he pastored the First United Methodist Church in Crowley. "Billy and Linda Hutchings saw a need to feed people and got involved in their community, and then I got involved. The result was Crowley House of Hope. You encourage people to go out, then you're out, then all of a sudden it propels you further." Another lesson Tim learned during his service in Crowley was that preaching to people before feeding them is manipulation, not love. "I say it's hard for a starving person to hear anything but the growling of their stomach," Tim said. "Our obligation is to care for people and love on them. Then they'll listen as we talk about our faith, which becomes authentic and real." Everywhere he goes, Tim appreciates the relationships he develops. "The joy of being 50 is you realize other things are more important than gold and silver.
The wealth is found in relationships, in being a person of substance and character, in being a servant leader," Tim said. When he joined Weatherford Stage Performers, he met youth in the Peaster area and enjoyed connecting with the kids while performing Shakespeare. Tim grew up in Richardson playing guitar and singing in church musicals. "Music is something that is deep inside of me and helps to express my soul. Plus, it's a great outlet to give of yourself to other folks.
"Church is not the ministry epicenter," Tim insisted. Focused on finding and helping at-risk people, he wants to make Weatherford — and the world — a safe and wonderful place for everyone. "I am comfortable with letting things work their way out instead of having a fixed end in mind. I think what we're doing with To Transform a City invites others to get involved. And who knows who will have a significant impact on making Weatherford a more wonderful place."
Written by Melissa Rawlins.