BURLESON, TX — Veterans' Day, formerly known as Armistice Day, marks the anniversary of the end of World War I. It is a day set aside by U.S. President Woodrow Wilson in 1919 to honor armed service veterans. Cameron and Camden Lewis, 13-year-old twins, have long known the significance of this day celebrated on November 11.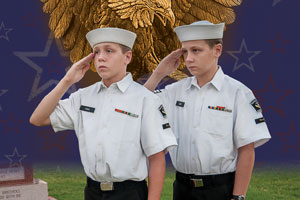 In a family surrounded with a long history of military service, Cameron and Camden take on the charge of continuing their rich heritage. Both brothers are enlisted in the United States Navy League Sea Cadet Corps program at Carswell Air Force Base in Fort Worth. The boys want to carry on the long tradition of military service that started with their great-grandfather. The United States Navy League Sea Cadet Corps (USNLCC) program is for boys and girls ages 10-17 interested in learning about the Navy. Enlistees learn about naval life, basic seamanship, military drill and leadership.
One weekend a month, the Lone Star Squadron meets to drill, march and learn about naval history. On Sunday, they attend the nondenominational worship service on the base. "We have achieved the current ranking of LC3, and will soon be promoted to Petty Officer 3rd class," Camden said. There are several ranks to maneuver through. Advancement requires course exams and training camps held twice a year. Ribbons are awarded for service and achievement. Both boys have ribbons for academic success at Hughes Middle School and community involvement activities. A family goal and priority is to give back to others.
Cameron and Camden joined the USNLCC program in August, 2011. "The longer they are in the program," Tabor, their dad, said, "the more diverse their trainings become. They offer everything from SEAL training to marksmanship training." The longer recruits stay in the program, the more benefits they accrue. They will be eligible to enter the armed forces at a higher rank, are favorably looked up to and may receive scholarships.
SCUBA school is coming up, and they are looking forward to completing the training and becoming scuba-certified by the end of the year. "I want to go out to the lake and dive," Cameron said. Kids from all over the United States take part in these training programs. They are held twice a year in various locations across the country.
Melissa, the twins' mom, works as a mentor and supervisor with at-risk juveniles through the Youth Advocate Program. She also volunteers as a Court Appointed Special Advocate (CASA). Even though the family calendar is full, she also gives her extra time as unit photographer when their squadron needs individual and group photos. Tabor works for a military manufacturing and distribution company. "If a plane, helicopter, tank, sub or battleship needs parts," Tabor explained, "we are available to meet those needs." He helps Cameron and Camden with academics and football skills and volunteers with USNLCC when he is needed.
The twins' family is very important and a huge support when it comes to getting the boys to school, sports activities and USNLCC training. The boys were introduced to the USNLCC program by their grandmother, Sharon West, who is one of their strongest encouragers. "They couldn't be any more blessed to have the support of her and their grandfather, Jack West, who is also a veteran of the United States Navy," Melissa said. The USNLCC program encourages kids to have high academic scores and stay drug- and alcohol-free, while developing team work, patriotism, courage and self-reliance.
The Lone Star Squadron showed their patriotism when they traveled to Galveston, where they were assigned duties in the commissioning of the USS Fort Worth combat ship in September. "We helped send in a petition for the name," Cameron said. "It is the only ship named after a city, and it is an honor to have it named after the city of Fort Worth." In July, the squadron raised money for the journey through a Burger Burn fundraiser where cadets cooked burgers for the Marines on base.
Military service runs deep in the family. Their great-grandfather, Richard Lewis, served in the Army. Their grandfather, Rick Lewis, also served in the Air Force as military police. He has traveled the world and was also deployed to Desert Storm. He is a huge part of their lives. He has taught Cameron and Camden how to spit-shine shoes, fold uniforms and properly pack their sea bags. "He is a great resource for the boys," Melissa said. "He is so supportive."
Rick gives the boys advice. Most they follow, some they don't. "I tell them, 'Go Air Force,'" Richard laughed. "But, I didn't follow my dad into the Army, and they are not following me into the Air Force. Our family samples a little bit of it all. Together we work as a team to meet all the demands of our family's busy lives, as well as others' lives we can touch along the way."
Cameron and Camden have many other interests, like other boys their age. "We lead them in many directions, so they're able to explore what they like and find out what they don't like," Melissa said. Both boys enjoyed attending the Burleson Junior Fire Academy that is held yearly. Their younger brother, Taybor, completed the academy this year, and their dad, Tabor, completed the Burleson Citizens Fire Academy in 2009. For one week in the summer they don full gear as they shoot water from hoses, run the tower maze through smoke and learn about fire trucks, ambulances and medic helicopters.
Camden plays football at Hughes Middle School, and Cameron enjoys art. Many of his pieces are on display in the family's home. Camden is a Longhorn fan, and Cameron is a Sooners fan, so football is always an interesting debate in their home. Both boys plan on pursuing military police careers, like their grandfather, Rick.
With the approach of Veterans' Day, when the nation celebrates the service of all United States veterans, Camden and Cameron will be remembering and celebrating, too. They will remember the military service of their family members and celebrate the freedoms it allows. As these two eighth graders continue to earn stripes in the USNLCC program, their passion for military service leads them into the future.
Written by Erin McEndree.