CORSICANA, TX — A one-time tennis star still lights up local courts and the lives of those who witness his prowess and personality. Cecil Easley, 44, has the same passion he had for the sport when he was in his 20s and won state and national championships. He has all the skills, energy and dedication that originally propelled him into the game he loves. The only thing different is Cecil plays from a wheelchair now. An accident four years ago paralyzed his legs but not his heart or his will.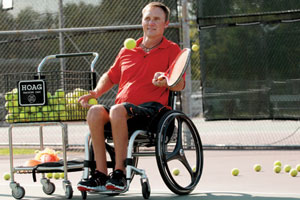 "When I'm out there on the court, I'm happy," he said. "I don't let my physical challenges affect my focus on the game or on my desire to do anything." Cecil, the new tennis director at Mertz Tennis Center, inspires the adults and children he coaches with his abilities and his attitude. "My experience has shown me that we're here for a short time, so we need to share our lives with others," he pointed out. "Whether it's through sports, church, whatever, it's important that we give our all." Cecil has been doing that his whole life, although his injury in 2008 spurred him on to realize a greater purpose. Reared in Corsicana by a Christian grandmother who also introduced him to the sport that would further define his character, the young man's sound upbringing would serve him well as he excelled in tennis, in business and as a father.
"My grandmother, Mary Easley, was a big motivator in my life," he said. "She taught me so much." Even when his job as operations manager for a major farm equipment company relocated him to Corpus Christi, he kept in close touch with her. And when his tennis career took off in the early 1990s, with wins at United States Tennis Association tournaments in Houston and San Antonio, his grandmother cheered him on, as did his mother and father, and all his friends back home. His most notable accomplishments as a player were an individual win in men's singles at the Texas Sectionals, a team tennis state championship, and a follow-up win in the same category in which his team ranked second in the nation. Rearing his son, Hunter, took priority over tournaments, but Cecil always knew he'd someday go back to the game. He just didn't know when or how it would happen. Fate stepped in on June 8, 2008. Having moved back to Corsicana, Cecil was taking a ride on his motorcycle to Lake Halbert, when a motorist ran a stop sign and struck him. "It should have been a minor accident," Cecil recalled. "I slid, but didn't even get road rash."
Unfortunately, the driver of the truck that hit him moved his vehicle and drove over Cecil, rupturing his spinal cord. But Cecil blames no one for the tragedy that changed his life. He focuses on the positive outcome of his experience. "I have no resentment toward the driver," he said. "I'm at peace with that and don't think about it. I think about what God has planned for me." In fact, faith and love of family played a hand in Cecil's recovery from the start. His then 12-year-old son's decision to play tennis gave him the inspiration to get better, so he could help coach him. Their shared interest not only bonded them as never before, but improved Cecil's strength and outlook. "God was working through tennis for me, only I didn't know it at the time," he explained. "A few days after the accident, my son came to visit me in the hospital. 'Dad,' he said, 'I'm going to play full-time tennis at school.' I said, 'Awesome, let's get you some racquets!'"
In that moment, Cecil's road to healing began. "I always knew we'd play father-son doubles together," Cecil said. And they did. Enjoying matches with his son provided Cecil the goal he needed to recuperate. "It gave me something to look forward to," he said. "It brought me back to life." But this year, Hunter, who is now in high school, gave up tennis to return to his first love — football. As the motivating force in his dad's recovery, his mission was over. "That's why I know God used Hunter's temporary interest for me to get back into tennis," Cecil observed.
"It wasn't for him. It was for me. I wouldn't have progressed had I not had him to inspire me." This complete renewal of vigor and passion led to the next step in Cecil's unfolding purpose. His presence at the Mertz Tennis Center, while playing with Hunter, was noticed by Lee McCleary, Corsicana's director of economic development, and Milly Vickery, president of the Corsicana Tennis Association. Lee, a former tennis coach at Baylor University, and Milly, who teaches tennis at Frost ISD, saw talent and energy in Cecil. They approached him with an offer to join Mertz as tennis director. "When they called me, I could see God's intentions then," Cecil said. "I knew He wanted me to use tennis to share my experience and motivate people in their faith." And, for the past year, that's just what he's done, and more.
Cecil's dedication to his sport is evident in every swing of his racquet and each word of wisdom he imparts to those he coaches. "I love the game," he enthused. "I love teaching it. I love working with people of all ages and ability levels — beginners, advanced players. I can help anybody, and I want to." But it is children under the age of 10 whom Cecil most enjoys coaching. "We can teach kids ABCs, but they teach us how to make life fun," he commented. "Their enthusiasm actually helps me. It's awesome. I get to see their enjoyment of the game that has given so much to me." Cecil also derives incentive from the beauty of the city parks where he plays. "Sharla Allen, and everyone else with the city of Corsicana's Parks and Recreation Department, do a fantastic job," he said. "We are so fortunate to have parks like we have here. The oak trees, the flowers — it all draws people in to walk, jog, play soccer, throw a Frisbee and just enjoy life. I get to see that every day when I go to the tennis court." Enjoying life is what Cecil plans to continue doing himself. "I hope what I'm doing can help somebody else achieve what they want to," he said. "For anyone who may be sick or in pain, I say, 'Don't stop living. Don't give up. Fight. There's plenty of life out there for you. I know. I found it.'"
Written by Randy Bigham.