ENNIS, TX — The year was 1902. The three Czech provinces: Bohemia, Moravia and Slovakia were ruled by the Austrian Empire. The Czech people were subjects of the Austrian Regime — which meant working very hard, while having no freedoms. Alois and Anna Vaculka Marusak were proud Moravians living in Provodov, Moravia. But they desired something more for their children. "They made the decision to come to America," their great-granddaughter, Shellie Heard, shared. "They were in their 30s, with four small children."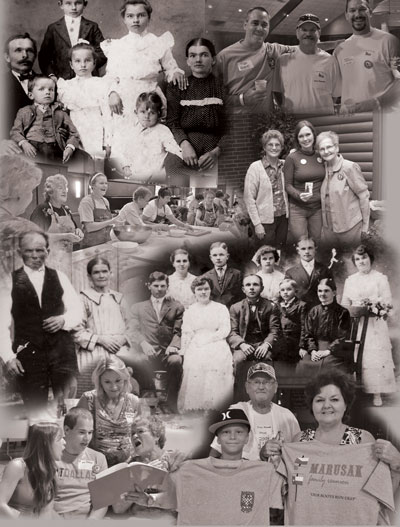 They sold their small home for $300, but could only afford five of the six tickets they needed for their life-changing journey to the land where one could find freedom and prosperity. Family history states they borrowed the $44 dollars they needed for the sixth ticket from Alois' brother-in-law, Cyril Zabojnik. "The family suspects they had to travel 500 miles by train to get to the ship that brought them to their new home," Shellie explained. Shellie's great-grandparents boarded the SS Köln, along with 2,300 other passengers and a crew of 1,100. In those days, most ships crossed the Atlantic Ocean in three to five weeks. The six economy tickets got them space in the cargo hold, or steerage area, of the ship. The SS Köln stopped at Ellis Island. Alois and Anna, along with Annie, Louis, Mary and Josef, 8, 6, 4 and 10 months of age respectively, remained on the ship until it reached the port of Galveston on June 16, 1902, Alois' 35th birthday. The cost — By Sandra Strong of their tickets included rail travel, but once on dry land they had to walk to the train station. "They walked to a train station where passengers were not picked up that first day," Shellie said.
"The next day, after walking to the right train station, they got tickets to Ennis, Texas. This train ride represented the last leg of their very long journey." Why Texas? They had family here that offered a point of contact for the brave couple. The Marusaks settled into farming in Ennis. They had three more children: Frances; Charles, who passed away as an infant at the age of 2; and Frank. All three were born in Crisp, and the family share-cropped for 12 years around Ennis. In 1909, they filed for naturalization, becoming citizens in 1910. "They covered their bases," Shellie said. "Even though four children were born in their home country, all six were included in their petition." In 1914, the couple bought 132 acres on Creechville Road. This was their first land purchase after settling in Ennis. The work ethic they brought from Moravia was instilled in their children. "Children were laborers," their granddaughter, Wilma Kapavik, stated. "We were of the Catholic faith — families were blessed with many children. Children back in those days didn't question their responsibilities." "The dream for Alois and Anna was to come to America to own their own property," added their granddaughter, Evelyn Slovak. "They hadn't been allowed ownership of the land they farmed in their homeland."
Not only was Alois a farmer, he was also an inventor who taught himself the skills he needed to be a blacksmith and carpenter. He built their family home on Creechville Road. He invented things from new ideas to help make the farm chores go more quickly. The oldest daughter reared the younger children that were old enough to be away from their mother, but too young to work in the fields. She also took care of the home, as well as the immediate farm duties such as, milking cows, feeding chickens, slopping hogs and closing up the geese. "Czech women worked in the fields with their infants in tow," Wilma explained. "The baby would ride in a budka, a small trailer with screened walls and a roof, which kept them safe and out of the direct sunlight, much like a modern-day playpen on wheels."
The women would put the wet diapers on the roof. The sun bleached them as they dried, making them ready for another use. Everyone did as they were instructed. "We were disciplined and committed," Evelyn said with pride for her heritage. "We did what we were told to do. If we got done early, we were moved to a neighboring field. Days were spent working. Hard work meant satisfaction." The six living children born from the union of Alois and Anna had 62 children. Direct descendants of Alois and Anna currently number 765 — blood kin plus adoptive children and spouses equal over 1,148. Can you imagine what a family this size looks like when they all come together? To those who attend the biennial Marusak reunion, it means hard work with lots of home-cooked food, fun and reminiscing.
The day-long reunion event kicks off the evening dance with a grand march, very much like a Czech wedding. Food includes the traditional Czech barbecue and klobase with sauerkraut, kolace and polevka — a chicken soup — a tradition that started when soup was served after Mass on Sundays. "The soup represents tradition," Shellie admitted. "It has parsley from the garden and allspice in the traditional little balls." The men are in charge of pickling the meat and firing up the pits. The recipes for the pickling, or marinating, have been passed down through the generations represented at the reunions. A sheet with a large family tree is always on display during the reunion. The tree trunk with roots that run deep, represents Alois and Anna Marusak. Six long, strong branches represent their six children who lived, while a smaller branch represents the child they lost.
The smaller branches make up the lineage of seven current generations. "During this year's reunion, the rooster we used for the rooster drop — a Czech betting game — crowed seven times during the memory of angels," Shellie expressed. "The memory of angels is a time we remember family members who have passed away by reading their names. It's done in order of family branch. It's a solemn time of quiet reflection, but we feel the seven crows meant the celebration of the seven branches of the Marusak family." Alois and Anna survived the journey across the Atlantic. They lived through both World Wars. They endured floods and droughts, as well as the Great Depression. Anna lived to be 74, while Alois passed at the age of 80. These reunions started because of the closeness and camaraderie shared during those early years. They are a tribute to Alois and Anna, for their sacrifice, their endurance and their dreams, which still continue to touch so many. "It's a day of reconnection," Shellie said. "Hard work still means satisfaction today. Our family roots run deep, and without Alois and Anna, there would be no reunion."
Written by Sandra Strong.