GRANBURY, TX — Some people have narrow alleys behind their house. Roe and Marcia Walker have a concrete taxiway behind theirs.
They live in a fly-in airpark community near Granbury and have access to an airstrip directly across the street. The hangar in their backyard houses a red, white and blue Piper Comanche 250, which they fly whenever possible to see family. "It's the family sedan. We fly when the weather is good," Roe said. Together, their passion for flying takes them to places like Phoenix, Cincinnati, Oshkosh, Florida, California, Canada and Alaska, to name a few.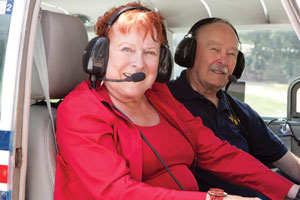 To foster their love for flying locally, Roe and Marcia are members of the Experimental Aircraft Association (EAA). The EAA began in 1953 when 36 people with a love for flying developed by-laws, created the name and called themselves members. The headquarters is in Oshkosh, Wisconsin. Since the planes these members flew were mostly built from scratch, they had to display the word Experimental on the cockpit door. The EAA includes a variety of planes, such as: antiques, classics, warbirds, aerobatic aircraft, ultralights, helicopters and certified manufactured aircraft. EAA members not only nurture their passion for the air by constructing, maintaining and flying aircraft, but also nurture growing children's interest by sharing their passion with others. As EAA members, Roe and Marcia participate in the Young Eagles program.
This program provides youth, ages 8 through 17, the opportunity to experience firsthand what it is like to fly in an airplane. Since 1992, when the program began, 1.6 million youth have enjoyed a flight and instruction about aircraft. The lesson consists of a free 20-minute flight over the town as the pilot explains reference points, such as lakes and town squares. The pilot describes the instrument panel and parts of a plane, and they review charts and maps. When they complete the flight, the youth receive a certificate and a pair of "wings" from the EAA. The course can spark an interest in aviation that a child can take into adulthood and beyond. In September, Roe and Marcia participated in a fly-in in their community. Forty-five young kids signed up to fly with experienced pilots and earn their wings. Fly-ins are open to the public, and several activities take place. Aircraft do flybys, a simulator is available and children can take the 20-minute course while their parents enjoy hot dogs, hamburgers and "hangar" prizes. "There weren't as many kids this year because of the weather, I think," Roe explained. "Last year we flew 109." Roe's love for flying began right after high school in the 1950s.
He attended the University of Illinois and was required to take ROTC. "I didn't think I'd like foxholes, so I went Air Force," Roe said. "This was the first time I became interested in airplanes. I had no previous experience." Roe advanced through basic pilot training and advanced pilot training and flew a By Erin McEndree number of aircraft. He flew Piper PA-18s, T-6Gs, T-28s and T-33s — based on the first jet-powered fighter, the F-80. After graduation, he became an instructor in the T-33, flew in B-47s and B-52s for Strategic Air Command and EB-66s in Vietnam. He then returned to the classroom to finish graduate school in logistics. Roe did not fly from 1972 to 1990. He worked at General Dynamics in Fort Worth; Hill Air Force Base in Ogden, Utah; and Lockheed Martin. "A fellow I worked with was a flight instructor, and he talked me into flying again," Roe said.
He enjoyed it so much he made plans to buy his own plane. "Roe came home from work one day and said he was going to buy a plane," Marcia said. "I decided to take a companion course that the EAA offered." The course teaches companions how to get the plane on the ground if anything goes wrong with the pilot. "When I took the course, I was hooked." Marcia continued to fly and obtained a pilot's license and instrument rating. Roe has a commercial license with instrument rating. Roe thinks it was very wise on Marcia's part to take the companion course. Now, their shared, unique hobby allows them to see the world. Recently, they saw Canada and Alaska in their Piper Comanche. "This was a really big excursion we set out on," Roe said. They were gone a month. They stopped in Arizona to see family before their rendezvous point in Olympia, Washington.
The total trip had 23 stops along the way. It took 52 hours to fly the 8,000 mile journey. Fourteen aircraft flew the trip. "There were all kinds of aircraft: Beechcraft Bonanzas, a homemade RV-8, Cirrus SR-22s, Cessna, Mooney, and an Aviat Husky," Roe explained. "There were people from all over. They came from Australia, Florida, Cincinnati, California, Utah and Texas," Marcia said. "At some stops we rented a car and went sightseeing. We also went on a wildlife and glacier tour." Marcia has other hobbies she spends time on when she is not in the air. She paints, makes Teddy bears out of mohair and creates brilliantly colored, stained-glass wall hangings. Several of them depict airplanes Roe has flown. Roe also has interests tied into flying. He proudly displays his collection of model aircraft, all of which he has flown. In addition to his model aircraft, he has a collection of red, International Harvester tractors that reminds him of growing up on a farm in Illinois. The couple met while in college at the University of Illinois. "We met on a blind date," Roe laughed, "and we have been married 58 years." For 22 of those years, they have shared a love for flying. Their son lives in Dallas. They also have two daughters who followed their dad's military route.
The older is active-duty Air Force and is on the Colonel's list. The younger retired as a lieutenant colonel. Roe and Marcia love their community and surroundings. Deer and other wildlife quietly roam the yards of their neighborhood unharmed. "We are more like a squadron or military unit here," Marcia said. "We have hangar parties like other people have pool parties or tailgate parties." "This is a great way to live," Roe said. "Airline pilots and retired military pilots live here. One of my neighbors holds the speed record for a 4-cylinder airplane. And the neighbors over there," Roe pointed, "they think they moved and landed in heaven." The red, white and blue Piper Comanche 250 fulfills Roe and Marcia's love for flying. Their hobby takes them far and wide, but best of all, they share their love for aviation with generations to come.
Written by Erin McEndree.