WEATHERFORD, TX — Sunshine enjoys performing on stage. She has been singing since she was a little girl. Her mother used to tell her she was singing before she could talk. She started playing guitar at 15 and never put it down. After graduating with honors from Texas Wesleyan University in 2010, Sunshine started picking up gigs. She majored in education and minored in music, but she found it difficult to find a full-time teaching job. Sunshine started teaching music lessons on the side and became a full-time musician.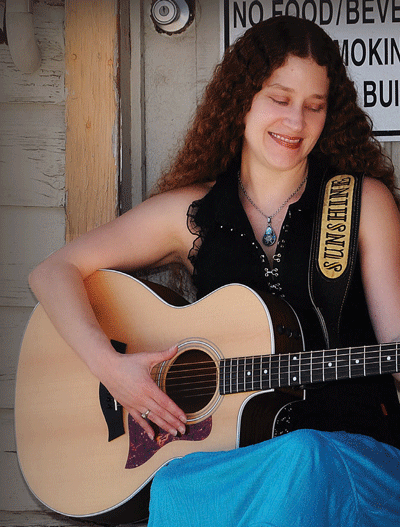 Her music is honky-tonk, Southern rock and folk, all rolled into one. She describes it as very straightforward and even comical. "I'm almost baring my soul. I'm giving it everything I've got, and people identify with that. Hopefully, they are inspired," she said. She compared her musical performances to teaching. "It's just exciting and interesting to be able to engage and have that connection with so many people. It's pretty amazing," she said. "You're inspiring them to dance. They're having a good time."
You cannot miss Sunshine with her long, curly locks. She brightens a room. Sunshine dubs herself a low-maintenance girl, with her naturally curly hair part of her signature look. Sometimes Sunshine takes three hours to straighten her hair, but her husband, Chris Emery, has pointed out her curls are special. "I've tried to embrace what I've got naturally. As I get older, I start to realize how important it is to appreciate what you've got," she said.
Sunshine performs across north Texas and regularly plays at Hip Pocket Theater in Fort Worth and The Weatherford Lake Marina. She takes the stage with her full band, but also does solo performances, duos and trios. As lead singer, she commands the stage alongside a lead guitarist, bassist, drummer and another musician who plays flute, harmonica and saxophone.
Her life may get hectic with teaching and late night performances, but Sunshine gets a lot of support from her husband. "My husband knows that life is short, and we only get one shot. He just really wants me to be whatever it is that I want to be and accomplish the things I want to accomplish in life."
Sunshine gets a lot of attention while on stage and believes it must be tough to be her husband, who often stands on the sidelines during her performances. "I get four hours to be a rock star, so I get up there and pretend I'm a rock star," she said. Even though she portrays the rock star image when on stage, Sunshine lives a regular life with grocery shopping and everything else that comes with being a wife and mother.
Performing multiple shows on the weekends, Sunshine doesn't have much free time. She spends any extra moment with her 15-year-old daughter, Jewelia Sky, who sings, plays guitar, bass and piano. Instead of following in her mother's rock star footsteps, Jewelia is more interested in piano and classical music. "It's like she has rebelled against me in the most awesome way. I try not to let her know that, because I'm kind of a rocker. But, I'm so happy with that," Sunshine smiled.
Sunshine stays involved in her daughter's life as much as possible. She has coached her soccer, basketball, volleyball and softball teams over the years. She also led her Girl Scout troop for several years. For fun, the two often find time for volunteer work. "Any time I get to make a difference, it makes me feel good to help people," Sunshine confessed. She hopes to inspire others to get out and volunteer in the community. She believes if you let things like that be known, people will see it and follow suit. "I think we all have a lot more impact on each other than we realize," she said. One of her goals is to encourage people and be encouraged. "There are  a lot of people out there who are doing things I see, and I think, Wow, I never thought about that. I'll go do the same thing," she said.
Sunshine ultimately wants to teach music in a local public school district and perform on stage during the summer. She keeps a positive outlook on her situation. "I'm giving everything I have to music and to education, and I'm just waiting to see which way I am going to go." Whether she becomes a school teacher, a superstar or both, Sunshine Emery hopes to keep inspiration alive with her work.
Written by Amber D. Browne.