BURLESON, TX — Sara Pryor did not wait to get drafted into the Support Our Soldiers project. She joined willingly. She realized the lifestyle enjoyed by most Americans has much to do with people overseas fighting for freedom. Acknowledging that military men and women are in need of encouragement, support and supplies, Sara rallies troops behind the scenes to help soldiers feel remembered, respected and important while they are deployed. "Touching 100 or 10 or even one is worth it. They work hard for us every day," Sara said.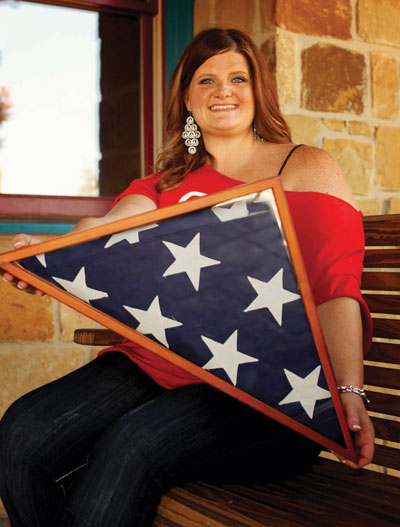 The Support Our Soldiers (SOS) project was formed by Teresa Nelson more than a year ago. It started out small but grew in the hearts of the Burleson community quickly. The organization helps aid and lends encouragement to military heroes through letters and supplies they may not have access to every day. "Some of the supplies might be a luxury to them. We show soldiers they are not forgotten," Sara said. Boxes are filled with trial size toiletries, magazines, instant oatmeal, tuna, jerky, etc. They are shipped to units in the Army and other branches of the military. Currently, 125 soldiers are supported by the Burleson SOS, and over 9,000 pounds of supplies have been shipped.
Putting others before herself is part of Sara's character. She enjoys creating a calm, peaceful environment for those around her, and she is passionate about creating some peace for those who need it far away. She tries to make her salon, Serendipity in Old Town, feel like home, and through SOS she sends a little slice of home to military men and women, too. Realizing life is busy and full of stressors, she encourages women and men to take time for themselves.
Although her talents keep her on the ground in Burleson, her passion for others is felt far, far away. "I truly love supporting military men and women who are fighting for our country," Sara explained. "We take it for granted that [soldiers] have relatives or friends to communicate with or send them packages. Some don't." SOS spreads awareness that there are soldiers in need.
Community members hold events and fundraisers for SOS to heighten awareness. Some challenge others to do the same by inviting people to join their competitions. Recently, during a community challenge called Cents for Soldiers Coin Drive, the "troops" Sara rallied raised enough for first place. Jars were placed around town for people to contribute spare change. The 10 merchants involved raised $6,100 for the project. Not only did the mayor of Burleson, Ken Shetter, proclaim May 21-28 as Support Our Soldiers Week, but everyone is encouraged to wear red shirts every Friday. "Red stands for Remember Everyone Deployed," Sara said. The city gets involved and raises money so more supplies can be shipped overseas.
To celebrate the first annual SOS week, supporters created Fill the Hill. "On Memorial Day, over 100 supporters met beside the Welcome to Burleson sign at Alsbury and I-35," Sara explained. "'Taps' was played and a pastor prayed for our soldiers. In attendance were concerned citizens, firefighters and policemen. Next year, I hope you see a whole field of red shirts on that hill."
Anyone can donate supplies or postage for the SOS project. It costs about $14 to mail a box. Serendipity is a drop off location as well as the Burleson Chamber of Commerce. "People drop items off all the time. I love walking through the doors and seeing bags filled with gum or packets of tuna. We have been blessed by the community," Sara said. "I pack and ship my own boxes for men and women. I send boxes to soldiers, so they can experience a little calm and peace in their lives.
"I don't do anything by myself. A whole team is involved. Families, veterans, active military and community members come together to make a difference," Sara explained. SOS is for anyone who wants to reach out to our soldiers, and the soldiers have reached back with responses of gratitude. Recipients of the boxes leave messages on the SOS Facebook page. One message said, "All of you are a blessing to me and my troops. God will bless you in a mighty way." Another soldier wrote, "I am a soldier, U.S. Army, Afghanistan. I just wanted to say thank you for remembering us over here and how much it means to all of us. Your kindness reminds us that we do matter, and it makes a difference what we do. It is hard, sometimes, but we know it is important." This letter and a picture of the soldier proudly hang on Sara's wall. Also hanging on the wall in a triangle box, is a flag that once waved proudly in the breeze over Afghanistan. It was presented to Sara by Teresa for winning the coin drive.
Sara gives to her community in other ways, too. She recently worked with community members to hold a benefit for a woman out of work following a car accident. She also helps Harvest House and the Little Red School House provide children with school supplies they need for the upcoming year. "This year's goal is to furnish kids with uniforms," Sara said.
Sara's crusade to help others has not gone unnoticed. In 2011, she was awarded the Marzie Bartee Award from the Burleson Chamber of Commerce. She was recognized for being a visible person in the community but working behind the scenes to support others. She is humble and quick to give credit to whom it is due. She realizes it takes dedication and commitment from many to make great things happen for a few.
"I guess it was fate. It was in God's hands that I am where I am," Sara said. "Burleson might look big, but we still feel like a small town. If our small town can make such a large difference, so can other small towns." Sara's passion, especially for military men and women, shows with each box she packs.
— By Erin McEndree