CORSICANA, TX — When Joseph "Joe" Sobek died in 1989 at age 79, he held the honor of being the official creator of the popular indoor sport of racquetball. According to Encyclopedia Britannica, when Joe noticed how big his waistline was growing, he looked for an indoor racquet sport he could play to combat the effects of sitting all day at a desk job. Nothing he found suited him, so he literally took matters into his own hands. He made his own racquet, found a ball with the right size and spring and … well, the rest is history. Today, the game has millions of
grateful and healthier players worldwide thanks to the availability of racquetball courts in just about every Y.M.C.A. throughout the world.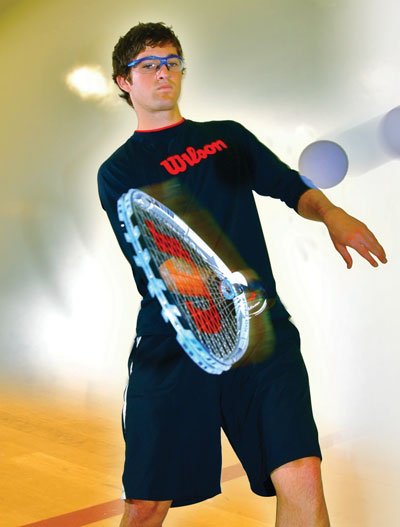 One of today's brightest and most accomplished young stars in the world of racquetball lives in Navarro County. When he's not traveling to a tournament, racquetball prodigy Jansen Allen lives with his family at Lake Richland Chambers. Jansen began his racquetball career at a very young age. "I was 4 years old when I first picked up a racquet," he said. "We were at the Corsicana Y.M.C.A., where both my parents regularly played racquetball." His dad, Jim Allen, who is Jansen's biggest fan and supporter, next to his mom, Debra Schneider, "pretty much taught me how to play."
"Both of my parents are athletic," Jansen reflected. "My mom attended college on a track scholarship, and my dad played baseball and handball." Jansen took to racquetball immediately and was such a "natural" at the game that he never even had a coach until earlier this year.
"I would head for the 'Y' to play after school, since racquetball isn't really a school sport," Jansen said. He attended school in Rice and, after graduation, went to Colorado State University-Pueblo (CSU-Pueblo) where, with the help of academic and racquetball scholarships, he graduated cum laude last May with a double major in business management and finance.
When he's not hanging at the lake with his mom; dad; or stepdad, Steve Schneider, the young rising star stays busy competing in tournaments throughout the year. He won the 2012 Intercollegiate Nationals Tournament
in singles and doubles held last April in Tempe, Arizona. That spectacular win earned Jansen a spot on the USA Men's Racquetball Team, on which he competed at the World Championships in Santo Domingo, Dominican Republic in August.
One of the biggest honors bestowed on Jansen to date was inking a sponsorship arrangement with Wilson Sporting Goods. The company features Jansen's photograph on national advertising materials for a line of racquetball racquets. "I met a Wilson company spokesman at a tournament last year. He told me they were looking for someone young and moving up the ladder in racquetball competitions and tournaments," Jansen said. "I went to their headquarters in Chicago and signed a three-year deal with them in August 2011 as an advisory staff player."
According to the company's Web site, Wilson stated, "We are proud to work with undeniably remarkable players like Jansen Allen, and we look forward to the great success the partnership will bring in the future."
"I thought that being affiliated with Wilson could lead to a lot of other opportunities in the future," Jansen said, "and playing racquetball is a good sport I can play for the rest of my life. It sure doesn't hurt that it's a sport you can practice by yourself and indoors!"
Jansen was born in Corsicana, Texas, in July 1989. While growing up with his brother, Jordan, Jansen loved playing all kinds of sports in Rice ISD. "I participated in baseball, football, soccer, tennis and golf, to name a few, and really enjoyed all of them. During my senior year at Rice High School I won the district golf tournament," he said, and he briefly considered playing golf as a walk-on for CSU-Pueblo.
Off the court, Jansen is reserved by nature and reticent to talk about his accomplishments, which are incredible for a young man in his early 20s. He knows he could never have achieved success without the help and guidance of many people. Family; close friends;  and school teachers, coaches and administrators have played an integral part in where he is today. "I also have to thank the Y.M.C.A. for playing such a crucial role in my development as an athlete," he added.
Debra, however, has each one of her son's triumphs committed to heart. "He's won two Junior Boys National Doubles, two Junior Boys World Doubles and a Junior Mixed National Doubles. He's the Texas State Singles winner for the last two years, and the Texas State Doubles winner last year. He's won the U.S. Open 24 and Under, National Singles 24 and Under, and the U.S. Open Doubles in 2010. "We're especially proud of the fact that he trained at the Olympic Training Center in Colorado Springs twice and represented the USA Team in Nicaragua for the Pan American qualifier games  in 2011, where he placed second in doubles," she said.
Closer to home, Jansen enjoys spending time with girlfriend, Paola Longoria, a Mexico native who is currently ranked as the No. 1 women's player in the world. Jansen also finds time to give private lessons in racquetball at the local Y.M.C.A., where he has held clinics for racquetball players during the summer.
"We were pretty certain he had a truckload of natural ability," Jim recollected. "Even when he was little, we encouraged him to play, because we knew it was a sure way to develop good hand/eye coordination." Since Jansen's innate talent eclipses that of his other family members, his dad said when the family gets together to play a game or two of racquetball, "we make him play left-handed."
In June, Jansen began working with Jim Winterton, a well-known racquetball coach in New York, who has been coaching the top names in the world of racquetball since 1973. He spends a few days with the coaching legend intermittently throughout the year as his schedule allows.
Jansen is looking forward to the 2012 UnitedHealthcare US OPEN Racquetball Championships this October in Minneapolis, Minnesota, where he will compete with the biggest names in professional racquetball from the Men's International Racquetball Tour (IRT) for a prize purse totaling over $62,000. Joe Sobek was the first person inducted into the Racquetball Hall of Fame back in 1974. It won't be a surprise to anyone if Corsicana's own Jansen Allen winds up on that prestigious list in the not-so.distant future.
By Rick Heron.