AVALON, TX — The tornado that swept through Avalon last year nearly destroyed a 75-year-old school gymnasium, but its rebuilding has been a rallying point for the campus and the community. "It was a blessing in disguise," said Avalon ISD superintendent, Dr. David Del Bosque. "We weren't sure the old gym could be saved, but support from the town and from alumni convinced us we needed to try."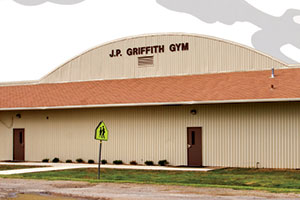 The disaster has resulted in more than a refurbished facility. It has revived pride in the history of the school. David and his wife, Neva, a counselor and director of special programs for the district, are spearheading the effort to pay homage to Avalon's heritage through a Facebook page recording highlights from the school's past. "But really we aren't the only ones leading this," Neva pointed out. "There are so many people — current and former students, teachers and other citizens, who are as passionate about reclaiming our school's history as we are."
In reality, Avalon ISD has not been lacking in honors. A Recognized school district since 2006, it has been named by U.S. News & World Report as one of America's Best High Schools for three of the last five years. But the district's distant heritage hadn't been celebrated. That changed on Monday, April 25, 2011, when the J. P. Griffith Gymnasium, built in 1937 and named for a former superintendent, was struck by a tornado that damaged most of the roof. The possibility the old structure would have to be demolished ignited a groundswell of local support for
restoring it. Although the gym hadn't been a fully-functioning facility for some time, being used primarily for storage, the threatened loss of the building stirred the hearts of townsfolk who still held fond memories of its heyday. "We quickly learned our old gym had been much more than a gym," said David, Avalon ISD's superintendent for 10 of his 18 years there. "Community affairs had been held there, even a wedding. There was an outpouring of love for the building, from locals and alumni scattered all over the world."
Former students e-mailed photos of events held in the gym over its nearly eight-decade history. Locals dug out old uniforms, a coronation robe and tiara were found and all editions of the yearbook, Avilion, since 1938 were researched. The family of J.P. Griffith, the building's namesake, donated letters, books and albums. The once-dormant gym was embraced again by a town that wasn't ready to let it go. "It reawakened a sense of pride about where we've been, not just where we are going," David explained. "We began to see that the old and the new can coexist. It forced us as a town and a school to discover who we are."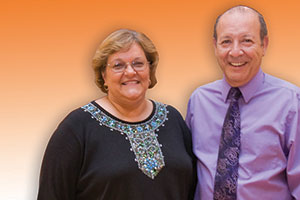 His wife agreed. "It would have hurt the heart of the community if the building had been destroyed," said Neva, who has been with the district for 15 years. "And the whole process of
restoration gave our students a little more ownership. Even the youngest kids, who didn't know the gym's history, wanted to be a part of bringing it back."
The old building's fate was determined by the people of Avalon. "We didn't know the stability of the structure, and feared the worst, so we really wrestled with this," David admitted. "But we wanted the residents to have input in the decision." To this end, the matter was brought before the board of trustees who moved to survey the community through the school's Web site and via Facebook. Results came back two to one in favor of remodeling. It wasn't just the number of supporters that was impressive. It was their level of passion. "Looking at the roster, those who wanted to tear down the gym just checked that option," David recounted. "But those who wanted to save the building checked the option and then gave you an essay on why it should be saved."
When the rededication of the J.P. Griffith Gymnasium was held earlier this year, it was obvious that not only had a vital piece of history been spared, but the improvements made to the structure had made it once again a center of campus and civic life. "If we didn't save it, we would have been stuck with a parking lot," David said. "But now we have a fully operational structure that can be used for many events, just as it once was."
Careful planning made this possible. Of $213,000 in insurance funds, over half would have gone toward reconstituting the gym floor if the school opted to duplicate the original maple wood. Instead the board chose to order a simulated-maple, multipurpose flooring, which saved $60,000 that could then go toward roof repairs, new bathrooms, a repurposed concession area and the installation of air conditioning and heating throughout. "Now the building can be used year round, not just three months out of the year," Neva said. "It's livable again."
By preserving the gym, Avalon ISD has recovered its past and brought a town together. "The tornado tore a hole in the roof but not in our spirit," David said. "It has made for stronger bonds." For the couple at the center of revisiting Avalon's heritage, working to restore the gym's history has brought them even closer. "We have worked together for about 25 years, first at St. John Catholic School in Ennis, and then here," Neva recalled.
"It's kind of all we know," chuckled David. "It works for us because the job isn't just a job. We love Avalon. It has become a part of us." Yet David and Neva are quick to ascribe responsibility for Avalon's success not to themselves, but to the district's long-tenured faculty. From instructors to administrators, the staff is dedicated. Among these are Julie Carter, who has served Avalon ISD for 32 years; and Sue Morrison, who has taught for 42 years; Patty Hernandez, secretary to the superintendent for 30 years; and Alice Compton, business manager for 29 years.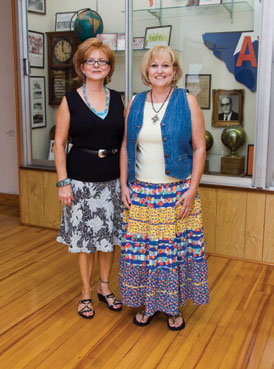 "I hope to retire here," David confessed. "Our kids are the best, and I'll give a prime example. During a Penny Drive, a small child, whom I know is not from a wealthy family, came up to me, dug deep in his pockets and pulled out a bunch of pennies. He was so proud. His face was lit up. He just wanted to give."
Although the couple resides in Ennis, Neva agreed that Avalon was like a second home, even more so since the tornado united the town. "It's all about being a great school," she said. "But it's also about neighbors and family  and community."
Written by Randy Bigham.