MANSFIELD, TX — For most people, reading is an everyday occurrence — a skill taken for granted and done without thinking. Unfortunately, there are many adults in the community who cannot read, and illiteracy holds them back financially, professionally and personally throughout their lives. The earlier in life a child learns to read, the greater the chance that he/she will be literate. Mansfield Methodist Medical Center, the Mansfield Independent School District and the Mansfield Sunrise Rotary Club have joined to promote
reading from the very beginning of a child's life.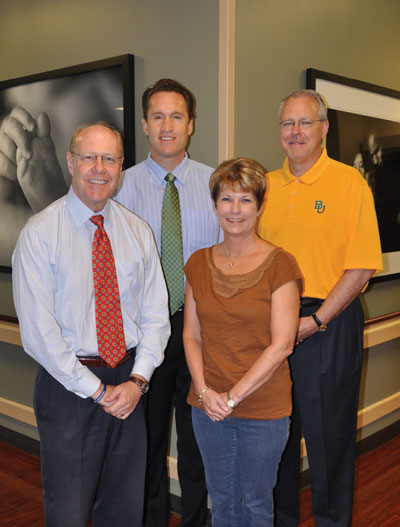 To foster literacy in the community, representatives from the Medical Center, Mansfield ISD and the Sunrise Rotary Club decided to take action and implemented the Read to Me Program, a program that has met with success in many places. The program provides each baby born at the hospital with a free, colorful book in a nice bag that parents can take home to begin reading to their child immediately.
"We all hope to raise the number of children who become strong and enthusiastic, lifelong readers. Research shows that the more children hear stories read aloud and the more words and sounds a child is exposed to, the more enhanced their ability for language and speaking will be. This foundation in reading will serve them well as they go through their education careers and beyond," said Dr. Bob Morrison, MISD Superintendent.
According to Randall Canedy of the Sunrise Rotary Club, conquering literacy is one of Rotary's main objectives worldwide. Clubs are encouraged to find projects they can work on with others in the community to provide support for reading initiatives.
"Five years ago when the hospital was new, we reached out to them to see where we could work together. There  are so many areas you can touch by dealing with a hospital, like wellness and dealing with the elderly. We felt there are so many babies being born in this community that if we can emphasize the importance of reading, we would see a domino effect in many other areas of need," Randall explained. "Dr. Morrison was in the club at the time, and we sat down to figure out how to promote childhood literacy. Providing a book that would encourage reading to babies was in line with what early education research had found to be effective."
According to John Philips, president of Mansfield Methodist Medical Center, reading to children is a great and easy way to build early literacy skills. "The Methodist Mansfield Read to Me program helps promote literacy at an early age and fosters a life-long love of reading.  Research shows literacy is linked to children finishing school, earning higher wages and leading healthy lives. Some of our greatest rewards are serving our patients and knowing we're committed to improving the lives of children in our community and seeing we're impacting them. Reading aloud to children is easy, fun, and a great way to build early literacy skills. Reading teaches a baby about communication, builds listening, memory and vocabulary skills, as well as introducing numbers, letters, colors and shapes in a fun way," he said. "We have a great relationship with both  the Sunrise Rotary Club and Mansfield ISD, and it was a perfect fit for the Read to Me program. Both organizations have been instrumental in helping us provide new books for the program, and several others individuals have joined in reflecting the community-wide commitment to bolster early literacy.
The Mansfield library also joined in and provides bookmarks with reading tips for our program. Librarians also help parents find the right books for their babies and help select age-appropriate books as their children grow."
The program has been very well-received by new parents at Methodist. "Our moms are thrilled to receive a new book for their child, and  it has inspired parents to begin reading to their children. Big sisters and brothers are also delighted with the new book and have also joined in by reading to "We all hope to raise the number of children who become strong and enthusiastic, lifelong readers."
One grandmother was so impressed with the program she asked for all the literature and planned to start a similar program in her hometown," John said.
The Read to Me program is just one of several reading initiatives the Sunrise Rotary supports each year. Many members read to schoolchildren and, along with Kiwanis and the Common Ground Network (a cooperative of local benevolence programs that help low-income families with food, clothing and essential goods and services), the Rotary sponsors a summer reading program for Title I schools. The Rotary obtained more than 500 books from Half-Price Books to help launch the program. "We're very involved in seeking out opportunities in the community,"  Randall explained.
Randall reads at elementary schools weekly, as do members of the Noon Rotary, and he is amazed how many students tell him their parents do not read to them. "I read to a first-grade class, and every year the teacher tells me certain kids can't read and haven't been encouraged to. The amazing thing is that at the end of the year, those kids will be reading chapter books. It's that thirst for learning," he said. "It's as much about developing leaders as it is teaching these kids to read, but emphasizing being able to read is the key to learning."
This is one of the reasons Mansfield ISD continues its support of the Read to Me program. "When the program was introduced by the hospital, our ISD and the Mansfield Sunrise Rotary Club in 2010, took the opportunity to serve as the education partner. Ultimately, we are also the beneficiary when these children enter our school system having a solid foundation in reading," said Bob.
Reading is a fundamental tool to self-sufficiency. It can help reduce unemployment and underemployment and allow people to take an active role in their community. "If you can't read, you can't learn. If you're going to teach Third World initiatives, the people have to be able to read. That's why so many churches do educational initiatives in the course of their mission work," Randall explained.
Service to the community extends beyond the reading programs the Rotary Club sponsors. "As much as anything, we want people to know this is an unbelievable community that pitches in to help people in need. One of the side benefits of our work in here is letting people know there's community service available. There are so many places to get help and also to give your time whenever it's needed," he said.
Written by Jeremy Agor.