DESOTO, TX — Someone has said adversity introduces a man to himself.
Dr. David Harris met adversity head on at a young age and, as a result, became fiercely protective of children. Today, he is putting his personal and professional life experiences to work as the new superintendent of DeSoto Independent School District. And while his history in administration and education will, no doubt, serve the district well, it may well be the hardships he faced growing up that best qualify him to meet students' needs.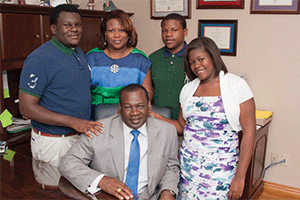 "I lost my mother at a very young age.She was a victim of a senseless murder by her best friend. My stepfather at the time had no interest in raising four young boys," David recalled of a turning point in his and his three brothers' lives. "My mother's sister and her husband, who had no children of their own, adopted four boys and began the process of making us and, more importantly, me who I am today."
Reared on a farm, a young David developed an obsession for being the best at whatever he did. His competitive nature and desire to succeed earned him the nickname "Dedication." David related, "What I remember the most about those years is interaction between myself and my teachers and coaches.
They absolutely gave me no break and refused to let me make excuses for my situation. They demanded every day that I give my best."
Ultimately, those influences led to much success for David, who lists a master's in education from Prairie View A&M University and a doctorate in education administration from Lamar University, among his credits. "Earning my doctoral degree stands out among my accomplishments. I wanted to be a
trailblazer for my children and others," David noted.
David's résumé includes several years teaching and coaching at La Vega, Bryan and Fort Bend ISDs. In the late 1990s, he became assistant principal and then principal at Martin Elementary School in Beaumont. In 2003, as an associate principal at West Brook High School, he was awarded the Good Apple Award by the Beaumont Metropolitan Parent  Association. "It was the first time an  administrator had been awarded this recognition. My career expanded from that point on, and I believe it was a catalyst to where I am today," he said.
In 2005, David was appointed principal of Dr. Martin Luther King Jr. Middle School, and in 2008, he joined the BISD executive cabinet as assistant superintendent for secondary education. From there, David was unanimously hired as superintendent of schools by DeSoto trustees on March 26, 2012.
"I was interested in DeSoto ISD for many reasons. The student demographics were very similar to my previous district, and I certainly saw an opportunity for personal and professional growth," David admitted. "I also appreciated the location of the district to a large metropolitan area. I wanted to expose my own children to more opportunities that are not always available in certain areas."
David is joined in his new hometown by his wife, Lesa; oldest son, Davion; middle child, Dacory; and youngest child and daughter, Dalesia. "I have a wonderful wife and three great children. My biggest success has been getting us as a family to the point where we are today. Parenting is no easy task, and I work on trying to be the best father I can be every day," David said.
The Harris children will enroll in DeSoto schools this fall, providing even greater incentive for their father to help the district achieve and succeed. "It excites me that the community is passionate about making the district the highest performing district in the state, and the district's vision to expand the high school into five career academies is incredible," David said of the new direction in DeSoto secondary education. "The academies will expose students to opportunities that are beyond their imaginations."
Establishing the five high school career academies as the leading learning centers in the nation tops David's DeSoto goals. He also hopes to provide a budget that will allow for teacher raises for the next five years and significantly improve SAT and ACT scores for all students, as well as math and science scores at all levels.
David is the first to acknowledge the challenges in reaching these goals but says he will begin simply. "I want to start by convincing our teachers and students of one thing — that they are the best. If they can start each day in that frame of mind, everything else will fall into place," David said.
Other challenges David acknowledged include providing one-on-one interaction between every student and his or her teachers, making technology available to all students and engaging parents to keep them involved in schools. More globally, getting senators and legislators to understand the need to have equitable funding for all schools is an obstacle. Still, David hopes to make headway one DeSoto school at a time.
"My typical, early morning starts with a visit to several campuses to talk with staff and students. Then I meet with parents and citizens, and then our leadership team discusses curriculum and any other hot topics," David said.
On any given day, he puts one or more of his certifications — including ones in generic and secondary special education, secondary education, physical education, sociology and health education, principal and superintendent certification, as well as mid-management — to use. David is also an ordained minister and community volunteer with the Chamber of Commerce, the Ministerial Alliance, the Rotary and a host of other civic organizations. He has always believed in giving back to one's community.
"That's why I hope to offer a guaranteed job to one graduate in each class if he or she returns after college to teach math or science for DeSoto ISD," David noted. "That's one of the best things about careers in education — the opportunity to transform lives, especially in one's own community."
Written by Angel Morris.