WAXAHACHIE, TX — Millions of little gymnasts dream of tumbling across the big, blue floor as an Olympic athlete. Thousands of young women compete for the honor. Only a few will get to represent America every four years. Two girls who have the talent and drive to someday be there are Megan and Emily Six— that is if volleyball, cheerleading and cameras don't steal them away first.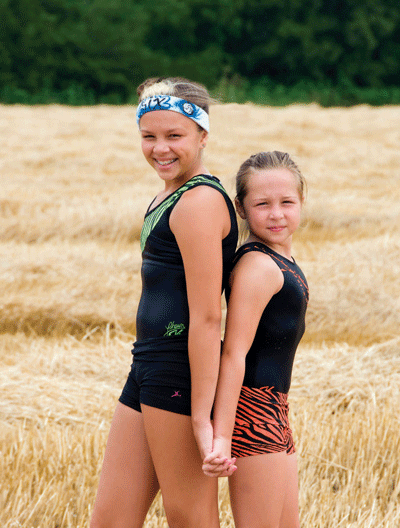 Cory and Gina Six, Megan and Emily's parents, completely support their daughters' gymnastics. Gina owns and runs the gym where the girls train, Waxahachie Gymnastics Center. Cory is the self-proclaimed chauffer and super fan. Gina coached gymnastics throughout her college career at University
of North Texas, Blinn College and the Art Institute of Dallas, where she studied multi-media and animation. Although Gina cheered and tumbled, she never really competed in gymnastics, something her girls have already done.
Megan, 13 and an upcoming eighth-grader and straight-A student at Finley Jr. High School, loves to read, works out hard, always stretching out her hip flexors first. She hasn't always been confident about her future in gymnastics. "I made it to a level 7, but I took a year off, so I had to restart at a 6," Megan explained. "Now I'm training to compete at level 7 again."
The girls compete in USA Gymnastics (USAG), the governing Olympic body and the Texas Amateur Athletic Federation, which is based on the USAG routines and rules, but groups the gymnasts by levels and skills as opposed to age during competitions. Until the collegiate level, gymnasts don't really specialize in one event, but compete in all four Olympic events: beam, uneven bars, vault and floor. Gina pointed out, "Megan is our beam diva. It's really the thing she loves the most."
In January, Megan competed and, based on her scores, was able to go to state where she placed fifth overall. Helping her to be successful are the 11 coaches for the gym, two of whom are also choreographers. "At level 7, we get to pick our own music for the floor,"  Megan explained. "So this year, I am
thinking about a Latin upbeat routine."
Emily, who loves math and science, is also a straight-A student and will be a fourth-grader at Shackelford Elementary. Usually a gymnast has been flipping and flying for years before hitting the team competitive level, and Emily is no exception. She started Tumble Tots with her mom at only 18 months old. "Even then," Gina pointed out, "she didn't let me do much. She would run to the  middle and do things all on her own." Emily is definitely independent,  envisioning what her routines will look like when she can pick her own music, and that is only one level away for her. "I am a level 6 now, so our music is
compulsory," Emily explained. As a level  5, Emily won third place in regionals and cannot wait to be a level 7 when she can have her own routines that showcase her skills and individual personality. The uneven bars are her favorite, even though they are probably the most dangerous.
Because gymnastics has seasons like other sports — Emily's season running August through December and Megan's running January through May — the girls are able to be involved in other groups or sports. Megan plays both indoor and beach volleyball with an Ellis County Juniors select club, and just recently made cheerleader for her eighth grade year.
Emily used to play volleyball and soccer, but decided to devote her extra time to gymnastics, although she wants to get back into volleyball in the future. Megan loves volleyball and right now is putting a lot of effort into that and cheerleading, but will always love gymnastics and will continue to work  out with her sister four days a week, three-and-a-half hours a day. The girls save the weekends for rest, swimming and hanging out with friends. During  the summer, they will forgo some work outs to travel to Ruidoso, New Mexico, with family and play at Hawaiian Falls with friends.
Training for competition can only prepare you for the physical aspects of gymnastics. Both girls agree their favorite parts of the meets are the relationships that are built. "My favorite part is getting to know all the girls in your rotation and rooting for them, too," Megan shared.
Emily agreed, but added, "And the actual routines and being in front of the judges."
Their least favorite parts are easy to imagine. "We hate messing up," both  girls admitted.
"But you have to blow it off and keep going," Megan explained. "If you get a bad score, you have to forget about it quickly and move on."  Maturity and discipline are just two of  the many benefits gymnastics offers the  girls. "The girls are good, respectful kids," Gina pointed out. "Gymnastics teaches  them to listen, obey, be honest and give 100 percent to everything." Gymnastics also teaches young kids to push through pain, face their fears and not give up. Of course, all of this is on top of the  obvious health benefits of staying active.
Someday Megan hopes to attended Texas Tech University and become a photographer. "I love taking pictures," Megan said as Gina chimed in, "She has an eye for it. It's really something special."
Right now Megan thinks she would like to play volleyball in college and maybe help coach the gymnastics team. Emily is thinking Texas A&M University is where she would like to be a gymnast and earn her way into the Olympics, a feat that will take lots of work and dedication.
Eventually she will be a zookeeper. "I love animals," Emily smiled.
Although young, Megan and Emily still have advice for kids and parents who are considering gymnastics. "Gymnastics is exciting and fun," Emily said. "You can practice everyday and learn something new everyday."
"Be careful though," Megan  cautioned, "once you start, you can't stop. Even if you join to be healthy,  you'll get sucked in to the fun and stay for your teammates."
Written by Cindy Malone.