RED OAK, TX — Like the Remarkable Farkle McBride, Will Temple is most notable for the breadth and scope of his talent and achievements. Academics, performing arts, sports and community service are just some of the areas in which he excels. "I think I work better under pressure," Will
explained. "I'd rather be busy.
Will's recent achievements are as varied as they are many. Co-captain of the varsity tennis team, vice president of the varsity a cappella choir, president of the National Honor Society, parliamentarian of student council and a lead role in the musical Singin' in the Rain just to name a few. He also graduated number four in his class of more than 400 students, was named a Texas Music Scholar and was chosen for the Texas All State Choir.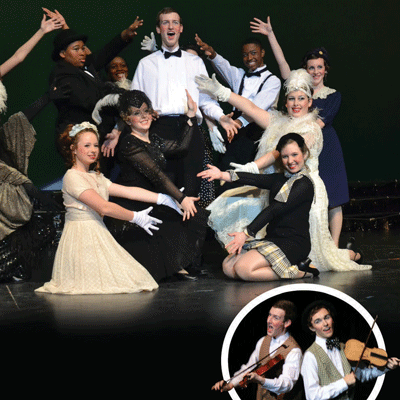 When you're juggling this many activities, you have to carefully considered which choices you make. "I had to stop playing tennis my junior year to do the musical and more choir things because I just felt that I wanted to excel more at that and focus more time on it," Will said.
Will kept track of his jam-packed schedule the old fashioned way. "My parents helped a lot. But, I made a lot of to-do lists. Every night I made a list, and I'd just check everything off as I went, and maybe put a reminder on my phone or on the paper, whatever I thought would make me notice it," Will said.
He loves to sing and cites being named to the Texas All State Choir as one of his proudest achievements. About his performance as Don Lockwood in Singin' in the Rain, Will confessed that while he really enjoyed the singing and acting involved in the show, the dancing was a completely different story. "I don't feel like I have that much natural ability. I'm not really comfortable doing it," Will stated. "But, I think it's good to get out of your comfort zone sometimes and do things just to do them."
Will is headed to Baylor University in Waco this fall to major in business. He's also hoping to do some singing while he's there. "I want to join the choir, but it's by audition only, so we'll just have to wait and see. Hopefully, I'll be in the men's choir," Will admitted. He's also interested in playing intramural tennis and wants to get involved in Waco. "I'm interested in community service organizations. Just  getting out and helping, finding a church,  too," Will continued. "I'm looking forward to the Christian atmosphere and being a part of something bigger than just me."
He's taking quite a few scholarships  along with him. Two are Baylor-specific  academic scholarships: the Anita and Dale Jones Scholarship from the Baylor University Women's Council of Dallas and the President's Gold Scholarship from Baylor University. He also received scholarships from the National Honor Society, Red Oak High School PTA, Shield's Elementary PTA, Red Oak Council of PTAs, Prosperity Bank, Citizen's National Bank and one of two Laura Autrey Scholarships. These scholarships are a testament to his outstanding academic and community service record.
When Will completes his bachelor's degree, he plans to pursue a master's degree in health care administration. "With health care administration, you have to have a business background, and I've always been interested in the money side of things," Will admitted. Starting at a very young
age, Will learned about finances and  handling money from his parents. "My dad's an accountant, so I'm sure that just  seeped in. He's always taught me fiscal  responsibility," Will explained. "I got my first bank account, and my parents encouraged me to save, I think I was in second grade," Will grinned. He's always been a hard worker who likes to stay busy. As soon as he was old enough, he started pursuing job opportunities. "I've mowed yards for forever it seems, so I've  always been making flyers and keeping up with the money. I also do house sitting and dog sitting."
Will's dream is to work in the field of elderly care. "I've just had a lot of family members go through nursing homes and rehab centers, so hopefully, I can make a difference there," Will stated. "I wasn't exactly sure what I wanted to do, but during your senior year you start thinking about it more. And I just thought,  'Maybe this is where I can make the  most difference.'" His face lights up, and he speaks with passion when he talks about this dream. "I feel like helping the elderly is "I'm looking forward  to the Christian  atmosphere and being a part of something  bigger than just me."
what I was put here to do. I really feel a connection with them more than with kids or younger adults. I just enjoy them," Will stated. "My grandparents influenced me. They were some of my best friends.
I guess I just love the wisdom and just thinking of the past. I'm kind of a history person, and I enjoy  the stories."
Will would like to return to Red Oak to work somewhere close to home when he completes college. "I've always liked the Dallas area, and I'm very close to my family, so I want to stay near them," Will said, "We joke a lot and laugh with one another, just a lot of love, really. I'm a family person. I would really miss that."
Relationships are extremely important to Will. His idea of a great time is to hang out with his friends, maybe go to a movie or out to eat. He likes to just sit around talking and laughing with his buddies. Like others, he has a favorite high school memory. "Really, just being with friends. I know it's kind of cliché in a way, but that's probably what I will cherish the most." Although Will and his friends will go their separate ways after this summer, they've made plans to get together whenever they're home for holidays. "I know certain friends I have, we won't ever lose touch. We know it won't be the same as it was in high school. We won't see each other every day, but we'll stay connected," Will said. Will's advice for students who want to excel is to find a balance between  academics and extracurricular activities, but always give school work priority. He knows that he's been blessed throughout his school years. "I just have such a great support system through my church, parents, teachers and friends."
Written by Katie Almond.