ENNIS, TX — A young athlete with dreams of a baseball career has found his calling in the world of art. Although creative since childhood, he didn't realize his potential as a painter until a family crisis five years ago determined his future in brushstrokes instead of batting averages. Yet Leighton Autrey, once a draft pick for the Seattle Mariners, has hit a major home run with his new profession. His first gallery showing in January at the Life in Deep Ellum Cultural Center in Dallas attracted widespread media coverage, as well as praise from art connoisseurs and critics from across the state.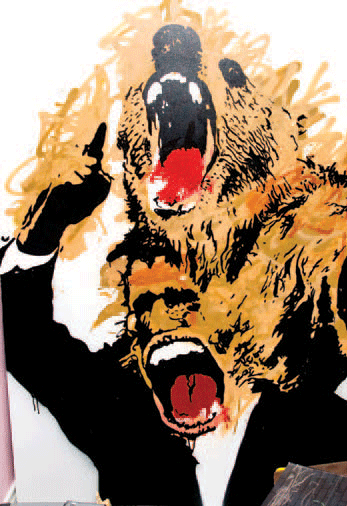 "It was a big day for me," said the 27-year-old Leighton, whose 6-foot-6-inch stature belies his quiet disposition. "But I give the credit to God. He's given me the tools and the inspiration to put my work out there. From here on, it's in His hands."
Leighton, who teaches art at Palmer High School, is modest about his talent, but there's no mistaking his heart is in his paintings, each a dramatic splash of form, color and spiritual meaning. "They are all based on Bible scriptures," he said. "But the style is influenced by urban street art." Leighton's popular, graffiti-rooted canvases sell for $150 a square foot, which the artist sees as validation of his life's goal to spread the Gospel through his paintings. "My teachers always said I could make money from my art. I just never took them seriously," he laughed. "Well, I'm doing pretty well, so there's that."
He wasn't always so confident, at least not as an artist. His first love was baseball, and he was close to realizing his own field of dreams when he received the devastating news that his mother, Phyllis, had been diagnosed with skin cancer and that her prognosis was terminal. "She had melanoma in her arm, and the doctors told her to prepare for the worst," Leighton remembered. "But my mom was such a trooper. She called the family in and told us she was going to beat the cancer. And she wanted us all to pray for her recovery. She told us to read Psalm 91."
They did, and from it Leighton, his father, Larry, and his brothers, Heath, Garrett and J.T., gained fresh courage to face an uncertain end. While Larry remained at his wife's side at M.D. Anderson Hospital in Houston, Leighton moved closer to the family home in Stephenville to help rear his two younger brothers.
Although he took odd jobs as a carpenter, he wasn't sure what he was going to do for a living in the long-term until he had a moment of clarity one day on a construction site. "I was down on my knees doing tiles when God spoke to me," Leighton recounted. "He said, 'You are going to paint My Scriptures.'" Until then, art had only been a hobby for Leighton, but he didn't dispute the summons. He started right away.
Today, examples of Leighton's work are displayed on the campus of The University of Texas at Austin and in the homes of such baseball major leaguers as Huston Street of the San Diego Padres. Fans are attracted to his unique perspective because of his use of vivid colors and the sense of movement — a kind of emergence or escape — that characterizes many of his canvases.
This is particularly true of his recent exhibition, Crowbars, presented at the Mokah Art Gallery, where Leighton speaks through oils, acrylics, various inks, aerosol and enamel. His artist statement for this show reads: "Like a crowbar is used to pry and loosen old things that are held together, these works are made to pry and loosen the viewers' thinking of the Holy Bible."
Among the striking pictures on view were "Fragrance," a study of a flower, both alive and dying, derived from 2 Corinthians 2:16; "The Past," a mix of lines and colors in a state of erasure, based on Jeremiah 2:23; and "Seekers of Rest," a series of graffiti-covered human faces representing Matthew 11:28. Other pictures from the Crowbars exhibit reference 1 Peter 5:8, James 1:2-8 and Proverbs 28:15. Some of Leighton's paintings are disturbing, others stirring, but all evoke liberation of a kind, whether triumph over impediments or release from a captive state of mind.
"My work is about chance, risk and not being afraid to push the limits of all types of artistic mediums," Leighton confided to visitors on his Web site. The painter's favorite aspect of his work is the process itself. "What I love most about what I do is transferring it from my mind to canvas," he said.
"The course it takes from thought to completion — that's what really gets me."
He also likes knowing his success has underscored the power of prayer, and points to the greatest news he's had in a long time as evidence: his mom's cancer, which motivated him to seek spiritual direction, is in remission. "She is completely healed," he said. "The doctors told our family they had never seen anybody heal as well as my mother."
Leighton considers his role as a teacher as an extension of his artistic mission, and his passion for helping his students recognize their potential is as great as
the devotion he applies to his own work. Letting his pupils express themselves on the walls and ceilings of his Palmer High School classroom may be
unconventional, but he has a practical message for them, which he hopes will carry them into their lives as adults. "Young people often want everything to happen right now," he pointed out. "I try to teach them that life isn't a quick download, that it takes time to achieve success and that hard work pays off."
Leighton is shining proof of his theories, and although his humility prevents his acknowledging the fact, he's proud of the work he has accomplished and his hopes are high for his future in art — as a painter and an educator. He still loves baseball, but his goals have changed. "I'll just be playing the major league in a different way now — I'll be painting for it," he grinned. With wife, Mallary, and their pets, two American Bulldogs named Shae and Bear, Leighton is ready for what life sends his way.
"It's all in the Lord's hands," he said.
As for producing the art that defines his faith, he's still going strong. "After all," he added, "there's a whole Bible to paint."
Written by Randy Bigham.
Editor's note: Leighton's artwork can be viewed at www.leightonautrey.com .