CORSICANA, TX — It happened on a warm April day in 2011, during a local meeting sponsored by United Way. A small group of people found themselves sharing ideas about a way to join forces and do something really effective to help families in the Navarro County community who had been affected by the recent economic downturn. Out of that first informal meeting of the minds on an otherwise uneventful April day came the foundation for a collaborative effort known as Backpacks of Love, now going on its second year of operation.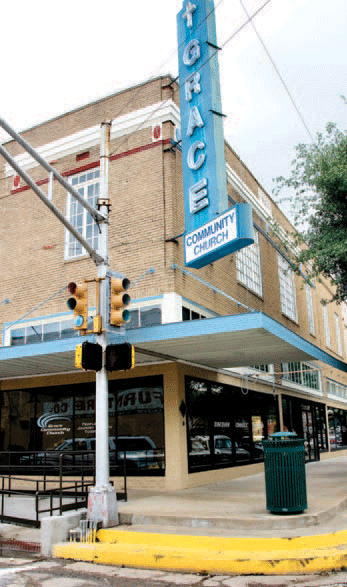 Steve Hayes, senior pastor at Grace Community Church, was there and his memories of that meeting are crystal clear. "We started talking about something we could accomplish as a group, something we could collaborate on, and the idea of doing a school supply drive — particularly backpacks — came up," Steve said.
The group immediately knew they had found a potentially winning idea. Grace Community Church had done similar drives for Carroll Elementary in the past, and Steve felt that if the group of like-minded individuals at the meeting could work together toward a unified goal, "the potential for success was huge."
The idea of doing something to help economically disadvantaged Navarro County families was one Steve had thought about before. He had already talked to teachers and administrators about the lack of resources available to low- income families, and he knew the idea of providing backpacks was the right thing to do. "We saw many organizations and churches helping with school supplies and believed that a collaborative effort would serve a greater number of kids." This collaborative effort would also assist with a fair distribution of the goods.
The minds behind Backpacks of Love, in addition to Steve's, are group leader Kimberly Stutts of Northside Baptist Church, Stephanie Elkins of Community Bank & Trust, Pam Crawford and Crystal Shepherd of Westminster Presbyterian Church/ PCHAS, Rob Ludwig and Elizabeth Thompson of Corsicana Independent School District, Tracy Watson of Rainbow Room, Mark Luera of Family Service Association, Amy Carr
of Kerens Independent School District, Kari
Ivey of Blooming Grove Independent School District, Becky Melton of Frost Independent School District, Alvis Reeves of IMPACT Navarro County and Becky Thurston of First Baptist Church.
The group's goal for 2012 is the same as it was in 2011: to stuff 2,100 vibrantly colored backpacks with the "basics" — notebooks, paper, pencils and pens and more at a cost of $12 per backpack. "We figure it will take about eight to 10 hours to stuff all the backpacks, sort them by grade level and get everything ready to distribute them," Steve said, adding that Corsicana ISD and other county school districts were extremely helpful in getting the group supply lists to work from.
The backpacks will be available for Navarro Country kids who qualify for the program and who are Pre-K through 12th grade. "If a student's parent or guardian can provide proof of income that matches the state requirement for a
free or reduced lunch, that student will be eligible to receive a free backpack," Steve said. Backpacks will be distributed August 8-10 at Drane Intermediate School.
Steve said the program was an immediate success when it was introduced at the start of the 2011 school term. "We were absolutely blown away with how well the program was received by the community," he said.
During the three days of distribution, in August of 2011, the group distributed approximately 1,800 of the backpacks to students all over the county. About 75 percent of the students were from the Corsicana ISD and the remaining 25 percent were from Blooming Grove, Rice, Kerens, Mildred, Dawson and Frost school districts. Additional backpacks went to individual schools throughout the county to be distributed at the school's discretion. "We believe that many of the students who received backpacks that first year walked into school with better self-esteem, thanks to having school supplies," Steve said.
Funding for the Backpacks of Love program comes from a variety of sources. "We get our funding from churches,
local companies, grants and trusts," Steve explained. "We look at just about every way you can possibly get funding, which is one of the ways that I try to help."
Steve, a Louisiana native, grew up in a single parent home after his dad died when Steve was just 6 years old. He and his wife, Kim, first came to Corsicana in 2001. "Back then, I worked with the youth here at Grace and led the music," he remembered. "I left in 2005 to become the associate pastor of a larger church in Irving."
In 2008, Steve, his wife and five kids returned to Corsicana, and he became pastor at Grace Community Church. "I've always had this goal of creating and leading the kind of church that if it burned to the ground, the whole community would think enough of it to want to rebuild it," he said. It is an underlying principle that has guided him most of his professional life. "I want to be a person concerned not only with what goes on inside these walls but with what can be done to benefit the entire community."
Admittedly not a "suit and tie" kind of guy, Steve loves people and enjoys volunteering his time on several area committees. He's on the board of the Hope Center, the Food Pantry and is the current president of the Main Street Advisory Board, a busy schedule by anyone's book, especially for the pastor of a major Corsicana church.
Steve's work with Backpacks of Love, however, has given him, as well as the rest of the team, the great satisfaction of knowing they are making a huge impact in the lives of thousands of Navarro County kids. "We started out as a team of people who wanted to see something positive happen for the children," he said, "and I think we've  accomplished that goal."
Written by Rick Herron.
For more information, contact Kimberly Stutts at Northside Baptist Church at (903) 872-5601.