BURLESON, TX — When Michael Brian Guthrie is asked to talk about himself, chances are, his answer will be brief. Ask him, though, about his family or our country's veterans and be prepared to listen, learn and appreciate those who live with purpose. He will proudly share about his 13-year-old son, James, and his recent induction into the National Junior Honor Society. He will talk about his wife, Melissa, and their 15th wedding anniversary to be celebrated this October. He will remember growing up in Burleson with his brother and sister and how their mother worked full time to care for them and foster children, and how his father, Mike Guthrie, is a Vietnam veteran with a Purple Heart.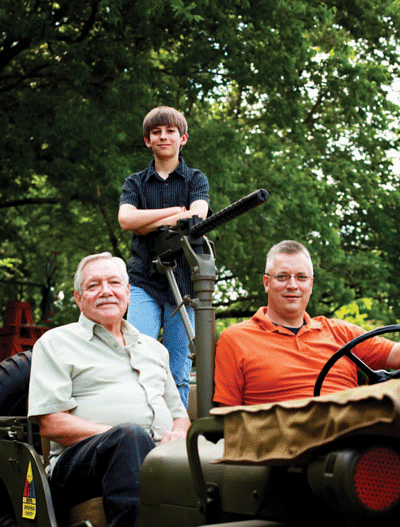 "My dad was in the military before I was born," Michael Brian said. "He was drafted by the Army and sent to Vietnam where he was wounded." Thankfully, his father recovered. "He didn't bring home a lot of memorabilia. I remember some sleeping bags because, like most kids, we always played Army, and there are a couple of citations on the wall. My dad didn't, and still doesn't, talk much about his time in the military or Vietnam."
Michael Brian graduated from Burleson High School and studied at Tarrant County Community College and Hill College before seeking a career in law enforcement. He graduated from Texas A&M Police Academy and has been a public servant for 23 years. He worked in the Tarrant County Sheriff's Office for 17 years, including five years in the auto theft task force where his duties included serving as a detective, as well as a public information officer. He became interested in civil law, and six years ago, he transferred to his current position of Tarrant County Deputy Constable.
Between when he married and when his son was born, and in a decision that would affect his family in ways he could not know at the time, Michael Brian joined the North Central Texas area chapter of the Military Vehicle Preservation Association (MVPA). "I didn't own a vehicle at the time," he said. The Arrowhead MVPA Chapter honors veterans through vehicle restorations, displays and memorabilia.
"It isn't necessary to own a miliatary vehicle to belong," he said. "I've been a member for over 13 years. Members tend to be veterans, relatives of veterans, re- enactors and historians. At first, I would ride in parades with other members and get my dad to ride, too."
The Military Vehicle Preservation Association has existed since 1976 as an international nonprofit organization for military vehicle enthusiasts, historians, preservationists and collectors. Today, the organization is a source and network for an estimated 8,000 people interested in the acquisition, restoration, preservation, safe operation and public education of historic military transport.
"Veterans are the purpose of our club," Michael Brian said. "I joined to honor my dad and all veterans, and this experience has opened so many doors. One year, a member of the Tuskegee Airmen rode in my vehicle in the Fort Worth Veterans Parade. That's living history! As time goes by and we lose more World War II and Korean War veterans, it's crucial not only to honor them but to hear their stories so we can avoid repeating mistakes."
Michael Brian has been president of the Arrowhead Chapter since 2004 and, to date, he has owned and restored three vehicles. "I started with a 1970 M274 A5 Military Mule," he smiled. "I totally restored it, but when a lot of older veterans weren't identifying with it because it was made in 1970, I decided to sell it. The restoration was so complete that it is now in a museum in Japan."
Seven years ago, Michael Brian found a 1952 M38 Army Jeep with a 1952 M100 trailer that was used in the Korean War. "I bought them as a pair. With a friend's help, we took the Jeep all the way down to the frame and rebuilt it. The 1952 Jeep is the last flat-fender model made, and it is also the type of Jeep that was used in World War II. I drive it in five or six parades and shows a year with my wife and son. James has seen firsthand what it can mean to a veteran. He's seen the glowing expression when someone recognizes the Jeep as the one he or she drove in the war. He sees how it opens a dialog and encourages a veteran to tell his story," he said.
Recently, he purchased another vehicle. "It's a 1944 Cushman Airborne Scooter," he grinned. "On D-day, these scooters were dropped from a plane on a parachute and, as soldiers parachuted and landed, they would have transportation. There were probably fewer than 2,500 ever made, and now, fewer than 100 are left in existence."
Michael Brian doesn't wear a uniform or an insignia. "I didn't serve in the military," he said. "I don't mind re- enactors doing it though. A lot of people in our club are re-enactors, and they make our vehicles look so much better."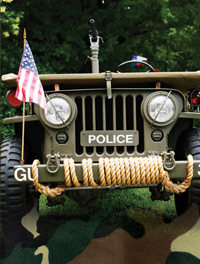 In addition to the Burleson Lions Club 4th of July Parade, Arrowhead Club members participate in parades and shows all over the Metroplex. "Fort Worth's Veteran's Day Parade is huge," Michael Brian said. "We're also really proud of what Burleson has done. I couldn't be happier than to live in a community that cares about veterans. We're always invited when there is a function at Veteran's Park."
Following Burleson's 4th of July Parade, all of the veterans — especially those with Purple Hearts — and club members are invited to a backyard lunch at Michael Brian's home. "We live close to the parade route, and by lunchtime, our whole street will be nothing but military vehicles," he said. "The best way to thank veterans is by showing appreciation and being interested in their stories or simply respecting their choice to remain silent."
Every morning, Michael Brian prays for four things: strength, wisdom, knowledge and patience. "I'm blessed to have my parents, wife and son and to live in our great country. Without the service and sacrifice of our veterans, America would not be as it is today," he stated.
When asked to speak about the purpose of the Arrowhead Club or approached by someone wanting to know how best to support our veterans, Michael Brian is quick to answer, "Start with your personal thank you. When you see a veteran, walk up to him or her and say, 'Thank you for your service to our country.' Let a veteran know that you appreciate what he or she has done to protect our freedoms. Understand that without those who serve in the military, we would not be enjoying the many great blessings of living in America."
Written by Carolyn Wills.