WEATHERFORD, TX — At the young age of 18, Taylor Travis has already accomplished a lot. The Weatherford High School senior has served as school mascot in years past, and just last summer became a part of the Agriculture, Food and Natural Resources department at the school. Taylor has raised lambs and pigs, but her passion is rabbits. "I'm just more competitive with my rabbits, because I win," she said proudly.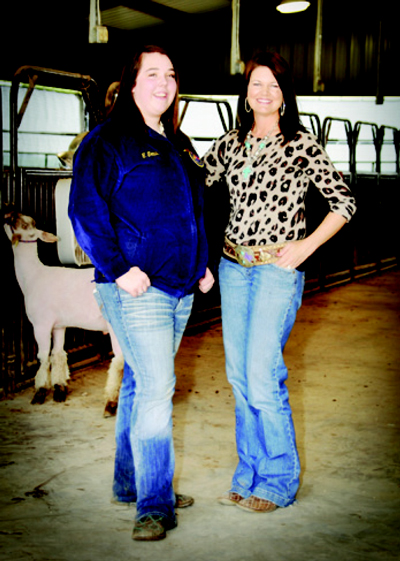 Taylor got involved in breeding rabbits after her grandparents, Nance and Lee Travis-Talley, introduced her to their neighbor down in Killeen, John Foster. He is ranked nationally and shows animals across the U.S. "He got me into that with my first two rabbits. After that, you jump feet first," Taylor explained. She started breeding rabbits her freshman year of high school and began showing them at smaller shows with the Texas Rabbit Breeders Association. Taylor's desire to win influenced her to join Future Farmers of America (FFA). And after two active years in Weatherford FFA, she is closer to achieving her dreams.
"As you get to the bigger shows, you have to be in 4-H or FFA. The more competitive you get, that's where you want to go," Taylor explained. "You want to win those big shows and make a name for yourself." For each animal that places in the bigger shows, Taylor gets points, which can ultimately lead to school scholarships. This spring, she won a $1,000 scholarship from Friends of the Weatherford FFA and has applied at the state level for four more scholarships, as well as five awards that come with monetary prizes. With her winnings, Taylor will attend Tarleton State University this fall, majoring in agricultural education.
"I always wanted to do Ag, but with class schedules and being the mascot, it never fit," she said. Taylor was mascot her eighth-grade year and the varsity mascot her sophomore and junior years at Weatherford High School. She decided to move over to the Ag department her senior year.
Caring for show animals takes a lot of time and money. Taylor feeds her animals in the mornings and exercises them after school. She returns at night to feed them their dinner. She spends more than $100 of her own money monthly for feed, supplements and other expenses. Taylor does not mind the extra work and fees, because she enjoys the companionship of the animals.
"I feel like rabbits are my best friends. When you have a bad day or when you just have to get something off your chest, you can tell them, and they don't tell anyone," she chuckled. "I like to think they're listening." She mostly focuses on breeding rabbits, which she is able to keep after a show.
She has also raised pigs, which she enjoys when they are cute and cuddly. "When they're 250 pounds, mean and only want to eat, I'm ready for them to go," Taylor admitted. The animals are sent to the slaughter house, even if they do not place at shows.
Taylor also thrives on the competition of showing her animals. "The level of competitiveness is so high," she said. "You have to work really hard to get it." At the San Angelo Stock Show, Taylor won Senior Showmanship and Grand Champion for her Mini Rex and Californian rabbits. She also won Grand Champion for Californian at the Fort Worth Stock Show. Taylor took second place in the Houston Stock Show. "It's so hard to get, and when you get it, it's like 'Wow!'" she exclaimed. She is showing a market pig, a market lamb, two sets of market rabbits and 30 breeding rabbits during this month's Parker County Sheriff's Posse Frontier Days PRCA Rodeo and Livestock Show, where she could win a scholarship. If the animals sell, premiums up to $200 are also handed out to the owners. Taylor has a few other shows this summer, and then her points will be tallied up for a possible scholarship.
Taylor plans to continue raising breeding rabbits in the Collegiate FFA. She will keep her rabbits in her grandfather's air-conditioned barn and travel to meet him at various shows across the state. Right now, Taylor houses her rabbits at home. Taylor lives with her mom, Tana, who is more of a city girl. "She's still supportive," Taylor said. Her dad, Tim, is also very supportive of Taylor. "I think he would bend over backwards to do anything for me."
FFA has taught Taylor valuable life lessons. "You are learning all these different aspects," she said. "You learn career qualities and how to lead." Public speaking, managing money and caring for animals are just a few of the other lessons taught. She has also learned a lot about herself, mostly through the guidance of the Ag teachers, Amber Jennings and Aaron Baker. "We spend so much time together," Taylor said. "You have these people, men and women in your life, who love you so much that they can tell you what is wrong. You change it, and you win."
Although Taylor has only been involved with the school's Ag department for a year, her teacher, Mrs. Jennings,
says Taylor has been extremely active, interested and curious. Mrs. Jennings teaches a wide variety of classes, ranging from flower arrangement and veterinarian medicine to agriculture. She believes learning about the industry now will help the younger generation make better decisions in the future.
"They need to be able to make food-conscious decisions," Mrs. Jennings explained. "Agriculture plays a big role in politics, and they need to be able to make decisions that will benefit them and their families and the agricultural world we live in."
Taylor had previously wanted to teach special education, but now she feels her calling is to become an Ag teacher, partly because of Mrs. Jennings' guidance. "This is a family. This chapter is my family," Taylor said about building strong relationships with her teachers and classmates.
Taylor has carved a path for herself to excel in life. She is working toward her Veterinary Assistant Certification by interning at Bowie Drive Animal Hospital. The certification requires 200 in-class hours and 300 outside hours, plus she must pass a test. Once she meets the requirements, Taylor can be compensated for her work. "Not many 18-year-olds have a certificate," she said. "That's a good way to work through college."
Written by Amber D. Browne.