WAXAHACHIE, TX —  Sandy Jones admits that she does not handle the sight of human blood very well. The wooziness is such that she finds herself on the floor. Animals are a much different story. "I have never had any problems stitching animals up," Sandy stated as to why animals didn't cause her the same adverse affect as humans. "I guess I don't have a problem with animals because they can't help themselves, but most of the time people can. Birds with broken wings, rabbits, wild feral cats, whatever showed up at the barn when I was a teenager, became my patient."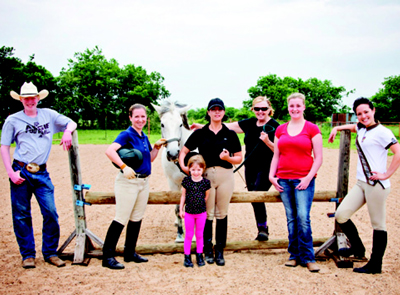 Her love of horses came at the tender age of 4. "I was living in Maryland at the time," she reminisced. "My aunt had a horse that she boarded at a stable. Lizz Bridge, the lady who owned the stable, took me under her wing. She taught me everything I needed to know about horses. I owe it all to her."
The program Sandy mastered is the same program she shares with riders today. Originally, it was called "centered riding," but as the program evolved, it has come to be known as "balanced seat." Centered riding was first established by Sally Swift, a world renowned trainer. The name may have changed, but
the principles have remained the same. A balanced seat, or the correct posture, still makes all the difference in a safe, comfortable ride for both the horse and the rider. Riders not only learn the correct way to sit upon the horse, they also learn about horsemanship, etiquette and the overall terminology associated with riding a horse properly.
When balanced seat riding is mastered, the rider will have exercised every muscle, tendon and ligament, from their head to their toes. "Riders are athletes. Being a correctly balanced seat rider is equivalent to doing a triathlon," Sandy explained. "Personalities play the main role when I put a rider and horse together. An outgoing person will usually be paired with an outgoing horse. The horse has to complete the rider, and the rider has to complete the horse. One is not more important than the other."
For Sandy, it's all about the safety of the pair. Personalities have to match. "They need to be a good fit," she reiterated. At the age of 11, Sandy realized firsthand what safety on a horse really meant. "One of my Christmas gifts from Santa Claus that year was a Palomino," Sandy recalled. "A month later, this same horse threw me into a fence. I suffered a concussion and a herniated disc." Sandy's family later learned that the horse they purchased had been drugged to "calm it down." Sandy has made it her business to help others when purchasing a horse. Prospective buyers need someone with the right kind of knowledge to help them make the right choice.
Sandy will watch videos or go out to meet the horse in person. "I can see what's wrong with them," she said. "I don't believe in drugging horses, and I always try the horse before putting a child in the saddle."
In her 30 years of riding, Sandy has gained valuable experience that she now shares with others. "I specialize in hunter/jumpers," she said. "I worked into this specialty. I help people who want to learn to ride, but I also teach them the importance of caring for their horses." Along with a balanced seat, horse owners and riders also learn about diet and nutrition, as well as overall care and maintenance of their four-legged companions.
Sandy competed and won numerous awards while in Maryland. Coming to Texas in 2001, just shortly after September 11, she learned that breed- oriented shows here are much different. "The rules and    techniques in the South are different from those I competed under on the East Coast," she admitted. But this doesn't keep her from taking her students to shows.
Her horses are her family, but she is very much a people person. "I love to watch people grow, to open up and share things," she explained. "The best things about teaching others are the light bulb moments. No matter what they are learning or at what level, those moments are the best time of my days. The smiles when they get it are priceless."
She teaches people who have never ridden before to seasoned riders who have been taught the fundamentals incorrectly. "It's more challenging to reteach a rider who has an old fundamental knowledge of horses and riding," she added. One of her current students is learning the art of dressage after competing for years in English and West breed shows. "This student had been riding for 10 years before I began working with her. She had to go back and start all over again." Sandy said. "She's 30 years old now, and it finally clicked for her back in March. I knew she had experienced her light bulb moment when I saw the look on her face."
The progressive journey between horse and rider at Catching Dreams Training is satisfying. An even greater satisfaction comes when Sandy gets the opportunity to teach autistic children how to ride. "These kids can't speak and the horses can't speak, but the noncommunicative bond is amazing," she emphasized. "The sense of touch becomes electrifying for all three of us."
Sandy also teaches therapeutic riding to children and adults with disabilities. "Horses are therapy, even if the person never rides the horse," Sandy explained. "All five senses — sight, hearing, smell, taste and feel — are triggered from the experience. It helps the individual build lost trust while gaining self-confidence. The nonverbal communication between the horse and the individual with disabilities goes far beyond what I
can teach."
Every little girl who loves horses and who has read Black Beauty wants a black stallion. After losing her black stallion, Flashy Charm McCue, aka Charm, Sandy purchased Cash, a chestnut thoroughbred with a blaze. Cash went to a new home three years ago to become another little girl's dream. She competed with him until she outgrew him last year.
Sandy was able to get reacquainted with Cash in November with help from a friend. "I called and whistled for the horse I saw in the pasture," Sandy remembered, never once thinking it could be Cash. "He came running," she shared, explaining the long term memory thoroughbreds possess. "He didn't forget me!"
Riding for Sandy has always been somewhat of a fantasy. It's her way of catching dreams while leaving the rest of the world behind. "It's magical," she confessed. "Problems just seem to disappear." Sandy isn't just catching her own dreams, she's teaching others how to catch theirs, too.
Editor's Note: Contact Sandy Jones at [email protected] for more information.
Written by Sandra Strong.