CEDAR HILL, TX — Patrick Rushing has defied odds most of his life, from an absentee father to changing schools to striving for higher education, despite a learning disability. As a youth, he grew up watching his older brother, Andrew, play sports and emulated his moves. Like Andrew, Patrick played basketball and enjoyed the camaraderie of team sports. But when Patrick was accepted into the Cedar Hill Collegiate High School, he left team sports behind as none were offered at the new school.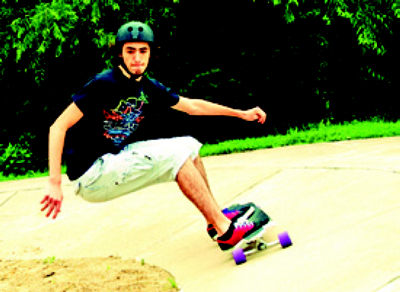 "I was worried about that," Ramona Rushing said. As his mother, she had watched him thrive as an athlete and worried he would miss being part of a team. "But he said he didn't care." He already had what he needed. He had a skateboard.
"When he was in elementary school, I bought him a scooter with a handle," Ramona said. Very quickly, Patrick mastered the introductory board and moved to more difficult equipment. "About a year-and-a-half ago, we were in the mall, and he said, 'I want to show you something.'"
What Patrick showed his mother would later change his life. It was a longboard skateboard, an instrument related to a surfboard or snowboard with wheels. Because of its sheer size, ranging in length up to 9 feet long, stunts are very different from the traditional skateboard. Great stamina and  strength, not to mention bravery, are needed to hill slide, carve and freestyle on the awkwardly long board.
"After I got my first board," Patrick said, "I was always on it, practicing different things, and when I landed my first stunt I thought, That was impressive! and wanted to do more. Some tricks I could get real quick. Others, like the varial flip — well, I still can't land that one!"
Patrick began scouring the Internet, looking for different tricks and ways to master them. "It wasn't long," Ramona chuckled, "before he surpassed his friends [on the board]. He was always practicing and leaping over things. One day we were standing in the kitchen, and he just leapt over the island!" Spontaneous leaping became commonplace. Everything is an obstacle. Everything is a challenge.
The jumping continued. "Then, it was just one of those boring days,"
Patrick recalled, "and I got on the Internet and was looking through YouTube videos wondering what records there were for skateboarding. I noticed that there wasn't a world record for a hippie jump, which is weird because it's a really common trick." That was when Patrick's world came together. Rather than let the challenges of a single-parent home or dyslexia hold him back, he thrived. He fully adopted the creed of Cedar Hill Collegiate High School.
"We always teach our students to give 212 degrees of effort," Principal Usamah Rodgers said. "We teach them that they can achieve their goals through hard work and effort. Attitude and effort are what is important in life. We teach them that smart is a myth. You can have intellectual capacity, but to be successful in life, you must have a great attitude and give your best. This is what determines your altitude."
Altitude is the operative word. Patrick began learning the mechanics and physics behind skating and longboarding.
"There's a science behind it," he said. "It's kind of cool because everything started to interlink. I'm taking chemistry, and my geometry is starting to link up with chemistry. World history and English started linking up to my philosophy class." Soon enough, it seemed reasonable that his love of the sciences, analytical thinking and sports would roll together.
"One day [he decided] to apply for the Guinness Book of World Records," Ramona laughed. "He got online and applied, had them send a packet, just like that."
"I still can't ever thank my mom enough," Patrick said in regard to the Guinness Book of World Records. "There was so much legal paperwork — we had to provide evidence and witnesses." Additionally, they created their own equipment for the trick.
As Patrick explained it, to execute a hippie jump, "you ride toward an obstacle, like a simple rail, like a handrail, and right before you're about to face plant into the rail, you jump it, letting the board go underneath the obstacle while you go over, without touching it, and land back on the board on the other side."
On November 12, 2011, Patrick set the world record with an impressive jump of 40 1/2 inches at the Fish Creek Park in Arlington, Texas. Even more impressive is the fact that Patrick's board was nearly as long as the jump itself.
Since the historic jump, Patrick has new goals. "Having the [Guinness] record helps put my foot in the door," he
said, noting that while he is a familiar face around the neighborhood, his
new credentials make him a legitimate skater. "I want to start making my
own longboards," he said. Some of his favorite boards are not polished and perfect, but boards he acquired from the scrap pile at Home Depot. The ultimate entrepreneur and thrill seeker, longboarding is simply a way to hone all of his talents.
"At the moment, I have five longboards. I'd like to start making my own videos and get sponsored." This is, in fact, how many now famous skaters began their careers, but Patrick is also a realist. He hopes to attend The University of Texas at Arlington with an interest in engineering. While he earns his degree, however, he hopes to be a role model.
"Skating gets kids off the couch, gets them doing something other than being brainwashed by the television," Patrick explained. "It's not as dangerous as people think it is. It's just fun. But
my main thing, from the skater point of view, is skaters need to know to be polite to whoever is around them."
Just as is taught at the Cedar Hill Collegiate High School, communal responsibility is important to Patrick. As he leapt into the record books, Patrick is reaching for even higher goals. Skating, he said, is a lot like life. Overcoming obstacles, facing things head on and believing in yourself while sharing space, are not only how to break a record but, also, how to achieve success. Attitude really does determine altitude.
Written by Alex Alred.