MANSFIELD, TX — The Rev. Dr. David Chavez has been a Methodist pastor and administrator for his entire adult life. His faith gave him the confidence to fight for the rights of his fellow Mexican-Americans during the Civil Rights movement in the 1960s. His faith continues to guide his work today as he helps the Hispanic community integrate into the culture of the United States.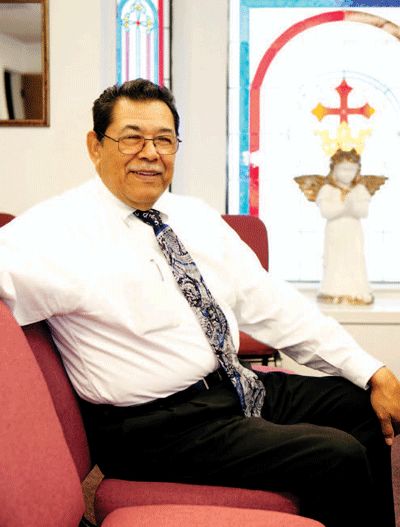 "I minister to people by providing compassionate ministries, like teaching English, teaching the Bible and socializing them to the United States. The church is changing. We want to be at the center of that change. We are involved in ministry in a shifting paradigm, and the people who seek us out are looking for ministry that doesn't cause them pain, but brings happiness to their souls as humans," David said.
Born in Mexico in 1944, David attended elementary school there. He came to Texas in 1956 and attended junior high and high school while working in the fields as a migrant worker. He entered college in Big Spring, majoring in political science and language. He began serving as a Methodist pastor in 1967, and his ministry took him and his wife, Cecilia, to Bay City, Victoria, Port Arthur and El Paso. He finished college in Odessa at The University of Texas of the Permian Basin, then earned a master's degree from Southern Methodist University before being ordained in 1982.
"The biggest mentor I had was a preacher who believed in higher education. He met me in the cotton fields of Texas and opened doors for me to inquire about college. He is why I became interested in studying the Americanization of the continent and the story of the Hispanic people. I also became interested in politics and thought I needed to understand the laws of the continent, which led to a second major in government.
Also in the course of his career and education, he earned a doctoral degree from Austin Presbyterian Theological Seminary, did some historical studies in the Catholic Church in San Antonio, worked with the Mexican Methodist Conference for 42 years, and then began working with American churches to help them gain a foothold in the Mexican- American community. Never would he have imagined that early on in his career, being a pastor would lead him to become a major voice in the integration of schools in Texas and other civil rights issues.
When he, Cecilia and their first son, David Jr. (the couple, married 52 years, also have another son, Samuel, and a daughter, Frances Chavez Martinez) arrived in Port Arthur, he began his job as a minister. One day, a woman, with a daughter who was in leg braces because of polio, asked him to read a letter she had received from the local school district because she could not read English. The letter informed her that her daughter was no longer to attend the main high school in town and would need to attend the "colored" high school instead. However, that school was not accessible to her daughter, and she asked David to speak to the principal.
David agreed, and visited the principal, who listened cordially, then explained that the superintendent had sent the letter and David needed to speak to him. David did, and the superintendent informed him that the courts had sent the letter and he should speak to the judge, whose job was to enforce the laws the legislature had passed. "He said that I needed to find a way to make sure people obeyed the laws, or he would have to find a way to do so."
When David returned to his church, word had spread that he had spoken to the judge, and hundreds of people, including a television crew, were milling around waiting to hear the outcome of the conversation. David agreed to be interviewed by the TV reporter. When asked what he was going to do, he said, "I feel like we need to take Christian responsibility for our children, and we are going to teach our children in the church and boycott the schools." That statement spurred other community leaders to action. The local Catholic Church and several community elders met with David to develop strategies to teach children in the church in a bilingual way by state- certified teachers.
"[The landmark Supreme Court case] Brown v. Board of Education was going on, but I didn't know about it. My only reason for being involved was that I was responding to the needs of a child. In less than two months we were marching in Houston with thousands of people. All over the country, people responded. I met Cesar Chavez in San Antonio. I dined with Martin Luther King Jr. I met Robert Kennedy," David said. "The bishop called and said, 'I sent you to preach. How are we going to fix this?'
I told him I was going to try to get a hearing in Austin to change the laws. We fought for three years and finally got the laws changed."
David is no less an activist in his ministry. When First Methodist Church asked him to be involved in their outreach to the Hispanic community he agreed. Soon he had started a mission group, helped to develop a strategic leadership group and formed cluster groups in the community around the church to act as feeders to bring people in. He also reaches people through the church's food and clothing pantry and other ministries targeted at those in need.
"We don't have a lot of avenues in the community to reach out to Hispanics. We rely on those who reach us through need, who are looking for a church whose ministry isn't based in so much tradition. They come looking for cross-religion marriages, cross-cultural marriages. We are seeing a revolutionary, evolutionary change coming," David explained. "We're not interested in making a Hispanic church. We want to integrate people into the church because our church offers them a spiritual base with family support and the freedom to love each other," he said.
From the dusty fields of Texas to the imposing halls of the state capital, David has trusted his faith to guide him to do the right thing. In David's ongoing journey, he works hard at learning in order to reach out to those who need to hear his words.
 Written by Randy Bigham.