RED OAK, TX — Born in a logging camp in 1928, Donald "Don" Shields got used to moving very early on. As the seasons changed and the availability of lumber shifted, his father, who supported the family by driving an eight-wheeled log wagon up and down the hills, moved with the work. During the time they lived in Alikchi, Oklahoma, Don developed his work ethic and drive for a financial stability not readily available at that time.
While he worked on his bachelor's degree at Southeastern Oklahoma State University, in Durant, Oklahoma, he worked as the only teacher in the only school in Jack Creek, Oklahoma. There were 12-14 students total.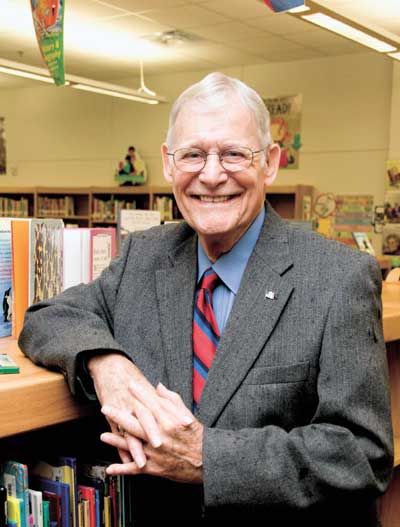 In 1951, Don was drafted into the Army to fight in the Korean War. He trained for and was certified as a master mechanic. However, thanks to a high school typing class, he was soon reassigned to an "office" in Seoul, Korea, checking soldier's orders, assigning them to their posts and requisitioning supplies. "Years later, I thanked that high school typing teacher for probably saving my life by keeping me off the front lines," Don laughed.
After the war, Don returned to Oklahoma, and using the GI bill, finished his degree in speech and industrial education. During his last college years, he met and married his wife, Gloria. After college, he began teaching in Eagletown, Oklahoma. However, teaching and coaching was still not providing for his family. So, after luckily coming across an open invitation for people with a degree like his, he moved to Amarillo, Texas, to be a civilian jet fighter auxiliary systems instructor. With that job, he made twice as much money as he had been making, almost $3,600
a year. To increase his salary by $165 a month, he began taking classes at night to earn his master's degree. In Amarillo, Karla, his first daughter, was born.
After his systems instructor role ended, Don moved several times. He taught in Broken Bow, Oklahoma, and in Artesia, New Mexico. During this time, he had two other children, Jim and Julie. He loved teaching, but his goal was always to move into school administration. He wanted to make a real impact on the educational system.
His first opportunity to be a principal came at a high school in Springer, Oklahoma. Then Don set his sights even higher. He wanted to be a district superintendent. The first opportunity that presented itself was in Thackerville, also in Oklahoma. "The reputation of Thackerville was such that the superintendent of the school district I was in begged me not to go," Don explained.
But against all advice, Don took the job. He knew he had to get their respect early on. "I held a meeting the first day of school. I told those kids there would be corporal punishment for anyone caught smoking," he explained. "And on day one, someone tested me." After two years, Don had made some real changes to Thackerville's school district. He managed to save them money, buy them what they needed and work with the teachers to better manage the students and their classrooms.
Then, the opportunity opened that he had been working toward since that first job teaching in Jack Creek. In 1966, Red Oak Independent School District (ROISD) was advertising for a new superintendent of schools. He went in for the interview, able to lean on extensive life experience, although he was just 38 years old. When asked his educational philosophy, Don told the hiring board, "I'll teach your kids how to be ready for college and how to be able to care for their families. I'll do it with love and discipline."
That answer earned him the superintendent job he would keep for 14 years. "During those 14 years, Red Oak grew rapidly. We went from 300 kids to 1,500 kids, but today Red Oak is approaching the 6,000 mark. Red Oak Elementary tripled in size," Don explained. "We were using churches to hold some classes. We were only running three buses." During his years there, ROISD passed several bond issues and built many of the school buildings still in use today. He helped implement a better bussing system and added much-needed technology to the classrooms. Don is most proud of leaving the school district in 1980 with a large rainy day fund and no debt.
Don next became superintendent of Dallas County Schools. After his wife passed in 1988 of ovarian cancer, Don took care of his ailing mother until she passed away in 2005. Then he moved home to Red Oak. Although he was retired, Don was called on by the school board president, John Hawkins, to help pass a bond issue in 2008. "My longtime friend, Vernon Coffey, and I made it our full-time jobs to get votes for that bond issue." Vernon's late wife, Marjorie, was Don's secretary in Red Oak, and also at Dallas County Schools.
Living back in Red Oak allows Don to be closer to family. Karla remembered, "I graduated from Red Oak schools, and so did my sons. I love that dad was so passionate about making them great."
Red Oak honored Don in 1980 by renaming West Red Oak Elementary as D.T. Shields Elementary. A new Shields Elementary was built in 2008. "I was at the groundbreaking ceremony.
The wind was blowing 60 miles an hour, and dirt was flying. It was one of the proudest days in my life."
To Don's children, having him honored is beyond special. "My mom was honored posthumously for her work in journalism. It is so nice to have dad honored like this while he is alive to see it," Karla admitted. "I well up with tears when I drive by that beautiful school with his name on it."
Now Don lives part time in Red Oak and part time in Lufkin with his new wife, Martha. Of her, Don said, "I have been blessed in my life to marry the two most wonderful women in the world." Although Martha has only been married to Don for a few years, she is wonderfully proud of what Don has done and continues to do even at 83.
Don has high hopes for Red Oak's future. "I visit often with current superintendent, Scott Niven. He's a great friend, and I'm proud of the job he and the school board are doing." Don would like to see Red Oak keep growing and doing all the right things for the kids to continue to learn. "We shouldn't be scared of progress," he said. "We should embrace it and use it."
Written by Cindy Malone.