CEDAR HILL, TX — Cedar Hill resident, Ray Schufford, is a master multitasker, juggling family, career, writing, upstart business and his charity. He is a firefighter and a paramedic for Dallas, a profession he truly feels blessed to have been able to do for the last 17 years. Twelve years ago, Ray met and married the love of his life, Terri. Together they have three children: Tommy, a 20-year-old student at Texas A&M University; Asia, 10, who attends Joe Wilson Intermediate; and Jade, 8, who attends Plummer Elementary.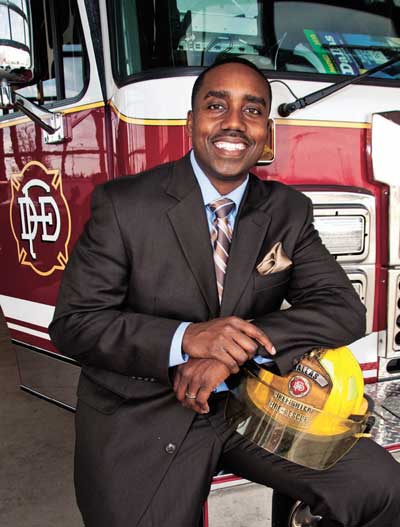 Ray grew up in the Metroplex, graduating from Kimball High School in Oak Cliff. He spent two years at the University of North Texas before graduating from the University of Central Missouri. He attended UT Southwestern for his paramedic training. Because of his strong ties to this area and the people here, he strives to make a difference in communities around him that are struggling. "When I see something broken, I just really want to fix it. This is our world. If not us, then who will?" Ray asked. He began his journey with a simple book based on a simple, but powerful, story.
Ray's first book, Bells Beneath My Pillow: a Fireman's Chronicle, is based on his experiences with men in his life who have mentored him, given him direction and served as confidants when he was in need. "One of my good friends had a son who died as an infant. I used that baby's name as the name of the main character," Ray explained. "Although there are only two main characters, every one of their traits and life lessons were ones I learned from people in my life who have helped me." For that reason, the story has been called "touching, relevant and powerful."
Ray recently published his second book, Take it Off: Unmasking the Hero Within You. This nonfiction book focuses on Ray's idea of what truly makes a HERO: Hearing the call and doing something about it, Encouraging others in times of need, Relationship building and Obeying the opportunities when they present themselves. He believes everything that happens is meant to trigger something else, and it is each person's responsibility to recognize what he or she is being led to do.
Ray had a moment of clarity when he was a teenager. He witnessed a man, shot and dying, and no one stopped to help. Ray offered the man a hand and watched the power of simply giving a man in need a little peace. "From that moment," Ray said, "I realized it didn't take much to make someone's life better, just a presence or a kind word."
Ray speaks to groups elsewhere in hopes of helping everyday people find their inner hero and the courage to make a real difference in the world. He uses inspirational messages mixed with humor to make his point accessible to all who hear him speak. He has spoken to book clubs, high schools, colleges and corporate offices. Branching off from his motivational speeches, Ray is also starting an Internet television show where he will be interviewing everyday heroes. "I think there are ordinary people doing extraordinary things everywhere. Sometimes people want to be heroes, but they have no idea how. I am hoping to provide them real life examples," Ray explained. He gave some examples of seemingly ordinary things that can make a huge difference. "Go to a shelter one day and just talk to people, play games with them. Go to a nursing home and play the piano for them. Absolutely anything that makes  someone's life better is worth your time."
With Ray's ideas in place, he and Terrance chase started Mentoring Brother 2 Brother, Inc. (MB2B), a faith- based organization, 13 years ago. MB2B programs are designed to support the social, emotional and cultural well-being of youth who are often targets of peer pressures toward risky behavior, which can sometimes be life-threatening. Based out of the south Dallas area, MB2B works with minority young men who are in need of a positive male role-model by teaching skills like maintaining positive relationships, focusing on academics and making good decisions. From the conference room at Concord Church in Dallas, they also help the young men with job-search skills and college applications. "Last year, three of our boys went to college," Ray said.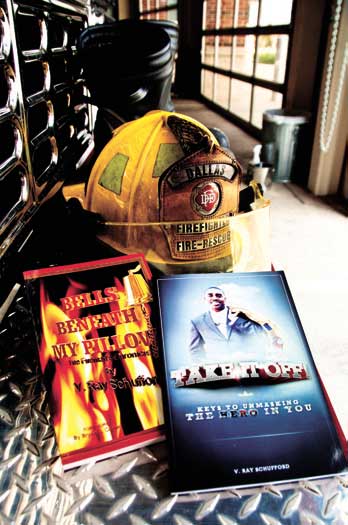 The idea of MB2B came from a simple observation. "I saw these kids just had a need to have someone who believes in them and cares for them," Ray admitted. "That is what we offer." The kids and mentors also get the opportunity to do some team and morale building by going on outings together. Recently, they went to a Dallas Mavericks game, an activity several kids would not otherwise have the opportunity to do. He also has taken them to museums, and they work on proper etiquette in different social situations.
In 2011, for the first time, MB2B fielded an academic decathlon team for a competition in Dallas open to public teams. They will have two teams competing in the 2012 Dallas Academic proud of. Right now, there are eight Bowl, an accomplishment Ray is very to nine mentors at a given time and, unfortunately, a waiting list for kids to get into the program. Training mentors is extensive, and Ray is hoping even more of the men who went through the program return as mentors.
"Sometimes I feel a little crazy," Ray said. "I love my job as a firefighter and paramedic. I could not imagine doing anything else. I also feel passionately about my HERO concept and the need that people have to hear about it. Mentoring is a calling — it is what I found within myself that I could do to be a hero myself."
Sometimes, Ray struggles with the financial part of it, wishing he could give everything for free to those who need it. Unfortunately, there is a cost associated with the books, speaking and mentoring. He works from donations. Not exasperated, but energized, Ray knows that this juggling act takes a team to keep everything in the air. His wife, kids, volunteers, co-workers and friends help Ray follow his dreams. "I feel like I can do anything at all. I can do so much more than I even think I can. I push myself every day to do more. I look around, see a need and want to fill it," Ray said. "My family and I thank God every day for our many blessings." Judging from the results of the thousands of people touched by his spirit, he is making a difference. He is their hero.
Written by Cindy Malone.