RED OAK, TX — The love story of Chris and Jennifer Buckhannon began on December 31, 2007, when the duo met at a friend's New Year's Eve party. They quickly became inseparable, and even life's challenges haven't broken their bond. "Neither of us was looking for a relationship … but it was an instant attraction, and we have been together every day since then," Jennifer said.
Unbeknownst to Jennifer and Chris, their lives had been intertwined since both of their families moved to Red Oak in 1977. "My family moved to Red Oak when I was only 2 years old. We moved from Duncanville and planted ourselves here and have never uprooted," Jennifer said. Chris' family moved that same year to the area they lovingly dubbed "the farm."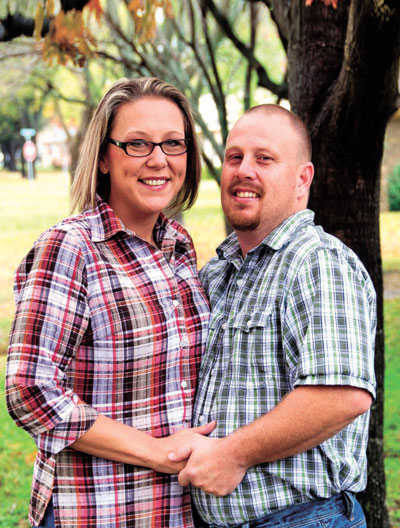 "After meeting Chris, I realized that we had a connection that we weren't even aware of. I graduated from Red Oak High School in 1993, and Chris graduated in 1991. Our paths never crossed, but our families' paths had crossed a lot," Jennifer explained. "I played soccer with his sister and cousin as a young girl. I was in the same class with two of his cousins and worked with his brother at my first job at the Walmart photo center in Lancaster."
After that fateful party, however, the connection was apparent, "because we didn't want to be without each other. It was like we just knew we needed to be together from the time we met," Chris said.
The couple had just settled into a Red Oak home together when a wrench was thrown into their blissful existence. On January 6, 2009, Chris was diagnosed with testicular cancer. "Once he was diagnosed, my priorities in life changed," Jennifer said.
In February 2009, Jennifer proposed marriage to Chris. And, since he was unable to work, Chris was in charge of planning the wedding. "We reversed the traditional roles. I picked the date and the location," Chris said. "Jennifer helped and gave her opinion, but I was in charge of getting everything organized."
The couple married on April 18, 2009, after Chris had his fourth and final round of chemo just a week before the wedding. "We wanted the wedding to be outside by the lake because our favorite thing to do is go camping at the lake," Jennifer noted. "Unfortunately, it was raining buckets that day, so at the last minute, we had to move everything inside."
The day of the wedding, friends and family worked to help the couple's dream wedding become reality, as Chris and Jennifer got ready inside the fifth-wheel campers in which they had come to the site. Chris made sure to include Jennifer's daughter in the occasion, as well.
"Since I had been married previously, I had my daughter walk down the aisle with me, and she stood up with us as we got married. Chris even presented her with a ring as a gesture that we would all become a family," Jennifer said.
Becoming a blended family was another challenge Jennifer and Chris faced, along with then 7-year-old daughter, Cheyenne. "It was very important to me for my daughter to mesh with Chris, and we had to work out some kinks. It took time
and a lot of patience, but now we have become one unit," Jennifer said.
"Learning to be a father is a challenge, but I think I get a little better at it each day," Chris said.
Communication and honesty are the two key ingredients to their success as a family. "Those two things are so important to making it through tough times. We take things as they come and support each other, no matter what crisis may arise," Chris said.
Jennifer believes give-and-take is essential, as well. "We might not have the same tastes in things, but we are both willing to step outside the box to find common ground," Jennifer said. As they do this, they learn to like each other's interests. "In that way, we compliment each other," she added.
Besides common interests of sporting events, camping, hunting and bowling, the Buckhannons have come to enjoy a mutual cause because of the way cancer has touched their lives. Jennifer organized the Central Ellis County Relay For Life in previous years, and she and Chris both participate in the event each year, along with the Susan G. Komen Race for the Cure. The race serves as a reminder of what they have overcome. "So far, I have been cancer-free since May 2009," Chris said. In August 2009, Chris had his last surgery to remove the chemo port, and he goes back to the oncologist every three to four months to monitor his blood levels.
Because of the aggressiveness of his cancer, doctors don't consider Chris in remission. But since his tumor was removed and his chemo treatment was completed, Chris said he has been "healthy as a horse."
"Chris' diagnosis changed both of our perspectives on life. We learned that you can't take one second for granted — that each breath we take is a gift. And we have learned to appreciate even the most minute things," Jennifer said. "We have learned you really can't sweat the small stuff."
While a cancer diagnosis is never a good thing, Jennifer said it has taught them how important one's outlook is to a situation's outcome. "I would tell anybody who has ever been diagnosed
to have a good mind frame and to think positive, no matter how bleak things may seem," she said. "I believe that 90 percent of recovery comes from the mind, and if you give up, so will your body. It takes determination and the will to survive and overcome."
With that in mind, the Buckhannon's love story continues one day at a time. They each continue their jobs — Jennifer has worked five years as an accounting technician at the Army Air Force Exchange Service, and Chris has worked 13 years as a Havertys delivery driver. They plan to focus on staying healthy, enjoying their home in their quiet neighborhood and helping their daughter grow into a productive part of society.
Years from now, they hope their intertwined paths involve wide open spaces. "We would one day love to get a motor home so when we get to retire, we can travel," Jennifer said. "But Red Oak will always be our home."
Written by Angel Morris.
Editor's Note: For more information regarding the American Cancer Society's local Relay For Life, visit www.relayforlife.org/centralelliscountytx.