DESOTO, TX —  One overcast day, not too many months ago, Lowe's was the scene of an unusual field trip. Various autos disgorged their owners, along with several people in polo shirts and khakis and three dogs. One man in a wheelchair worked at backing down the ramp from his van, a woman settled onto a motorized cart, while the other man spoke quietly to his dog. Several dry runs in and out of vehicles attracted curious, yet hastily averted glances from onlookers. The group in polo shirts worked at handing out pamphlets, explaining their affiliation with Patriot Paws, a nonprofit, service dog training organization for military veterans. The whole event was filmed by Mark Birnbaum, who has spent the past two years chronicling an extraordinary story — the story of Marshall Allen, the one with the wheelchair. Marshall's story will be a feature-length documentary.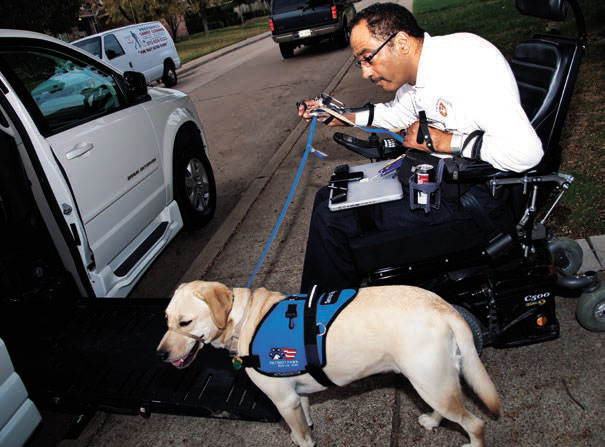 Marshall has always liked dogs and has owned several. But he never dreamed he would one day be cared for by a dog. By mutual agreement, Marshall and his dog, Wilson, feel they have not only a workable plan, but an enjoyable one as well. Truth be told, Marshall never thought he would need anyone to care for him. He was a strapping Fort Worth firefighter of some renown, until a bicycle accident left him a quadriplegic. After a lot of work, Marshall has regained limited use of his arms and hands with the aid of braces. He continues to work for the Bureau of Fire Prevention Fort Worth Fire Department, where he is in charge of commercial inspections, driving to work in his specially equipped van seated in a motorized wheel chair. But there are some things he can't quite manage. Enter Wilson, a beautiful, two-year-old white Labrador.
"Wilson can open and close doors, pick up things and even bring me drinks from the refrigerator," Marshall explained in the van on the way to Lowe's. "He can identify water, juice or sodas. And best of all, he can help me if I fall, by pressing a panic  Duncanville NOW calling 9-1-1." Once parked, Marshall
button, getting 'his' phone for me or even leaned down to pet Wilson, murmured words of encouragement and gave him treats. While service dogs are trained to certain commands, the owners also customize vocal and hand commands. "Wilson will relieve me of quite a few challenges. Isn't that right, Boy?
"I thought I knew dogs, but the things Patriot Paws has taught Wilson are really quite impressive," Marshall remarked. Wilson opens or closes doors that have a braided cord hung on them, while ignoring doors without the cord. Following an 18-month to two-year initial training period, four service dogs at a time meet with four potential owners. Within about three months, the dogs learn their owners and know what constitutes  normal behavior for them, as well as their particular needs. Wilson received extra training to familiarize him with the braces Marshall wears. Other dogs may need to be familiarized with prosthetics.
Lori Stevens, who has trained service dogs for over 20 years, founded Patriot Paws specifically to work with veterans at the request of the VA hospital. Patriot Paws provides service dogs free of charge specifically for veterans. "This trip to Lowe's was the first outing for the dogs and their owners. While the dogs already know what to do, the new owners need to be trained," Lori explained. "We teach them all the hand signals and cues, along with nutrition and animal behavior.
"At Lowe's, the owners learned how to indicate which direction they wanted to go. For Marshall, since he is in a wheelchair, this was even more crucial. Both he and Wilson needed to know on which side of the wheelchair Wilson needed to be."
The outing went well. Even though service dogs are not trained to defend their owners, Wilson did find a cutout cardboard man unsettling. "It's because he can't read the eyes," Lori explained. The store agreed to let the group take the cardboard man with them to use in further training.
The new owners learn to balance work and playtime for their dogs. The dogs know that when they are wearing the service vests, they are "on duty." So during their downtime, the vests are removed. They also wear a Gentle Leader (a guide strap across their face), which affords the owner additional control. Because food is used as a reward for service, their "treats" are part of their daily healthy food intake. They are never allowed to eat food from the table. Each owner wears a fanny pack with treats. Verbal praise and play are also used to reinforce behavior.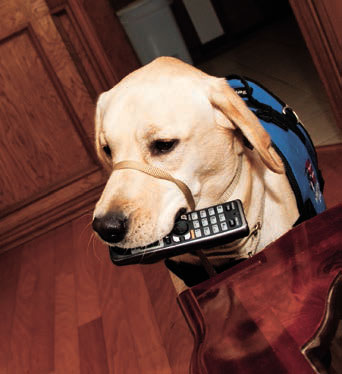 When Marshall's previous dog passed away in May, his friend, Alex Allred, contacted Lori about Marshall and presented his case. Lori was eager to meet Marshall and find a dog for him. The dogs come from various sources, but mostly from breeders. Labrador Retrievers, other Retriever breeds, Poodles and Labradoodles make great service dogs. Their initial training, begun when they are 9 weeks old, is done by women incarcerated in the Gatesville Christina Melton Crain and Dr. Lane Murray units, with whom Lori has been working since 2008. At the prison, dogs are trained to respond to up to 42 various hand and verbal cues. Then Lori takes them to Patriot Paws, located in Rockwall, for further specific training. All of the dogs learn to work with people
in wheelchairs. Once the dogs have "chosen" their new owner, several days are spent together in training, and then they begin training in public places, such as Lowe's or Bass Pro Shop. "It's always interesting to see how the dogs 'pick' the person they can best relate to," Lori said with a smile.
"Patriot Paws, which has a paid staff of six and 40 volunteers, receives 100 percent of their support from the public. We don't receive any financial aid from the government," Lori informed. So far, Patriot Paws has placed 29 dogs with vets who have mobile disabilities and have about 44 on their waiting list. "We don't provide seeing-eye dogs," she said. "Our motto is 'service for those who have served.'"
One of Patriot Paws' most unique trainers is their cat, Eli. "It's important for the dogs to know they can't take off and chase a cat or squirrel, so Eli really
is a dog trainer," Lori laughed. "We find that caring for a service dog that is also caring for them, gives the vets even more reason to relearn functions they may have lost through injury. Both the dog and their owner learn to read each other's stress levels and alleviate them. It's a win-win situation."
Written by Beverly Shay.
Editor's Note: For more information about Patriot Paws, visit http://www.patriotpaws.org.