MIDLOTHIAN, TX — As a young child, while watching the TV show Adam-12, Carl Smith, police chief for Midlothian, made the momentous decision that he never wanted to be a police officer. The actors on the show were always writing, and as a little boy who did not like to write reports, that was the deal breaker for him. However, the life of a police officer was his destiny, and it began to point in that direction in the early '80s. "I went to work as a manager in a food store chain in Oak Cliff," Carl explained. "We always had security. Back in the '80s, there was a lot of gang activity, and I found it intriguing to watch the law enforcement officers at night as they dealt with these kids. A friend of mine said, 'Look, you have the right attitude to be a cop. Why don't you try?' So, I took the entrance exam in 1987 and, as they say, the rest is history."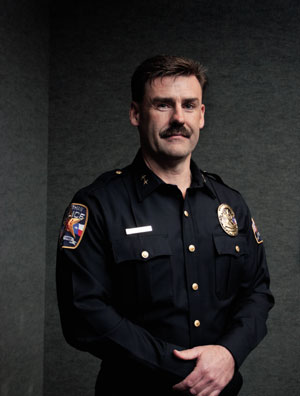 The right attitude, according to Carl, is having a level head. As he defined it, a person with a level head is "someone who is faced with a situation where there is a lot of volatility involved and keeps a calm head while thinking on their feet. There are always multiple routes to take when dealing with people, and when you can de-escalate a situation by talking to someone, then you have a well-rounded approach to dealing with conflict. On the rare occasion where we have to use force to make an arrest or intervene in a fight, you still want that level head prevailing."
Carl started policing in 1987 and spent 20 years in DeSoto. Five of those years were as assistant police chief, before coming to Midlothian four-and-a-half years ago. "When I came to Midlothian, my goal was to re-brand and remake the organization," he stated. "I also wanted to increase the standards of operation."
Carl was a perfect fit, notwithstanding his aversion to writing reports. He has proved that writing reports and policies is something in which he excels. "My history has been in policy making," he recalled. "In DeSoto, I was always one of the policy writers for the department. I had a strong background in an organization called CALEA (Commission on Accreditation for Law Enforcement Agencies). One of my goals was to come in and establish good, strong policy procedures for the officers that would be used on each shift. I also worked on training to increase their competency and confidence in the field."
One of the chief's goals is to get every officer to the highest level of training possible within the department. The Midlothian Police Department not only does a great job training its officers, it is also a satellite training provider. "There are very few organizations out there that have training classification.
We can bring in training to the police department, and we can host training," Carl explained. Many topics increase the officer's awareness and proficiency in the field. Force on force training or firearm training is one area.
Because both Hwy. 67 and Hwy. 287 cross Midlothian, the police department must deal with a variety of circumstances on the highways. Interdiction and DWI training are critical for law enforcement work on the highways. Interdiction is the concept of locating and intercepting illegal drugs. "Theoretically, we assume there are a lot of narcotics moving up and down the highways, and the officers want to be very good at identifying the characteristics of those dealing in narcotics," Carl stated. Highway management is very complex with FEMA and state guidelines that must be adhered to. "We are writing policy right now to reflect national standards. With a small police department of 30 officers, many of the officers are wearing dual hats. They'll have an expertise in DWI enforcement and a strong training in interdiction because of time spent on the highway." Carl gives the staff and officers at Midlothian Police Department credit for high standards and professionalism. "If I am considered successful as a chief, they are the reason."
Police officers in Midlothian do a lot of community service. They make many visits to local school districts for exhibitions and career days. "We encourage our officers to be involved with Big Brothers Big Sisters," Carl said. "I've volunteered at Vitovsky Elementary School for the last three years as a mentor. We start new programs all the time with retailers, informing them of what they can do to protect themselves and their businesses. Our biggest outreach is our Citizen's Police Academy  and our CERT program (Community Emergency Response Team). We try to equip our community not only with an understanding of law enforcement, but with how they can assist through volunteerism."
Part of community involvement is awareness from the citizens of possible crimes being committed. "If you see something suspicious, call us. So many times, when a police officer catches someone in the act of committing a crime, it is because someone has called. People say, 'I didn't want to bother you.' Well, bother us. We want that interaction," Carl said.
Another aspect for necessary training is a realization that Midlothian is in a unique position for a massive emergency crisis. Carl recognizes the need for emergency preparedness. "Our ultimate goal, as always, is saving lives and protecting property. My concern for  emergency management is probably more so than most municipal police chiefs because we have such large industry, major highways and major railways surrounding us. We have the potential for a perfect storm in the event of a catastrophe," he stated.
Working in law enforcement is one of the most stressful jobs there is. Officers must find healthy ways to relieve that stress. For Carl, it is his family. He explained, "Over the years, when I am not at work, I immerse myself in my family and other activities. I have always been athletic, so I do a lot of fitness activities. When I go home, I try to focus on my family. I've been involved with youth groups with a local church since the early '90s, so a lot of my grounding comes from just knowing that we are in public service. There are some people whose badge is their identity, but it's not mine. I occupy the position of being chief of police, but I'm still Carl Smith. As much as I like that position, and I enjoy being associated with it, I'm still Ginger's husband and my kids' dad."
Written by Betty Tryon.