MANSFIELD, TX — Throughout history, there have always been those who have cried out against injustice. And there have always been those who wanted to speak up for the downtrodden. Many are willing to speak out for the poor. Someone is always ready to take up a cause that everyone else seems to want to ignore. But very rarely is that person a preteen from Mansfield. But then, everyone who has ever met her agrees that Heaven Conner is indeed a very rare young lady.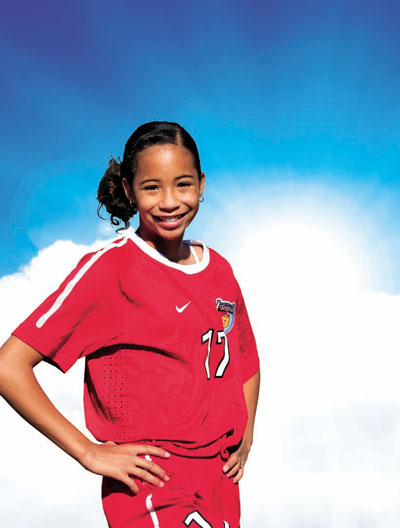 In May 2011, Heaven was walking with her mother, Sara, to a friend's house. As they walked, they began to talk about Heaven's frustration over the way a fellow student had been treated. "His clothes were not in the best condition," Heaven recalled. But it wasn't just the treatment of that one student that bothered her. Heaven had compassion for other students in that situation. "There were some kids who would tease other kids who didn't have more than two outfits to wear," Heaven shared.
She also spoke of her sadness at the way some children were teased simply because they did not have lunch money. Heaven did not feel it was fair for people to be treated this way because of their circumstances. "I don't understand why people want to be mean," she said.
Finally, her mom told her, "Heaven, you can either complain about it or do something about it."
According to Sara, Heaven's brain immediately kicked into high gear, and she began thinking of creating her own charity. "She was thinking large scale. I had to slow her down a bit and convince her to start off on a smaller scale and let it grow from there," Sara said. "Her brain was going full tilt." From that conversation, ClothesEd.org was born.
Last summer, Heaven asked her friends to donate name brand clothing for an outdoor clothes sale. She put together a business proposal, which she submitted to her dad, Eben. After he OK'd the idea, she talked to the administrators at Mary Orr Elementary School, who gave her permission to hold the sale in their parking lot. She then found a donor who agreed to match whatever profit came out of the sale. Heaven made around $500 from the sale. The donor matched it and, in addition, Heaven pitched in $500 of her own money (she occasionally models for the Campbell Agency, which includes JCPenney as a client.) With close to $1,500 in funds, Heaven then went "bargain-hunting" and bought name-brand clothes to be given away. She found students who needed the clothes through recommendations and inquiries on the ClothesEd Facebook page. ClothesEd has donated money to Worley Middle School in Mansfield and Acton Elementary School in Duncanville to assist students in purchasing lunch.
Sara explained the reason for buying name- brand clothing: "The main reason is to be sensitive to the demographics and climate of the school district. In order for a student to reach their fullest potential, they have to be academically, socially and emotionally ready. Heaven feels this is her social contribution, as it helps minimize teasing and rejection."
Heaven has received very little criticism or questions from the community. "On the whole, everyone is supportive," Sara said. "They were impressed with Heaven and what she was doing. They wanted to encourage her."
Heaven has always been a compassionate giver. In December 2010, she donated $750 of her modeling money to Samaritan's Purse Ministries to help provide water wells and necessary livestock to Third World countries. Last Christmas, she led a blanket drive for the Presbyterian Night Shelter in Fort Worth.
She has also asked some of her former teachers to donate time during the upcoming summer to help tutor students who were having a hard time with certain subjects. The teachers readily agreed. Her goal next year is to have enough resources to help 50 students through clothing, tutoring and lunch assistance combined.
Heaven's entire family pitches in with the charity. Her father is the senior pastor of Word of Truth Family Church in Mansfield, and ClothesEd.org currently operates under their nonprofit status. The Connors' family motto is "Live to Give and Give to Live." As a family, they believe givers enjoy the best benefits in life. In fact, Heaven hijacks clothes from her 2-year- old brother, Landon, for charity. "He has too many anyway," she laughed.
If her charity didn't keep her busy enough, Heaven also is active playing select soccer as a midfielder for the Dallas Texans. She also plays tennis, basketball and baseball. Musically, Heaven is a vocal student at Face the Music and plays the trumpet. When she was 9, Heaven wrote and recorded "Jesus Rocks" on Word of Truth's Children's  Christmas CD. She currently attends The Oakridge School and plans to one day attend Texas Christian University to major in architecture and minor in theater arts. "I like to build things, and I'm very dramatic!" she said.
According to her charity's Web site, Heaven doesn't want to be the only child her age in the Mansfield area doing this type of work. "By myself, I can help a few kids, but if you get involved we can help a whole lot of kids," reads the site. The Web site also includes a "Givers Wall of Fame" for those who have donated money or clothes. She encourages "really cool kids" to be a part of what she is doing.
Heaven not only believes other kids her age can pull off an idea like hers, she actually encourages it. She challenges her peers to "find what you're good at and get started with it. Making a difference is the best thing you can do."
But this is much more than a childhood project for Heaven. Clearly this is something she wants to continue to do even as an adult. Sure, she may have another career. She may be a successful architect, but the charity will also always be a passion. Her motivation is not recognition from her peers or from the general public. The motivation of her heart is for the less fortunate. "I like to help people," she confessed. "I don't feel being mean to people is right."
Written by Rick Hope.
Editor's Note: To get involved as a teacher or a donor, visit Heaven's Web site Clothesed.org.