ENNIS, TX — Firefighters learn to respond instantly, even from a sound sleep, to the station's alarm bell. Before a civilian could figure out what the noise is, the firefighters are wide awake, in their gear and halfway to the ladder truck. Retired with distinction from the Ennis Fire Department last June, Freddy Santos has been answering that bell, in one way or another, for more than 40 years.
First, Freddy has answered by making the most of opportunities as they arise. Beginning in October 1971 when, upon completing his U.S. Navy service, he pursued a new job. Having read of an opening for a Ennis sanitation operator, he met with Thelma Gooch, the city secretary at the time, to apply for the job. Instead, she sent him to see then Chief D.D. Day about an opening in the Fire Department. He still laughs about one of the chief's first questions: whether Freddy was tolerant of smoke and fire. "I told him I was raised around smoke and fire," Freddy smiled. "We had lived in several homes that used cast-iron, wood-burning stoves for cooking and heat. So there were days we would be run out of the house by smoke."
He was hired on a trial basis that month as a hose man, gaining permanent status in June 1972. The following "Though I made many mistakes, the summer the fire department took over the ambulance service — before then, funeral homes provided the only emergency transportation to hospitals — and Freddy trained as one of Ennis's very first Emergency Medical Technicians (EMTs). mark of a good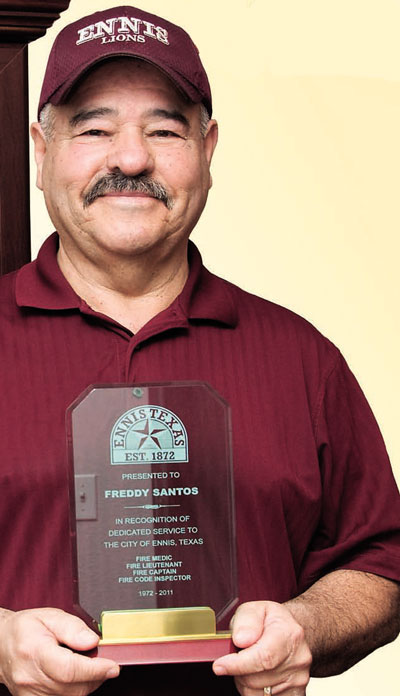 A second way Freddy has always answered the bell is to do his best work, whatever the job. As he did, he rose through the ranks to make captain in 1977. Then, in 1999, he was transferred from firefighting to the Building Code and Code Enforcement program, under the direction of Fire Marshal and Chief Building Inspector Buddy Markham, who just recently retired on December 31, 2011. "I will always believe fire prevention is the backbone of the fire department's service," he said. His promotion to the inspection department allowed him to channel his energy into this top priority.
While Freddy takes fire prevention and safety very seriously, he appreciates humor and knows the value of having fun. During his firehouse days, he enjoyed the inevitable ribbing and practical jokes as much as anyone. But the magnum opus of the prank repertoire happened to every brand-new recruit early in his probationary period.
All the other firefighters would get up in the small hours one morning, tiptoeing out of the bunkroom to avoid disturbing the recruit. Then they would climb into full firefighting gear and pull the ladder truck out. The elaborate preparations included smearing soot on their faces and jackets and having someone start washing down the truck as if they had been on a call. When the stage was set, a couple of the men would clatter into the bunkhouse, waking the recruit and then act surprised to see him still there. "Man, you missed a fire!" they would exclaim.
A broad smile creased Freddy's face. "You should have seen the looks on their faces — they just knew they were going to lose their jobs. It was all in fun, of course. We never did any harm, and when the bell did ring — well, we were all business." Later, of course, the victim would enthusiastically help pull the same prank on the next recruit.
Besides seizing opportunities and giving his best effort, Freddy answers the bell through his fierce loyalty and respect for his many colleagues, regardless of rank. He would rather tell you about their leadership and  assistance over the years than talk about himself. In fact, since retirement, he said, "The most important thing I miss is the camaraderie of the people I worked with."
He is grateful to every member of the inspection department and the firefighters, both paid and volunteer. Each one has had an impact on his life, especially Buddy, under whom he retired. "We worked side-by-side for over 35 years," he said. "I would put Buddy up alongside any fire marshal and any building inspector in Texas, as far as knowledge of the job, and he would come out on top." He smiled and added,  "I'm not bragging — it's just the truth." Freddy also singles out the fire chiefs
who have led the fire department, from D.D. Day through Rocky Harber and Mike Seeley, to current Chief David Hopkins. All have contributed to its growth. Of Chief Hopkins, he said, "I've always thought of him as a visionary. When he first came [in 1986], he implemented the 9-1-1 system — the greatest thing that could have happened to Ennis."
Freddy reserved his most eloquent praise for Lisa Laza, Ennis Fire Department's secretary. "We served side-by-side for nearly 13 years, with never a bad word between us. She was my right arm, always willing to assist in every endeavor."
The flip side of that loyalty and gratitude is Freddy's humble sense of who he is. Despite the many awards and commendations he has received, including several Firefighter of the Year awards and the Medal of Valor, he refuses to take those accolades personally. Instead, he focuses on the department's motto: "Protecting the Past … Preparing the Future." He also points to those who made his success happen, high among them his wife, Mary. "I would not be the man I am today without her by my side," he asserted.
But Freddy gives even more credit
to Jesus, whom he said he serves first. The Serenity Prayer plaque on his desk "reminded me daily of how much God loves us." And he viewed his city vehicle as both pulpit and prayer station, praying each morning for wisdom and direction to do the best job possible.
The answer to that prayer was evident at his retirement celebration, where he received great honor and many gifts. One retirement gift sums up Freddy's service: a miniature fire bell, now displayed in his curio cabinet, engraved "Always Answering the Bell." Freddy still answers that bell, even in retirement, as he looks for new opportunities and challenges.
To young people considering a firefighting career, Freddy offers this advice: "Talk with some firefighters and make sure it's the career you want." As for himself, he is proud to have served. "Though I made many mistakes, the mark of a good person is not his downfall, but his rebound.
"It's been a long journey," he mused, then read the motto from the commemorative shadow box he also received at retirement. "It's important to have an end to the journey … but it's the journey that matters in the end."
Written by Janice C. Johnson.