WEATHERFORD, TX — Brenda Stewart founded Venue 2:17 two years ago to give local youth a safe environment to gather and engage in positive behaviors. She saw a need for unsupervised teens to have a place to socialize and explore new, healthy interests. Venue 2:17 gives them an outlet to learn communication and leadership skills, but it also gives Brenda a chance to share her faith with them.
The walls throughout Venue 2:17's new location on West Church Street in downtown Weatherford are tagged with Scripture. "You never know who's reading it," Brenda said. The children have many questions, but they may not open up and ask until they have developed a relationship with the adult volunteers. "They won't develop a relationship with you until they have your unconditional love and know that you are always here for them," Brenda explained. "And parents are welcome to come check us out, too."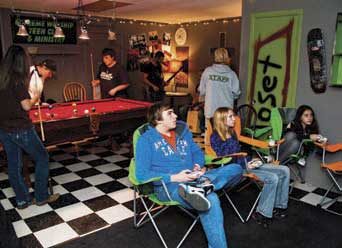 Venue 2:17 is not just about spreading the Word of God to local youth. They can buy or trade gently-used clothing, including Hollister and Aéropostale and accessories are also available. The teens can read donated books and Bibles in a small library section. One room even houses a pool table, flat screen TVs and
video games. Also featured are a couple of tables at which youth can hang out and discuss life. The new location allows them to ride their bikes and skateboards to the facility.
Bands set up each Friday and Saturday night. Brenda does not go out looking for bands, but calls them "divine appointments." They contact her, and she listens to their lyrics before they are allowed to play. So far, about 60 bands have traveled to Venue 2:17 from across the region and as far away as Austin and Oklahoma. "They just want to play for God. And, they want to play loud," Brenda chuckled.
Brenda believes God called her to create Venue 2:17, so she started the teen ministry in a warehouse off Peaster Highway in 2009. "I wanted to do something that He wanted me to do. It was to reach teenagers," she explained. To do that, you have to reach them where they hang out, when they hang out. "I'm really too old to go to the skate park," she laughed.
The center is a safe place for youth to meet Wednesday through Saturday nights when they need support and companionship. It's even open on Easter, Thanksgiving and Christmas. All children are welcome, but most guests are in their teens. Some teens have texted Brenda at 4:00 a.m. while walking the streets. She wishes Venue 2:17 could be open 24 hours a day, seven days a week, but it's just not possible right now.
Adult volunteers keep an eye on the youth and make sure they abide by the rules. There is no bullying, no cursing and no vulgar talk. "We'll just go up and say, 'No,' because they'll push it. They'll see what they can get by with, but if you make it known, then they'll tell the other kids," Brenda explained. "If they don't want to be watched, they won't come back."
The volunteers hold a Bible study each Friday and Saturday night to devote time to inspirational readings and Scripture. Viola Jones is one of the adults who volunteers on Friday nights. "They're really open, and they really want to know," she said of the teens' and tweens' curiosity about matters of faith. The devotional time gives the kids a chance to just listen or ask questions.
Brenda tries to teach the youth that everyone is a product of their own choices. "You're the number one source of most of your problems," she said.
Youth are always under a lot of peer pressure, but Brenda and Venue 2:17 volunteers try to teach them they cannot be everything everyone wants them to be.
There's so much more to Venue 2:17 than just fun, games and learning about God. Venue 2:17 and its youth also reach out to the community. "We're here to serve," Brenda said. The group has fed children at McGratton Park. They will have a float in the Christmas parade in Weatherford featuring a Christian band. Venue 2:17 also has a booth outside its location during Christmas on the Square.
Local youth can donate $1 for a ticket to enter drawings for merchandise. Brenda gets plenty of favorites for the giveaways including skateboards, bicycles and hats.
Brenda is grateful to her 12 sponsors, including area businesses and two local families, who give monetary donations to keep Venue 2:17 open. It means a lot to those who frequent the facility to know there are people who care enough to donate time and money to keep their place up and running.
She also gets a lot of behind-the- scenes help from her husband, Kelly, who works as an independent contractor in the area. "He's the one God gave to me," Brenda said, tearing up. Brenda and Kelly have known each other since dating in high school, but they separated. They were both involved in marriages that did not work out, and Brenda said God brought them back together in 1995. Kelly gives Brenda the freedom to work with the youth and makes sure she takes some time for herself, too.
Brenda and Kelly have a 13-year-old daughter, Maggie, whom Brenda homeschools. Maggie enjoys spending time with her friends and her mom at Venue 2:17 on weekends, and Brenda has found homeschooling to be a good way to pass on family beliefs.
Brenda aims to help prepare other children for the future, as well, through the ministry of Venue 2:17, which was fittingly named for a verse in Acts that says God will pour His Spirit out on all mankind. Brenda, with her bubbly and positive personality, hopes the new location in town will help her reach more children, while giving them a place to grow. "Our mission at Venue 2:17," she said, "is to reach the younger generation before they have to be rescued."
Written by Amber D. Browne.