Red Oak, TX — Art has been a part of Ovilla resident, Jana Jennings', life for as long as she can remember. Today she gives back to the community she loves, and the children in it, by passing on her passion for painting. "I look at it as an extension of those who have previously given to me," Jana said.
Jana started taking oil painting lessons at the age of 6 in her home town of Ennis. "I had five talented teachers by the time I had graduated high school," she recalled. "I received four scholarships through my oil paintings, which allowed me to attend The Art Institute of Dallas."
A graduate of Ennis High School, Jana moved to Red Oak in 1991 with her son, Justin Prachyl. Shortly thereafter, she married Michael Jennings and was immediately "blessed with two terrific stepchildren," Jordan and Kyle Jennings. The family resided in Red Oak for eight years, until they built their current home in Ovilla, where they have been for 12 years — since November 1999.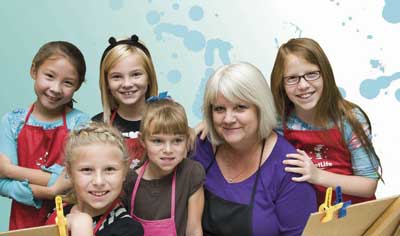 "I love making my home in Ovilla because of the open space and the country lifestyle. I am a native of Ellis County and don't plan on leaving. I love the area and the people; it is my home," Jana said.
A graphic designer for 27 years, Jana only began teaching oil and acrylic painting four years ago to students ranging in age from 9 to 16. "I love sharing my craft the way it was taught to me when I was young. The best reward is when your students are proud of the painting they just created and can't wait to show it off. It is really amazing the progress they make from week to week," Jana said. Jana considers herself an impressionist and has two favorite techniques. "I paint a lot with brushes, but I also love to paint with a palette knife. With the palette knife, I can paint quickly, and it provides a lot of texture and depth," she said. "I have fans who like my brush paintings, and I have fans who like my palette knife work. Doing both allows me to show my different techniques and gives me alternative forms of expression. That is the greatest thing about the creative arts — it is about what you are feeling at the time."
Between creating graphic designs through the computer, teaching and painting at home, Jana said she invests about 50 hours a week in some form of art. Not long ago, however, her creative art was not part of her day-to-day life. "I stopped painting for about 15 years to raise my children, and it has taken me awhile to re-hone my craft. But I wouldn't change a thing. My family has been my art, and I love what I have created," she reflected. "Today, I have three children, a new daughter-in-law and two grandchildren to be proud of. My husband, Mike, is my biggest fan. He takes my paintings to his office, changing them out monthly for his personal gallery. Those at his work seem to enjoy it as well."
Today, Jana works full time as a graphic designer, but her goal is to produce her art all day, year-round. "Until then, I will create my paintings as often as I can. I am developing a Web site and blog at the moment and will have it available soon for others to enjoy and interact with me," she said.
In the meantime, Jana does commissions and displays her paintings at My Father's House Antique Store in Waxahachie and Interior Ideas in Ennis, on occasion. "My home is really my gallery. Every wall is covered with my paintings. It's not my doing. My family has set high expectations of me, and I just try to keep up. It's fun, and let's face it, where would I be without them?" Jana said.
A member of the Ellis County Art Association (ECAA) for the past eight years, Jana credits the group with the continuance of her art education. "When I was a senior in high school, ECAA gave me a scholarship to use toward my tuition in college. I would have never been able to attend without the help of the ECAA and a couple of other local clubs in Ellis County," she said.
As a result, Jana joined ECAA to give back to the organization what it had provided for her when she was younger. "ECAA is still offering scholarships to graduates each year to any student who attended school in Ellis County. All students pursuing a continuing education in art are eligible to apply for the scholarship program. They also have an art show every spring showing off art from children of all ages, giving out many awards and more scholarships," Jana explained.
ECAA began 53 years ago and today owns a three-story historic landmark building housing adult and children's art classes, art workshops, plays and civic meetings. The group has a permanent art collection exhibited throughout the building at 501 W. Main Street in Waxahachie, which is open for tours and visitors Tuesday through Saturday, from 10:00 a.m.-3:00 p.m. Besides ECAA, Jana has been inspired by her longtime friend and mentor, LaJuan Schlegel. LaJuan is a renowned bluebonnet artist with a studio in Ennis. "She makes anything she paints come to life on canvas. She has a unique talent that I am humbled to be around," Jana said. "I have learned many techniques and life lessons from LaJuan. She has molded my future, and I am anxious to learn much more from her." Jana also admires Fort Worth artist Henrietta Milan, who displays her art at the Milan Gallery. "I really enjoy her work, especially her pallet knifes," Jana noted.
A lifelong art student herself, Jana said she is thrilled to continue learning and teaching. While she instructs children, she stresses one is never too old to try their hand at art. "I would encourage anyone who is interested in art to go for it. It has been a huge part in my life and gives me pleasure in so many ways," Jana said. "In a word, art is amazing! It simply makes a more beautiful world."
Written by Angel Morris.