DUNCANVILLE, TX —  The Masters Academy is located behind The Bread of Life Church, nestled in a residential neighborhood of Duncanville. The private school has a 23-year history of catering to the needs of children with ADD, ADHD, dyslexia and academic deficiencies. Each student lucky enough to attend school there
gets a personalized curriculum fitted to his or her exact needs. But with such a small student body (approximately 25-30 right now), sports and many other extracurricular activities enjoyed by other schools are just not feasible options.
"Without football or cheerleading or the normal things kids participate in, we needed something in which we could compete," Kristi Morales, assistant administrator, explained. "We needed some way to sharpen our competitive edge, have fun as a group
and give our kids a chance to win at something." Her perfect answer came in the form of making a float for the Annual Duncanville Christmas Parade. After winning the school's first trophy in 2009, the students, teachers and parents were hooked.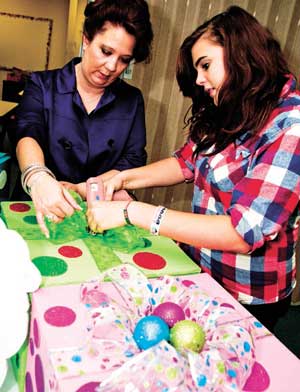 Each year in October, students are told what the theme of the parade will be by the city planners. The themes can be anything from Santa's Workshop to Candyland Christmas. They then have a little less than two months to develop an idea, sketch it out, build and decorate the float and make costumes. Kristi praised the students' parents and grandparents. "We couldn't do this without them."
When Kristi first plans the idea, she sends a letter home to the parents with a list of supplies and jobs she needs done. This can be anything from painting, to sewing, to stringing lights. The parents, understanding the importance of the project to the school and their children, are usually more than happy to help and give anything they can.
Every day after school for those few months, the students saw, hammer, paint and nail the design that is sketched out and hung up all over the school. Thanks to the small student body, the teachers are familiar with each student's special gifts and talents. All the students get to contribute to the project in the way only they can. "If there is a student who shows promise in engineering, for example," Kristi explained, "he or she works on the measurements and blueprints."
The teachers also use the project, along with their normal teaching, in a way that makes normally mundane or boring lessons come alive. When building a float, physics and geometry lessons can be taught using real-world applications. The Master's Academy also focuses on preparing their students for life after high school. Some will go into the workforce and some into college. These students need the same social and organizational skills as all other students. "The Christmas float project really helps teach those fundamental skills like sharing, planning, teamwork and community," Kristi added.
Every student enrolled at the school has a part in making the float, and every student also takes an active role in the parade. In the past, students have walked alongside the float dressed like candy bars throwing out candy. The students have ridden on a carousel dressed as toys themselves. "The float building, parade and contest really bond our students together," Kristi shared. "Every student, no matter their ability or age, can work together. And more than that, they are having fun together. It is our football.
It is our volleyball. It is our chess club. This is what we do. And every student participates in our sport. It's something they can be really proud of. Sometimes, when a student struggles academically, they need something outside of books to boost their self-esteem. For most of our kids, this is it."
Because they only have the eight-by- eight trailer, on which the float is built, for one weekend, the entire float must be assembled in the cafeteria area of the school until the parade weekend, when they can attach it to the trailer. Their very first parade was in Duncanville, in 2009. The parade was on a Friday night, and the trailer, which belongs to a local rancher, was brought to them only a few hours before the parade. Kristi remembered that first year, with a laugh. "We were literally stapling lights to the plywood while driving down the road on our way to line up."
With every student participating in the float and parade, bringing home a trophy means that every student has won. And trophies they have! In every parade they have entered since 2009, which includes Duncanville, Desoto and Cedar Hill's annual Christmas parades, they've won. Each trophy is displayed in the main area of the school next to photos, so every student can see them every day.
When asked why she chose Christmas parades as the school's biggest project, Kristi answered, "To begin with, we are a Christian private school so, of course, we celebrate Christmas in a huge way every year. Also, right now, community is becoming more and more important. We not only would like the community to know who we are, but we want to be more involved in the community, as well. Most of our students live close, and without the networking of a normal public school, our students and staff need another way to commune with our neighbors. With all three parades, thousands of people see our float, hear our name and see our amazing kids each year."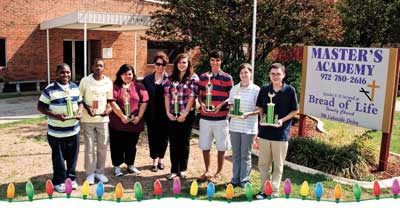 Financially, building a float complete with costumes can be hard. A small group of students make up the student council. They spend all year raising money for the float. The rest of the material is either donated by parents or grandparents or is funded by teachers, at their own expense. They borrow the trailer and generator that power the thousands of Christmas lights, which light up the float itself, and James and Janet Harris from Justin Moving allow them to park the float in their building between parades. However, giving students the sense of pride and recognition they need, makes all the sacrifices and hard work worth it.
As for this year, Kristi hopes that whatever the theme, they can use some of the supplies she already has. She loves the middle of the parade, so she hopes their float is lined up somewhere near the middle. But perhaps more important than that would be for them to be placed "somewhere in front of the horses."
Written by Cindy Malone.