WEATHERFORD, TX — Jodi Mullins has been around horses nearly her entire life. Her family moved around in her younger years, living in Pennsylvania, California and finally settling in Texas. That is when she really learned to love the majestic creatures while helping her mother care for horses as a young girl.
In 2007, Jodi became part of the Bluebonnet Equine Humane Society (BEHS) and has spent many hours rescuing horses in need and caring for them at home. Today, she volunteers as the district coordinator for the organization, which was formed in 2005. BEHS now has about 50 foster families and 500 members in Texas and surrounding states.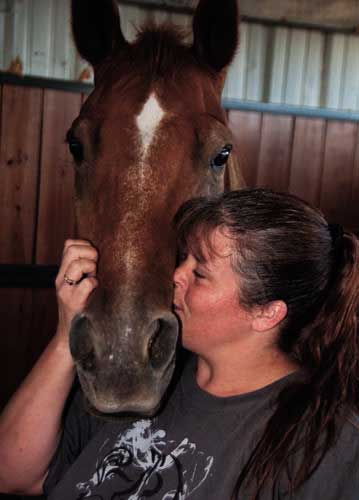 The goal for Jodi and the other volunteers is get to the horses they foster back to good health, for many of the horses that means gaining a lot of weight. "We evaluate them to find out what they know, if they're broke to ride and what their personality is like. It's really interesting to see a horse that could barely stand, go to being basically fat and sassy, running through the pasture. Their whole personalities change," Jodi said.
The 2011 drought has taken a toll on the Texas landscape, so hay has been difficult to find or is more expensive because supplies are low. Many horse owners call the BEHS to care for their animals when they cannot afford to keep them. Jodi estimates each month it costs her about $250 per horse just for hay and feed. Water and shelter are added expenses, and BEHS takes care of the vet bills for fostered horses once certain criteria has been met.
Jodi has about three acres of land at her home in Weatherford, and with three equines of her own, she is only able to foster one horse at a time. "I would like to have about 20 to 25 acres and be able to help more horses to find good, safe, forever homes," Jodi explained.
She has a soft heart, which her husband, Brad, says could be her downfall. Besides the horses, Jodi also has a Dachshund named Xena, and two pugs, Miss Priss and Cowboy. "If I could get away with it, I would help every animal I come across," Jodi admitted.
Jodi has fostered or temporarily cared for several horses over the past two years. She gets a good feeling when her horses regain their health and find good homes. Most of the other volunteers are like that, too. Whether or not the horse has papers or great bloodlines, the volunteers take them in and care for them. "It's a horse; it's an animal. They love it regardless. They treat it like it's their own child."
She compared letting a horse go to an adoptive family to her children moving on to the next stage in their lives. Her two children, 20-year-old Alan and 17-year-old Trá, do not pay too much attention to the horses. "Occasionally, I can get Trá to ride, but it's not very often," Jodi said. She wishes her children would get involved, because they would learn a few things about the horses and about life in general. "The horses could actually teach them that if you make a mistake, it's OK," Jodi said.
The horses have taught Jodi a few things. She and her personal rescue horse, Mikey, have a special bond. Jodi admits she needs her "Mikey time" on bad days. "I think if he could talk, he'd tell me that everything will be OK. Just let it go," she said. She describes Mikey as an expressive horse that can almost tell her what he is thinking with just a simple look. "Having a bond with a horse like I do with Mikey — there's nothing like it," Jodi said, speaking fondly of her 17-year-old gelding. "I can go out, and he automatically knows if something is wrong with me. He will come up and nudge me, and he'll just give little soft nickers, just to tell me, 'It's OK, Mom.'" Jodi feels like she can talk to her horses, and they understand her. "They don't talk back nor storm off like the kids do," she chuckled.
Even though her horses cannot speak with words, Jodi will pick up on signs from the animals to determine what they might be trying to express. If they are in pain, Jodi can decipher those signs, and make adjustments with her equipment. If they are not responding to commands during training, Jodi can make a few changes to get the horse to respond. Jodi is currently working with wild mustangs and calls others for advice with training. Usually, all it takes is a simple change, like moving over just an inch to get the horse to do what you want. "Everything one does around a horse is training," Jodi said. "We just do it in a way that they learn the lesson."
As a foster home, BEHS takes in many horses knowing nothing about their past. These horses are treated as if they've had no training. Jodi must be very hands-on when it comes to training them. She listens to the horse and learns by watching other trainers. "I have to work at it," she confessed. Safety is always a top priority, and Jodi never works with the animals without a second person there to dial 9-1-1 if an accident were to happen.
"I like tall, stout, big horses," Jodi said with a laugh. Mikey is the largest of her three horses at more than 1,200 pounds. Her adopted 9-year-old mare, Baby, is 1,100 pounds, while her last foster horse, 9-year-old Bandi, was just about a 1,000 pounds. "It's like a Great Dane knocking down a toddler," Jodi said of getting pushed over by one of the large animals.
Jodi rides her horses occasionally and does round pen work at her property in Weatherford. She would like to have a covered arena to do more with the animals some day, but for now, she spends her money on feed and whatever else the horses might need. "My horses eat before I do," Jodi admitted.
Jodi plans to continue fostering horses, not only to help them, but to find comfort herself. "I find it to be a stress relief," she said. And, her horses appreciate what she does for them. They show it in their own way. "I love horses," Jodi said. With a nicker or nudge, Jodi knows the horses love her, too.
Written by Amber D. Browne.