WAXAHACHIE, TX — Almost 12 years ago, Dr. Bobby Haney attended a very special opening. New Years Day 2000 had been celebrated, and the occasion was the opening of Hope Clinic, the newest medical and dental home in Ellis County. In a year's time, the Ellis County Coalition for Health Options (ECCHO) had initiated a way for uninsured and underserved residents to receive medical care. What began as a "hope" on the part of ECCHO had become a reality, and the group of community leaders, including Dr. Haney, was encouraged to "hope" for more.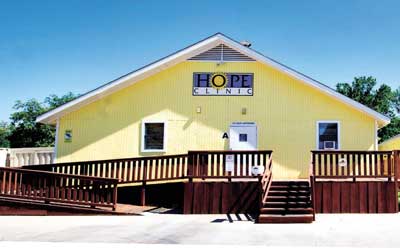 Before joining the ECCHO efforts, Dr. Haney and fellow dentist, Dr. Jeff Kosoris, surfaced from a similar mission. "Dr. Kosoris is currently chairman of the board of directors for Hope Clinic," Dr. Haney explained. "He and I went to Baylor College of Dentistry together and we have both been in private practice in Waxahachie for nearly 30 years. By the late '90s, we were aware of the need for indigent dental care and decided to put our heads together to do something about it."
With limited know-how, they started a free dental clinic in an abandoned school building. "We did the best we could," Dr. Haney said. "Thankfully, about the time we figured out that we were failing, we had a meeting with Mackie Owens, chief executive officer of ECCHO, and have been involved with Hope Clinic since its beginning."
For the first four years, Hope Clinic operated with a small staff of doctors, dentists and nurses. "Until 2008, all the dentists were volunteers. For the most part, that meant Dr. Kosoris and me," Dr. Haney smiled. Then, in March 2009 and in another huge developmental step, the clinic was designated as a Federally Qualified Health Center (FQHC.) The FQHC program facilitates the provision of medical services in underserved urban and rural communities. This designation gave the clinic the ability to serve Medicare patients, as well as eligibility for federal funding. The program also required the clinic to offer medical, dental and behavioral care.
Hope Clinic began as a single building, essentially donated by the county
and moved to its current location on Waxahachie's Jefferson Street. "I served on the board for about seven years," Dr. Haney said. "In a meeting one evening, we were discussing the availability of the lot next door, and I suggested that we buy it. It seemed to me that we might want to get bigger one day." Although Mackie was not quite as convinced, they took the leap and purchased the property. "Sure enough, we expanded," Dr. Haney smiled. "I'm not so much a creative guy as I am an idea person."
After purchasing the lot and acquiring FQHC designation and provisions to grow, Hope Clinic was poised for another giant step. By April 1, 2010, a new building had been constructed and was attached to the original through a series of wooden ramps, decking and stairs. The "new" larger Hope Clinic was painted a bright yellow. The original "A" building became the medical services, laboratory and administrative home, while the new "B" building housed dental, pediatric and behavioral medicines. "Dental services moved from one room to three with new equipment, including three fully-equipped dental chairs and, at last, a full-time dentist," Dr. Haney explained. "We had literally gone from recognizing a need, wanting to serve, employing used or donated equipment, volunteering a half day a week, to becoming a full-blown, full-time clinic. We also now have a hygienist and two dental assistants."
These days, the two bright yellow buildings are bustling with activity. In 2009, the clinic served slightly less than 2,000 individual patients. In 2010, the number of individual patients seen doubled, while more than 11,000 people contacted them seeking information about their services. In addition to dental care, the clinic offers comprehensive on- site pediatric and adult primary medical care, prenatal, women's and behavioral health services.
"Our focus at first was toward residents of Ellis County," Dr. Haney explained. "The FQHC determination, though, increased the scope to include the whole region and now anyone can come here." While Ellis County continues to be the largest patient source, people come from Johnson, Navarro and surrounding counties. While the clinic accepts Medicaid, Medicare and other insurances, above all, it is committed to serving the uninsured. Fees are based on a sliding scale according to a patient's income. "We have a contract with the county to serve indigent patients for no fee," Dr. Haney said. "We treat insured people, too, but our focus is on those who can't afford medical or dental care."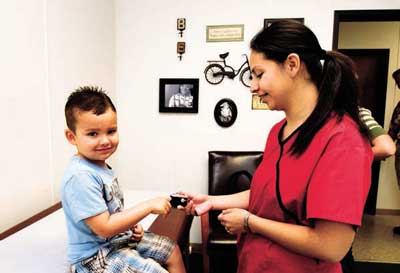 In another forward move, Hope Clinic added a director of community relations and special projects. "Her name is Tish Creech," Dr. Haney said. "She has already made a difference." Community outreach and fundraising are essential to the clinic and, with Tish's expertise volunteer opportunities have been incorporated into a program called Magnolia Blossom. Now potential volunteers or supporters can easily learn about the history of Hope Clinic and opportunities to serve on committees such as Physician Liaison, Spreading the Hope, Events and Giving and Getting. "Our major fundraiser is called Seeds of Hope," Dr. Haney explained. The annual event features a one-hour program and dinner. All contributions generated from the event go directly into the Hope Clinic ministry.
Originating from a grass roots dream, Hope Clinic continues to grow with the help of community driven efforts. "Being active in the community is very important," Dr. Haney said. "We travel to senior citizen centers and schools throughout the county and participate in off-site health fairs and back-to-school events with services, such as fluoride varnishing and dental screenings."
Dr. Haney has been a dentist in private practice since 1983. Last year, he partnered with a fellow dentist, moved to a new building and established a two- partner group. He and his wife, Penny, have been married since 1979 and are parents to daughter, Dakota, a senior at Dallas Baptist University and an avid equestrienne. If he was only a dentist, devoted husband and involved father, Dr. Haney's life would be full and busy, yet this lay minister, community leader and volunteer is on a mission of hope. "My dad was a minister. I grew up in a church and family of helpers," he said. "As I came to understand the truth in the words I heard as a youth, I realized that the only thing of earthly value is what I leave in my relationships. I am called to help others," he smiled. "It's why I get up in the morning. When a patient finishes treatment and says 'Thank you,' my heart fills."
Written by Carolyn Wills.