BURLESON, TX —  It began like a normal Friday for Becky DeShazo. She had driven her one-hour commute to Crowley and was well into her day as an agriculture science teacher and Future Farmers of America advisor. "I was in my floral design class," she smiled. "Students were tearing down a display so they could reuse the flowers, when in walked a group of people carrying a huge sign." The date was May 20, 2011, and the group included Superintendent Dr. Dan Powell, Crowley High School Principal Dr. Thurston Lamb, Career and Technology Education Director Annette Duvall and Heartbeat Team members Cathy Montalvo and Kathy Weatherly. Their surprise presented Becky with the final Heartbeat Team Award of the 2010-11 school year in recognition of her extraordinary work ethic and ability to inspire others. "It was very humbling," she said. "I was shocked!"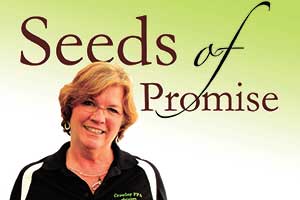 Where and when Becky's passion for agriculture developed is a mystery. "I was born in Louisiana," she said. "My dad sold oil field equipment, and we moved around a lot." By high school graduation, she had attended 13 different schools. "My parents always rode horses, and my grandparents had a ranch in Dripping Springs, Texas," she shared. "At the age of 94, my grandmother was still living on the ranch and caring for goats. She was pretty cool, and she had a great life."
It is safe to say that Becky inherited her grandmother's spunk and determination. "I am the oldest of four kids," she said. "My dad was the only income-producer in our family, so paying for college was up to me." She attended Texas A&M University. Then, she married and had two daughters. "When the girls were very young, I began to see a future when I  would need to support them. I decided to finish my degree." Ultimately, she graduated from Texas State University and began her teaching career as a single parent. "From experience, I can tell kids that I know how hard it can be to study and to stay in school."
Her first teaching job was in Pleasanton, Texas, in 1985. "I taught agricultural mechanics for four years." In 1989, she joined the Texas Education Agency in Austin and served as executive secretary of the Texas Future Farmers
of America (FFA). "Agriculture has kept our economy going," Becky affirmed. "In Texas, one in five people are employed directly or indirectly in agriculture
and, for young people, it is an industry filled with promise. Today, some of the greatest opportunities exist in urban areas, and that's why it's important to reach out to kids who might otherwise miss this chance."
By 1994, Becky was missing the experience of a classroom. "I wanted to work with kids again to make a direct difference in their lives." She was also engaged to Jack DeShazo, an agriculture science teacher in Aledo. When Crowley Independent School District (ISD) asked her to start an agricultural science program, she accepted.
"The program began with 42 students," she said. "Last year, over 350 were enrolled." Now into her 18th year at Crowley ISD, Becky is the driving force behind the award-winning record of Crowley's FFA. "At least one student has advanced to state competitions every year since 1994," she said. "We're very proud of our kids." Beyond winning, though, Becky stresses the ultimate goal of FFA is to make a positive difference in the lives of students by developing potential. "It's great to win," she said, "but it's much better to encourage leadership and build confidence."
At one time, Crowley was home to 27 dairies and, today, none remain. Constant, though, is the importance of agriculture to our economy and to the very essence of American life.
Thankfully, Crowley is a community with foresight. "We now have three agriculture science teachers and FFA advisors," Becky said, "including Kady Donaghey and Mac McAllister." The Agriculture, Food and Natural Resources (AFNR) curriculum has expanded, and several courses are now approved as credits toward graduation. "Students enrolled
in agriculture classes are presented with three learning circles," Becky explained. "The classroom provides direct instruction. FFA offers experience and the chance to learn and test skills. The third circle, Supervised Agricultural Experience (SAE), includes approved experiential opportunities outside the classroom, such as working at a florist for floral design credit."
Emerging trends in education, including the importance of agricultural education, have resulted in significant changes for Crowley ISD, such as the opening of the Bill R. Johnson Career and Technology Education Center (CTE) in the fall of 2010. "Agriculture science teachers are part of the CTE staff," Becky explained. Crowley ISD now offers 12 career pathways that lead to a career program of study.
In addition to the new CTE facility, the district welcomed the impressive Charles and Jenny Sewell Agriculture Science Center last year. "When I arrived in 1994 and, until Mrs. Jenny Sewell loaned the use of an old dairy barn, Crowley FFA had no housing for animals," Becky said. Today the new agricultural center features a show arena, wash/trim areas, classrooms, areas for cattle, sheep, goats, pigs, rabbits and
chickens, and a large greenhouse.
"We have great kids, involved parents
and strong FFA alumni," Becky smiled. "But there's always more to be done. We want to be on the leading edge of promoting agriculture and positively explaining its importance. We're working on a blog and talking with area agriculture teachers about using social media to share news and information."
Six years ago Becky and her friend, Warren Mayberry, created a conference called Leadership Fair — Finding Agriculture Interesting and Rewarding. "The goal is to promote agriculture to new and diversified audiences. We found sponsors and held the first conference at the Texas State Fair in Dallas. It's been an annual event now for six years, and we're hoping to expand it to other Texas cities."
When Becky isn't in the classroom, at a competition, a conference, her sons' or daughter's basketball practice, Scouts, youth group or art class, she enjoys being with her family. "I have five children and one 5-year-old granddaughter named Maddie," she smiled. "My oldest daughters are Anitra and Kaci. Sam, Kate and Will are aged 16, 14 and 10." Becky and Jack and the three younger children live in Jack's childhood home on 45 acres. "We love being outside, and there's always plenty to do," she said.
Agricultural education is prevalent personally and professionally in the DeShazo family. Jack has been an agriculture teacher in Aledo for 30 years and Sam and Kate are FFA members. "I'm proud of our family and my students," Becky said, "and I'm having a lot of fun!"
Written by Carolyn Wills.