DUNCANVILLE, TX —  How many times have you heard the question, where were you on …? Mary Sue (Sue) Randall Bennett will never forget where she was on Friday, November 22, 1963. She was on the curb in front of the Texas School Book Depository in Dealey Plaza. She worked on the fifth floor for Allyn and Bacon Publishers, one of the many publishing firms in the building. "I was so excited to be on the street that day. And then," Sue paused, "the motorcade drove right in front of me, well us," she amended. "I was looking at the handsome, young president, admiring his lush hair, and he looked right at me! My heart fluttered, and I knew I was part of history in the making. I just didn't know how intently a part of history."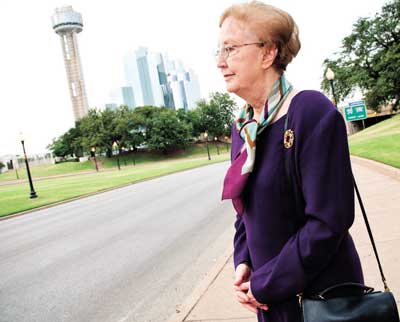 As she was making eye contact with the president of the United States, several things occurred at once. She heard what she thought were fire crackers, which initially seemed so celebratory, but then he slumped forward. Sue realized something was very, very wrong, but her mind refused to process it. "People screamed and ran, but it all seemed to be in slow motion. I remember turning and walking back toward the building, noticing one of my associates was still standing near the front door as he had been when I came out. I don't know if it had even registered with me yet that the president had been shot," Sue stated, as dazed now as she had been then.
Sue's eyes teared even after all these years. "We didn't know what to do. I called my brother, but really, what could you say? It just didn't seem real. We weren't allowed to leave the building until we were questioned. The police came office by office, floor by floor, wanting to know what we had seen and heard and where we had been," Sue remembered. "Maybe that was when I realized I may have been the last person the president saw — he was looking right at me …" Sue faltered to a stop. "I remember it like it was yesterday. Later, my friend, Mary Lee, and I went to the office where the shot had been fired. We saw the lunch bag on the floor. When they did the reenactment, we looked through the scope. You could see exactly where the president's car drove through. You could also see where I had been standing," she remarked soberly.
Sue was born in Ferris in November 1931. Two brothers were older and a younger sister came along six years later. "When I was 7, our house burnt. My daddy was badly burned around his head. We rebuilt," Sue stated simply.
"I grew up in Kaufman County, about four miles from Kemp. I graduated from high school when I was 16, and then, well then I eloped," Sue said. Somehow it was no surprise she ended up working for the Book Depository, since she always loved books. "I got my love for reading from my father. Before I even went to school, he taught me math and reading and writing — printing and cursive!" she emphasized with a smile.
Sue enjoyed a successful career as a businesswoman. She remembers well the days of IBM Selectric typewriters. "When I was first hired at the Book Depository, I knew it would be a happy place to work because of all the books. The Depository was a warehouse for school textbooks and other related items. The schools would place their orders through us. We would receive all the books and distribute them to the schools. The other publishers had their books shipped there as well," Sue explained, "and the Depository received a percentage of their sales."
Sue knew most of the people who worked in the two buildings that housed offices and warehouse space. Twenty- four-year-old Lee Harvey Oswald had been hired as a temporary employee in the warehouse. Although Sue knew him, she hardly ever saw him. "We were questioned by the police, the FBI and, later, the Warren Commission. Initially, they suspected my associate, whom I had seen near the door. Thankfully, I was able to tell them it couldn't have been him, because there wouldn't have been time for him to be outside, go up and shoot the president and come back by the door," Sue remarked with a sigh of relief. Undoubtedly, she has replayed that day and the days that followed over and over in her mind multiple times. "Because I had been right there in front of the president when he was shot, I was questioned countless times, not only about that day, but also about anything I had observed in regard to Lee Harvey Oswald," she said, nearly out of breath.
"And then came the reporters and the book writers and, later, the film makers. Oh, the ideas they came up with and the theories! Even before the assassination, there was such a fear of communism — new authors of textbooks had to sign affidavits testifying they were not communists before we could use their textbooks in Texas. Not just anybody could even come into the Depository. Some people even thought everyone who worked for the Depository were communist. There was a lot of money involved in the bids. I guess that was considered suspicious," Sue reflected.
Sue felt the Warren Commission conducted a very thorough investigation. "My goodness, they interviewed just everyone. We were given a copy of our testimony and asked to make any changes and then verify and sign it. They wanted to know where everyone had been, who was inside and who was outside." She wanted to help, even though it was all very upsetting. "But not answering was considered suspicious, so I did my best. I just didn't want to remember seeing him slump forward. It was such a sad, sad situation."
When the Depository moved out of the building to Carrollton in 1970, Sue went with them and began working for D.C. Heath, another publisher. "I chose to work for them because they had newer equipment. I was even sent to school to learn how to use the computers — offices were just beginning to use them then, so I learned and then taught others in our office," Sue recalled.
Just last year, Sue made her first visit back to the former Depository, since her company moved away. "I hardly recognized the building; they have made so many changes. I went to the sixth floor museum — I had been told I could go anytime for free, but I had never had any interest. I don't need a museum to recall the events of that day. It's something I will never forget."
Written by Beverly Shay.