RED OAK, TX —  Members of a recently reorganized service group are embracing the adage "What's old is new again," as they revisit the success of their former charter. Red Oak Masonic Lodge No. 461 A.F. & A.M. may have been dormant for over 70 years, but since 2008, new life has been breathed into the charitable fraternity whose brothers are, as Secretary Jerry Peck said, "Ready and willing to help the community."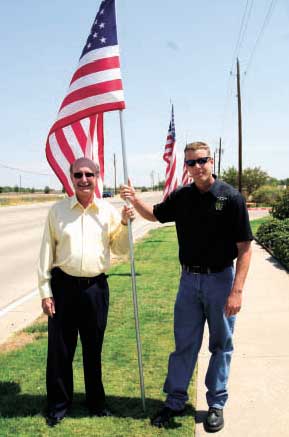 The local Masons are proud to carry on the devotion of their predecessors who accomplished important work in Red Oak, aiding the city's commercial and educational growth for over
50 years, before problems forced its closure during the Great Depression. "We don't know what happened," admitted the lodge's current master, Billy Ray Dickey. "But, it was most likely economic issues that caused it." Despite past hardships, Billy Ray and his members are optimistic about the future of the reconstituted lodge, as they implement programs that are already making a difference in the expanding city of Red Oak.
In addition to presenting scholarships for local youth and public awards for civic leadership, the new lodge sponsors blood drives, an American flag fundraiser, a dental hygiene package geared to Red Oak ISD elementary students and health care
for senior Masons and their spouses. "We are dedicated to the support and welfare of the people in our community," Jerry said, and the positive response from residents, particularly
to the lodge's flag program, indicates the Masons' efforts are appreciated in return.
The story of Lodge 461's rebirth is one of teamwork. Chaplain Ken Taylor was in on the initial plans for restructuring the inactive group, but he insists it was a joint effort. "Some Masonic leaders wanted to know how many Masons would like to join if we had a lodge here again," Ken explained. "So we held several meetings, got all our ducks in a row, and after a long  process, the Grand Lodge reapproved the old charter, giving us the original name and number."
According to Jerry, many Masons across North Texas participated in launching the new lodge. "With the assistance and support of several existing Masonic lodges in Cedar Hill, DeSoto, Ferris, Ennis, Lancaster, Midlothian and Waxahachie, and the aspirations of 50 Masonic brothers from those lodges, who were willing to share their experience and talents, a petition for reinstatement of the charter of Red Oak Lodge 461 was sent to the Grand Lodge of Texas." The charter was approved in May 2008, and since then officers and members have worked with vision and determination to bring aid and recognition to the development of Red Oak and the well-being of its citizens. Billy Ray singled out Past Master Clark Stephenson and Grand Chaplain Jerry Kirby as "being instrumental in getting the lodge back together."
Members of the new lodge include a number of distinguished men, long active in business, education, law enforcement and other spheres of public life. Many are themselves former lodge masters, but there are also younger Masons like Marc Maples, who has been with Red Oak 461 for a year and is learning the ropes of the fraternal organization from his elders. "We can't make bad men good, but we do take good men and make them better," Ken said, adding that membership approval is based on recommendations from active Masons, and that basic requirements include belief in a Supreme Being or Higher Power.
Member Brad Morton, a musician for Red Oak 461 and soon to be Grand Lodge district deputy, pointed out that while the majority of the 90,000 Masons in Texas are Christian, some are Jewish or of other faiths. Jerry specified that the Red Oak branch is Christian-centered and that members pledge themselves
to the "Bible as our word and law, and to improving ourselves spiritually and morally." Brad is quick to add that although Masonic lodges are religion- based, they are not keepers of cryptic secrets as is sometimes alleged in the media or in Hollywood films. "That's
one of the biggest misconceptions about Masons," he said. "Like a college fraternity, we have passwords and the like, but we guard no great, ominous secrets."
There's nothing mysterious about the good work Red Oak Lodge 461 is achieving in the city and beyond. The group's American flag placement service is perhaps the most visible aspect of
its outreach to the community. "We started the flag fundraiser a little over three years ago because we needed a base to work from," Billy Ray said. "What
we do is contract with businesses and individuals to put out flags five times a
year before major holidays. Right now, we are at 300 flags."
"Every time I put out a flag, it reminds me of a soldier that has died for his country," Ken added with emotion.
The money for the flags helps fund awards and scholarships. One of the best known of these is the Community Builder Award, presented annually by Red Oak 461 to leaders in public life. Last year, the first recipient was former Red Oak ISD athletic director and United Methodist Church trustee, Gaines Wolaver. "Through his efforts," Jerry said, "he has helped build Red Oak from a small town of about 300 to a city that has over 5,000 students in the school system." The 2011 Community Builder Award went to Carl Meredith of Carl's Automotive, a tireless philanthropist who cohosted with Red Oak 461 two well- attended classic car shows, donations from which benefited the Dallas Scottish Rite Hospital for Children.
Another proud gift the lodge bestows on locals is its Lamar Award, which recognizes deserving Red Oak High School graduates. "Education is very important to the Masonic movement," Jerry said, "and our lodge considers the Lamar Program a high point of the year."
The lodge is equally committed to a dental hygiene program called the Fantastic Tooth Fan Club. Each year the club provides over 300 Red Oak ISD first-graders a kit containing a toothbrush, toothpaste, floss and information on tooth care. This kit is provided as a courtesy of the Masonic Children and Family Service of Texas. Lodge members also believe in aiding the elderly and infirmed among their fellow Masons, and through an annual fair and other methods, Red Oak 461 helps raise money for the Texas Masonic Retirement Center in Arlington.
These and other worthy causes continue to be the focus for Red Oak 461 in its second incarnation as one of the city's leading service and charitable organizations. Billy Ray is proud of the growth he has seen in the town he loves and the fraternity he leads. "But we can always use a new member," he laughed. "We're like the Marines. We can always use a few good guys."
Written by Randy Bigham.
For more information on the American Flag Program call (214) 587-9610 or visit www.redoak461.org.