WEATHEFORD, TX — Every roadside historical marker beckons Loree Ellis to stop and read it. Because she wants to know about what happened there, her husband and her daughters have caught the bug. A self-professed "weird history nut," Loree loves the way things used to be, from the Antebellum South to Medieval Europe. This summer, she and her mother went on a 15-day trip to visit castles in England, Scotland and Ireland — a gift from her dad. "I've gone to lots of Civil Wwar reenactments, including the 135th anniversary of the Battle of Shiloh in 1997," Loree said. "I love the simpler life they had. Everything was produced on their own property. I know it was hard, but in other ways it was easier. They didn't have to deal with a lot of the things we have nowadays."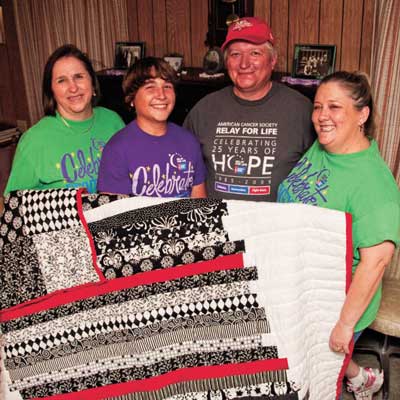 Loree is a cheerful, chatty member of the Parker County Heritage Society and volunteers for the annual Talking Tombstone event. "They take a theme — be it business people, civil war soldiers or the influenza epidemic — and they go through the Old City Greenwood Cemetery, telling the history behind the forefathers of our community." Wearing full 1860's regalia, Loree escorts groups through the cemetery where presenters share their life stories dressed in period attire, which Loree helped to sew.
Her husband, Wade, caught Loree's intrigue with reenactments. With their two girls, 5-year-old Rebecca and 11-year-old Elizabeth, the family outings involve dressing up as though they were living during the War Between the States. "Last spring, we took our 5-year old to her first one. She tells me she is playing House on the Prairie," said Loree, who learned cooking and sewing from her mom, Threasa Leatherman, as well as through active practice for 4-H and FHA. She now sews her own clothes for the reenactments. "I try to make it as authentic as I can without a pattern. Nine times out of 10 they didn't have patterns, just made their clothes to fit their children."
As a long-time member of the South Main Church of Christ, Loree poured her passions into marking their 150th anniversary in 2007 and sewed a special dress to wear to the celebration.
"The dress is black and white cotton — all-natural fibers because it breathes so much better than synthetics," Loree explained. "People who are very, very into reenactments will weave their own stuff. I'm not a thread counter. I do have some homespun, looser-weave fabric dresses. But my husband and I are more what you call Motel Militia: when we go to a reenactment, we stay at the Holiday Inn where we have showers!"
She learned well, from having grown up on the family farm in western Parker County, that there is some value in newfangled inventions. "My Grandpa Elmo said if he had an air-conditioned tractor he would have farmed another 20 years," Loree said. "My parents bought 10 acres of the family farm and raised my brother and me on the farm where my dad grew up. My husband and I also live on the farm, so my children will grow up there as well. Elmo Leatherman, a 90-year-old cancer survivor, no longer farms the place. My dad, Dalton Leatherman, still farms and ranches it, running cattle and keeping a big garden and raising lots of hay — well, not this year. No rain, no hay."
Raining love on others, Loree stays busy. "Why is my life so crazy and insane? I like helping people," Loree said. "I like doing things for others. I just try to live Christ's example as much as I can, and do for others, because that's what it says we should do. I have lots of volunteer jobs, and only one that pays." She has worked as secretary at South Main Church of Christ since April 2007.
This year she was put in charge of the Jane Doe Project to assist the woman from Whitt who was kidnapped. After the woman was located by Parker County Sheriff Larry Fowler, the Church of Christ worked with the Freedom House of Parker County and with the sheriff's department to mail out letters to all the churches in Parker, Palo Pinto and Jack counties. "We had an interview on Channel 8 news one night about it, and donations just started rolling in! We raised about $17,000, plus much labor was donated by different businesses. Everything just fell into place for us,"
Loree said. "With the money donated, we bought her a small mobile home that she was able to move into this summer. She's doing good."
Loree's mother's ancestors did not have the same kind of help when they first moved to Texas. They were part of the Peters Colony and settled in Parker County before the Civil War. At that time, the women in the family joined forces to work and to strengthen each other. Quilting evenings were common. "That's how they would entertain each other. They were working on a quilt to keep the family warm at night, but it was their social time. My dad remembers going and sitting around listening to his grandmothers tell stories while they quilted."
Now, Loree's family has found a reason to come together and quilt again. Cancer, and the battle against it, inspires 13 members of the Leatherman and the Ellis families to meet in Elmo's living room throughout the fall and winter to create a quilt that their family Relay for Life Team will raffle off at next spring's Weatherford Relay for Life (WRFL). Loree has volunteered with the WRFL for the past three years, ever since one of her church members — who is a cancer survivor — asked Loree to help her form a team. That first team grew with so many church members and so many from Loree's family that they split into three teams.
Loree's family team includes Zachary Felton, her 17-year-old nephew, who was diagnosed with Lymphoma at age 9, and 43-year-old Tammy Malone, who was diagnosed with melanoma within the last two years and is now cancer- free. "She lives up at Bowie, and she and her husband and son drive down to quilt with us," said Loree, who was the WRFL co-chair for the last two years and in 2012 will be the survivors' chairperson. "Rather than planning the entire event, I'll be planning the special lap for all those affected by cancer, plus other special activities for our cancer survivors."
On top of that, Loree will be hard at work with her family each weekend. When her sisters-in-law, aunt and a few friends meet at Elmo's house to quilt, everybody sits around telling jokes, accomplishing a shared goal and enjoying each other's company. "It is so much fun to spend an afternoon sitting there telling stories," Loree said, "in the same manner our ancestors did."
Written by Melissa Rawlins.